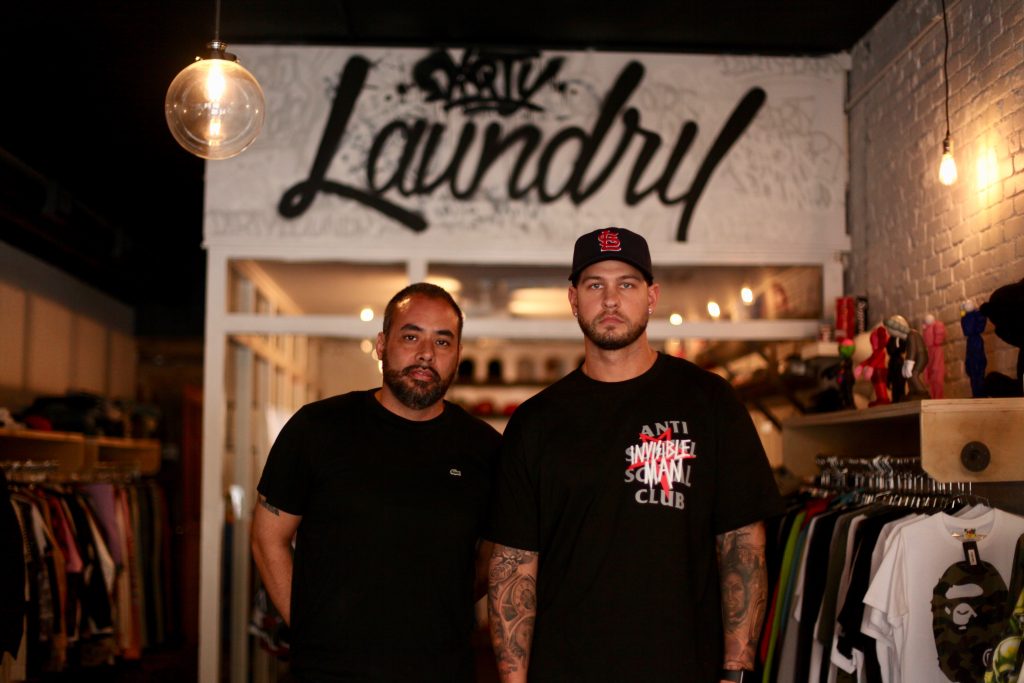 The newest addition to the stores on 6th Street that help keep Austin weird is Dirty Laundry. Open since April 14, DL offers a range of very unusual items ranging from clothes and shoes to figurines.
The store is a joint ownership between Dylan Briscoe and Carlos Canjura. In an interview for Sun News Austin, Canjura said "the stuff we sell is hard-to-find items. You won't find any of this stuff anywhere else in Austin." Asked what led him to carry the lines of clothes on offer, he gave an answer few store owners can say. "It's my love, it's what I like."
Among the brands on offer are Stussy, Mr. Completely (whose clothes are made in LA), Balmain of Paris, and Mitchell & Ness of Philadelphia. But perhaps the most famous of all is Supreme. "Everything they do is super limited, typically only 100 of any particular item. They've gained an audience so big they sell out instantly."
Supreme is a New York company that makes its heavy garments like hoodies in Canada. Cut & sew items like polo shirts are made in China, while other clothes are American made. Supreme recently did a collaboration with Louis Vuitton, and it was a smash hit for both companies. Prices for their products have skyrocketed: a Supreme/LV backpack now has an asking price online of more than $11,000.
Dirty Laundry sells several Supreme items, including shoulder bags, and is looking for more: if you have one you want to sell, they will consider buying it for resale in the store.
For Canjura, this store is an evolution. After four years of service in the Air Force as an aircraft mechanic, he moved into IT; "that's where I met people in Stussy and Supreme." He started a clothing store in New Braunfels and then moved to San Marcos, but that one was closed due to flooding. His new location on Sixth Street gives him the same foot traffic as a mall. "And we have two major events every year that are great for business: Christmas and South by Southwest (SXSW). "The street here is packed for nine days straight," he said. Even though the store opened this year after SXSW, he said "we should be ready to hit it strong next year."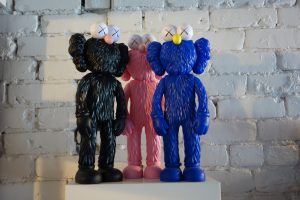 The demographic for a DL shopper is 16 to 35. One thing that might appeal to the upper end of the age range are a set of three KAWS figurines (pictured here). Some KAWS figurines go online for upwards of $10,000. The set pictured here is $1500.
On June 2, Saturday night, Dirty Laundry will be hosting representatives from Oregon who will be showing off their CBD products. While it is hard for them to compete with THC, it is not illegal! So far Planet K stores are the only ones in Texas selling CBD, which reportedly has anti-inflammatory and anti-anxiety properties without the psychoactive effects of THC. The products will be for sale at DL all day, with the official launch party from 8 to 10pm.
A fun store, and a great addition to the funky vibe of 6th Street, I highly recommend a visit. And don't worry about the typical demographic. I found a Hawaiian-themed shirt by Mr. Completely, and I'm not in the under-35 set anymore! This is a store for anyone who doesn't want to look boring.
You can contact them at 818-519-8571, or by email at dirtylaundryatx@gmail.com
Dirty Laundry is located at 509 E 6th St.
photo: Canjura (left) and Briscoe