Oscar Wilde, the wittiest playwright of all time, is just as relevant now as he was in the 1890s. Its initial reviews, in 1895, were mixed, but the greatest living English playwright praised it highly. Bernard Shaw wrote "In a certain sense Mr Wilde is to me our only thorough playwright. He plays with everything: with wit, with philosophy, with drama, with actors and audience, with the whole theatre."
Much of Wilde himself is embedded in this play, in the central character of Lord Goring, played by the disturbingly handsome John Waters in his first appearance as a professional actor. As the lynchpin of the play, Goring's character is complicated as it must embody empathy, insight, and ability to engage in rapid repartee with his wits intact. That Waters was able to accomplish all this with only a high school stage production in his acting background is extraordinary. His use of hand gestures is especially fine.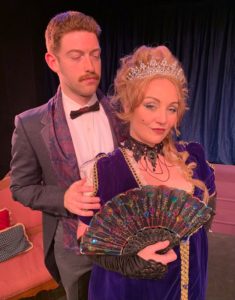 Goring plays the role as best friend to Sir Robert Chiltern (played with the appropriate degree of Victorian seriousness by Shane Cullum), an up-and-coming British politician with an unblemished career. Except, that is, for one very indiscreet letter he wrote that could compromise his entire career. At stake is not only his position as a Member of Parliament, but his marriage. Lady Chiltern, portrayed by Valencia Lee, believes she is married to a man of impeccable virtue. Quite literally, An Ideal Husband.
While most productions of this iconic play are set against a luxurious backdrop, the staging here is minimalist. While we are denied the usual feast for the eyes of a Victorian drawing room, it has the effect of concentrating ones' attention on the dialogue and costuming, which may be considered a plus. Concentration is important here, as the play runs for 3 hours, with 2 intermissions. I didn't get home till nearly midnight. A start at 730 instead of 8pm for long plays would be better for the audience.
An example of the relevance of the play for modern times is evinced by the character of Mrs. Cheveley (play to the hilt by Dawn Erin). Cheveley is a woman who will use all feminine wiles to get what she wants from the English upper class, no matter who it hurts. All done with a smile on her face amid protestations of injured innocence. My Mother called them hussies. Sort of like Megan Markle.
An unexpected yet delightful addition to this play are musical numbers. It is easy to miss a framed description in the lobby area, which tells us "the play contains two musical pieces inspired by Victorian Music Hall pantomimes." The songs on offer here are "Put out the lights, the party's over," and "When a man loves a woman." Both delightfully sung and choreographed by some of the 13 actors in the play.
I was especially pleased to see that City Theatre Company has brought this play to Austin in 2022, as it was cancelled in 2021 when the city was sent into a high-stage Covid shutdown. With excellent costumes and a fine ensemble cast, this is a must-see production. Thanks to Andy Berkovsky for bringing this wild Wilde play to the city.
An Ideal Husband is being staged by The City Theatre Company at the church on 9th Street in downtown Austin. It runs till March 13, 2022. Tickets may be had on their website: citytheatreaustin.org