The Carol Burnett Show ran from 1967-1978, an enduring classic that is fondly remembered by all who watched its original run. Many of the comedy skits featured themes that recurred throughout the years, making them just as iconic in their own right as the show as a whole. Many of these skits are now featured on stage at Hill Country Community Theatre right beside Marble Falls, a 1-hour drive from Austin.
I saw Carol Burnett about 4 years ago, but it was just a question-and-answer session, exactly as she began each show. Drawing the audience into the show was a novelty at the time, and helped cement her rapport not just with the studio audience, but her millions of TV viewers in Canada and the U.S.  This production does not feature a single Carol Burnett character, or a single Harvey Korman or Tim Conway character. A dozen members of the HCCT team serve up a smorgasbord of skits which some will find funnier or more appealing than others. A few do not hold up as well as snapshots from the Lucille Ball show, or The Golden Girls, but everyone's taste will be titillated here in different manners by the 19 skits on offer. Be warned, this is a 3-hour production, including one intermission. I noticed that this proved to be too much for some patrons, who left at the half-way mark. That was unfortunate, as I thought the material in the second half was generally stronger.
The shows begins and ends with 'Old Folks', a very simple skit that became one of the most famous of all. It just features two rocking chairs, and an old married couple. Their gyrations just getting into the chairs is a nod to the physical comedy of the silent era, which was only 40 years in the past when the show first aired on TV.  In the lead photo we have Dewayne Sanders and Donnance Knox. Regulars to the HCCT will remember Sanders from their production of A Doublewide, Texas Christmas just a couple of months ago. Knox, who got married in the theatre lobby (!), has been on stage in several HCCT shows. The pointed repartee between the two, which often verges on sarcasm, is priceless. The randy old man is constantly being rebuffed by his wife, who has no intention of stoking the fires of romance.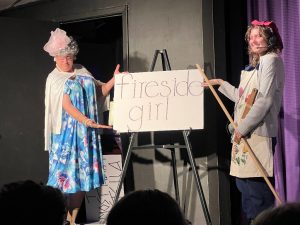 Each skit has its own charm. We have 'Lovely Story' about a woman who wants a 4-minute egg. The only problem is she has just 5 minutes to live! 'Rolls Royce' is about a garish American couple who are in London to buy a new car. The car dealer ends the skit with a great line. "Wherever the car goes, that far-off place is forever England!" The skit 'Late Date' has a middle-aged wife asking her husband a pregnant question: "What would you do if you were out all night with an 18-year-old girl?" His deadpan response is "I can't remember, it's been weeks."
Each skit is silently introduced by Sarah Dugain, dressed as Carol Burnett's signature character of a cleaning lady with a mop. She comes out on stage to display the name of each skit, sometimes accompanied by another cast member. In the shot here, she is with Mama, the character made famous by Vicki Lawrence.
Seven cast members are shown in another photo here from 'Flight 13' about a plane flight in trouble. While on the flight, a priest gets inspiration from the Good Book – a biography of Danny Thomas. We are also treated to two episodes of 'As the Stomach Turns,' a broad farce of the soap opera As the World Turns that aired from 1956 to 2010.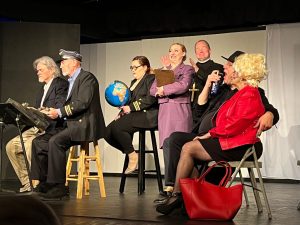 From an insurance agent "who covers all acts of God, even if your are an atheist" to the 'Bonnie and Clod' sketch where Clod laments that "the crime rate is going up and I have nothing to do with it," lovers of farce, parody and a dash of dark humour will have a field day here. Presaging in many ways the skits of Saturday Night Live, the Carol Burnett Show was a true trailblazer, and to see it enacted live is a treat you should not miss.
Tickets can be had from the website: www.thehcct.org.
The Carol Burnett shows is on stage thru March 6, 2022.