The musical dramady Unexpected Joy, currently playing at Ground Floor Theatre in Austin, is a delightful but flawed exploration of lesbian activism, fractured family and religious fundamentalism.
"The entire creative team is female," said playwright Bill Russell. "I've had a lot of fun exploring characters. On the surface, as we talk about the stuff Ground Floor Theatre does, this is slightly lighter fare on the surface, but when you dig down deep there is so much going on. These characters are so complex, and their relationships ebb and flow."
The 13 musical numbers move the storyline along nicely, and are a welcome break from the oft- tortured dialog. One severe critic of the play told me he did not like the dialog at all. "I counted four anecdotal passages," he said. "But people don't talk philosophically, it made the actors feel like placeholders for a conflict."
Regarding the music, the 3-piece band was on stage for the duration, but they often detracted from the vocals, making the singers difficult to hear at times.
The lead character, grandma, is named Joy, but the title Unexpected Joy is a bit of a conundrum. The person I was with 'expected' a Christmas-themed play, which it could have been since the granddaughter and her mother were coming home to grandma.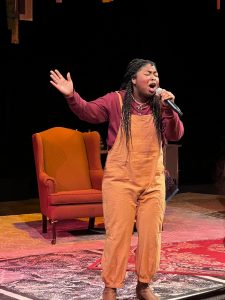 Free-spirited grandma (played by Cathie Sheridan) wants to "live in the moment," but her straight-laced daughter Rachel (Amber Quick) is having none of it. She is married to a so-called minister (unseen in the play) who preaches hate against gay people.  Add to the mix the granddaughter Tamara (Caroline Mullins) who loathes her Mother but loves her grandma, and we have a classic generational rebellion story. It all becomes a toxic brew with the fourth ingredient, a young black singer Lou (Michelle Alexander) who wants to marry grandma. She really ticks all the boxes that Rachel can't tolerate. "Black, agnostic dikes unite!" declares Lou. Rachel responds by singing You Are My Worst Nightmare.
My compatriot at the play said "I felt a fast connection with Lou; her character drew me as she bears more than a passing resemblance to a younger Whoopi Goldberg. Being from Joy's era, I could relate to her from a distance, not having been a hippy myself. I knew people like her. To sit through a lengthy play with no intermission I was very focused on the play's entertainment value. It was a multi-faceted play; I enjoyed the fact the cast was enjoying themselves throughout. My applause was very genuine and I left the theatre feeling I had been entertained."
Being an all-female cast of singers, there are shades of Helen Reddy all over the place. This is especially evident in the tunes What a Woman Can Do, and Joy's opinion of nuptials, I Don't Wanna Get Married. Mullin's voice was best heard in harmony, but the other three singers all have very good voices for musical theatre.
As Russell said, there is a lot going on here – different generations will find their own meaning in the play. Another provocatively engaging play from Ground Floor Theatre.
Book and lyrics by Bill Russell, music by Janet Hood; directed by Lisa Scheps. An interview with Russell, the cast and director can he heard on the website: https://www.groundfloortheatre.org/joy
Unexpected Joy ends its run today, Dec. 19, 2021.
Second photo: Michelle Alexander