There has always been a misconception that fairy tales were written for children. As this musical production of Willy Wonka and the Chocolate Factory proves, that is not the case. As with the famous 19th century tales written by the Brothers Grimm, this tale takes a dark turn. When one considers that Chocolate Factory's creator, Roald Dahl, wrote a horror TV show, it's not surprising that a darkly comedic mood infiltrates much of his children's fiction.
Chocolate Factory, written by Dahl in 1964 and made into a musical in 2013, is the latest in a string of Broadway productions to be staged in Austin. Next up is The Lion King, and visitors to the Bass Centre to see Chocolate Factory will be greeted by large Lion King banners on the building. Fear not! You are in the right place for chocolate, but don't expect to receive a Golden Ticket. In the musical that is the only way to be in the running to win a supply of Willy Wonka chocolate for life, a world-wide contest that is the main plot of the story.
The original 2013 London production has been changed quite a bit in the last 9 years, mostly because it just wasn't very good. The 2017 Broadway production was slammed for casting adults instead of children as Golden Ticket winners; that criticism has been addressed in this newly-revised touring production. The winners are children (from Germany, Russia and America) although they are still accompanied by adults on their tour of Wonka's factory. In light of the current situation with Russia, I suspect the next change in the play to will be assign a winner from another country. It certainly seemed jarringly out of step with reality in this production.
While Cody Garcia was splendid as Wonka, he was assigned too many voice changes. At one time he was a posh guy from London around the year 1900, at another he dropped the English accent as a flamboyant gay character. One lady I spoke to from New York, who certainly knows a thing or two about musicals, was bothered by this and also expressed concern about the time frame of the show. It is ostensibly set in 1900, but different Golden Ticket winners are from various time periods, including 1950s America. "I'm not liking it," she said, "it doesn't make any sense. Either modernize it or not!" A less critical voice told me "I didn't expect to like it as much as I am!"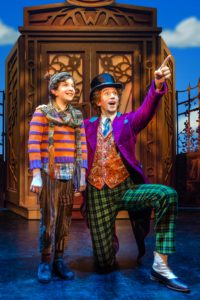 I'm sure everyone was enthused about the voice of the youngster William Goldsman, the lead actor who plays Charlie. As the child star of the show, he certainly held the stage well and has a bright future ahead. Two others will also be playing this lead role on some nights: Kai Edgar and Coleman Simmons. Also noteworthy in this large cast is Steve McCoy as Charlie's grandpa. McCoy appeared as King Arthur in Monty Python's Spamalot, holding the world record for most performances in that role. Here, he brings the much-needed gravitas to an otherwise entirely whimsical story.
Despite a $3 million renovation last year, the acoustics at the Bass can hardly be described as world class. Some in the audience complained they could not hear all of the dialogue. But the presence of a live orchestra, under the direction of Cameron Tragesser, was most welcome and lifted up the production to true Broadway standards. Set design was vibrant, versatile and delightful. And of course we hear the famous tune The Candy Man, which came from the 1971 movie. It was made most famous by Sammy Davis Jr.
"Can a person ever become tired of chocolate?" Wonka poses this rhetorical question at the beginning of the show. Judging by the audience reaction, many of whom have not been to the Bass for more than two years due to the pandemic and the renovation, the answer was a resounding No to that question at the conclusion.  I recommend going to see this, and bring along a small chocolate to savour at intermission!
The shows runs thru Mar 27, 2022.
Tickets at: Texasperformingarts.org