What is 'Modern Art'? The provocative title of an exhibit at Ft. Worth's Kimbell Museum, Turner's Modern World, forces us to confront that question head on. John Turner's paintings are now roughly 200 years old, the oldest in this exhibit from 1805, the latest from 1845.
In this span of 40 years Turner (1775-1851) transformed himself from the eighteenth century (evidenced by two of his notebooks on display from the 1790s) to the twentieth century. Somewhere along the way he left the nineteenth century in the dust. It has often been said that he presaged Impressionist work from the late 1800s (Claude Monet did study his techniques), but in my mind he skipped over much of that, becoming more akin to twentieth-century vibes. This was evidenced most strongly when the American abstract painter Mark Rothko donated murals to the Tate in London due to his admiration of Turner's late paintings. It is from the Tate that most of the works on display at the Kimbell are on loan from. Others are from the Manchester Art Gallery and (in this country) Cleveland Museum of Art, The Met in New York, Yale Centre for British Art and Museum of Fine Arts in Boston.
I'm sure one painting the Tate would love to have for its own collection is Turner's 1840 work Rockets and Blue Lights to Warn Steamboats of Shoal Water. It is my favourite of those shown at the Kimbell, and one I have not seen before in person. It has been held by The Clark Institute in Massachusetts since 1955 and was previously owned by a succession of famous people, including Sir Julian Goldsmid (Member of the British Parliament for 30 years), George Eastman (of Eastman-Kodak fame), and the financial guru Charles M. Schwab.
What it is supposed to depict is a raging storm in an English harbour town, as flares explode in the sky to warn ships of shallow water. What it actually depicts is quite vertiginous: the overthrow of art itself, as it was known in the 1840s. This was glimpsed, through a glass darkly, by a critic of the day, when he sneered that it "would be equally effective, equally pleasing, and equally comprehensible if turned upside down." Turned and Turner? Perhaps the painter's name was itself a warning that the trajectory of art would be overturned by what many have since regarded as England's greatest painter. I heard it said by one person at the Kimbell that if Turner was England's greatest painter, England is in a lot of trouble. Perhaps Turner himself would be pleased to know that two centuries on, his art can still churn the stomachs of art critics.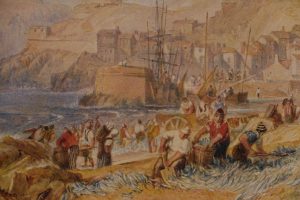 A thorough look at this large exhibit can easily take 2 hours, so be prepared for the finest Turner fest ever seen in Texas. With large oils competing for wall space with small watercolours, the gamut of his work is on brilliant display. From his depictions of Venice, to his dramatic evocations of battle and its aftermath on both land and sea (his was the age of the fight against Napoleon), Turner brings the early 1800s to life in a way no one else was able to do. Laced with both British patriotism and anti-war sentiment, the works here are of monumental importance, presaging the genre of war art that arose due to The Great War (1914-1918).
At the other end of the spectrum we find views of various English towns in his watercolours. The detail from one, given here, depicts the everyday story of fishermen hauling in a catch of pilchards. The view is from St. Mawes in Cornwall, dated 1823. The fish were exported in peacetime, but during Napoleon's  blockade of English ports they were sold from the beach as cheap fertilizer. It shows how Turner was equally at ease with the microcosm as with the macrocosm.
This important exhibit will surely draw visitors from all over the country. It lasts until Feb. 6, 2022. Making the 3-hour trip from Austin is well worth the effort.