Robon Hood has been seen in Sherwood Forest, and the Sheriff of Nottingham is hard on his heels!
The year is 1191, and all the action takes place on various stages at the Sherwood Forest Faire in McDade, about 45 minutes east of Austin. This is the 13th annual Sherwood Forest Faire, and is an absolute delight for all ages.
For those who really enjoy history, the Faire is enacting , annually, events that took place each year from 1190 to 1199. This year of 2022, the year being depicted in 1191. At the castle, you can see the marriage of King Richard the Lion Heart being arranged, a sword fight between him and the King of Sicily, and the dancing in period costume that celebrates the upcoming marriage. It is also here that Robin makes an appearance. As the day goes on the story is continued. The second installment features a hilarious romp through the woods to find a chest of gold Robin accidentally stole from King Richard, and then had it pilfered under his very nose! What will the King do to him if he can't find the gold? The Sheriff is after him, but the intervention of supernatural beings in red garbs mess up the best laid plans of men. It's a great production, with over-the-top acting and delightful costumes.
There are so many things to do at the fair even attending two days would not be enough to take it all in. I attended a show by a couple of bawdy women, Opal and Jade, who tell tall tales in words and music that contain so many double entendres their show is R rated. They are absolutely fantastic.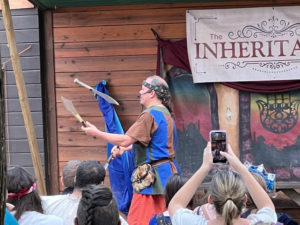 Don't miss Paul Garbanzo, the juggling fool, as he manages three blades in the air at one time, and then eats fire.
There is jousting galore at the festival, with both games and combat on display. It vies with a falconry display as the most-watched events. Not only does a falcon swoop over the audience, but he shares the show with a vulture, an owl, and other well-trained birds. Marvellous to see these fine creatures flying around and hamming it up too!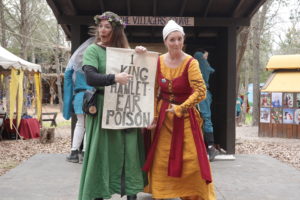 Finally, don't miss the Shakespeare players. They perform the entire 3-hour play Hamlet in just 5 minutes.
There are many booths here selling food, jewellry and costumes. So if you don't have a 12-century outfit at home, not to worry. Rent one here!
Ticket information at: SherwoodForestFaire.com.
It runs on weekend to April 24, 2022.