Rocky is back! Rocky hit the film theatre in 1975, with Tim Curry in the lead role as Dr. Frank N. Furter, the blond Peter Hinwood as Rocky, Susan Sarandon as Janet, Barry Bostwick as Brad, and Meatloaf as Eddie. A few years ago I was lucky enough to see Curry and several other original cast members at a fan convention, and I attended a Meatloaf concert.
Yes, but time passes: Hinwood is now 75, Curry is confined to a wheelchair, and Meatloaf is dead.  Rocky Horror has been performed countless times on stage since its debut in 1973. This is not the first time Rocky has appeared at the Zach Theatre in Austin. It was seen here in 2006 (appropriately showing around Halloween time) and that was a reprise of an appearance 7 years earlier.
This time around we have the Broadway actor Logan Hart (who was at the Zach in Altar Boyz in 2008) in the role of Rocky. The lyrics have been changed here to reflect the fact his hair is red, not blonde. And this is really the no-holds-barred Rocky. Hart relishes showing his bare ass (and judging by the audience reaction, the view of his perfectly-formed cheeks was widely appreciated), and his character drops the F-bomb. Then of course we have the silhouette sex scenes with the transsexual Frank N. Furter and both Brad and Janet. One person I spoke to said he was surprised a show with such lascivious content was still allowed on the Austin stage in an era when so many of our basic freedoms are being restricted by the self-righteous lot who run the state, including the biggest book banning since the Spanish Inquisition and the assault on trans rights. I was waiting for a raid from the morality police to shut it down. Fortunately, we are not there – yet.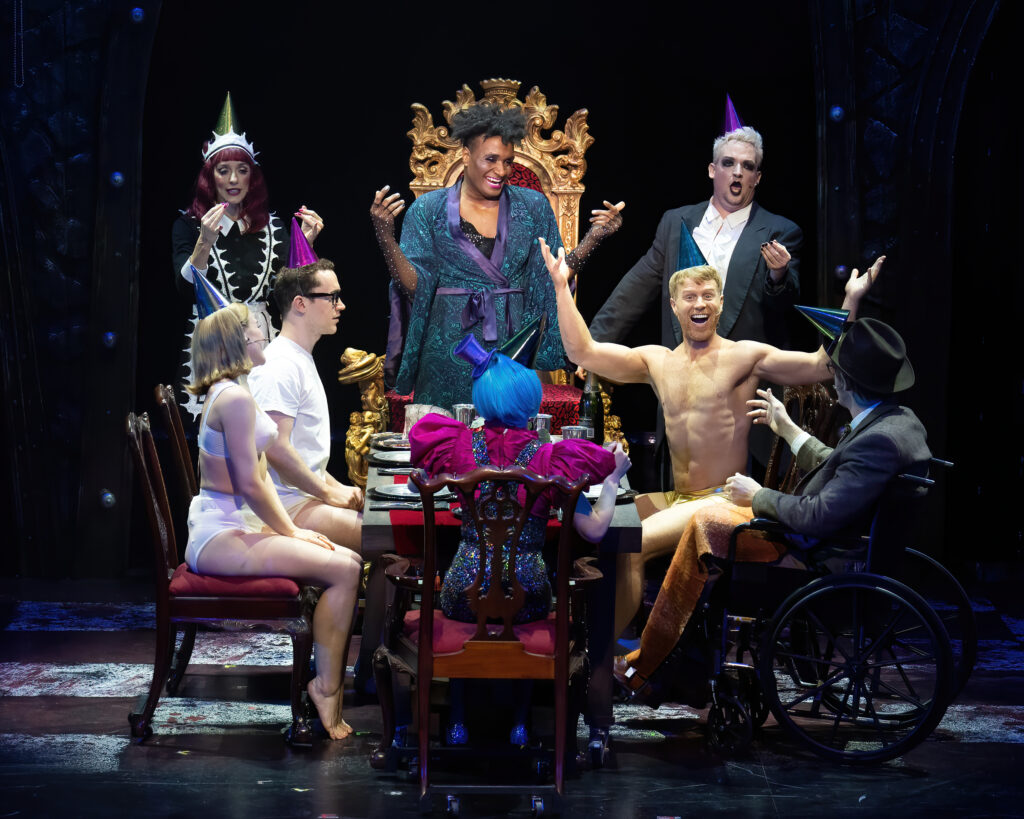 There was a good deal of audience participation here, with the appropriate party favours available for sale in the lobby. At key moments people tossed such things as toilet paper and playing cards, with various sound and light-makers also appearing at key times. The interactivity was a lot of fun for all, and I'm sure it was much appreciated by the actors too. A very fine ensemble cast, led by Cecil Washington Jr. as Frank N. Furter. He has appeared in such films and TV shows as The Resident (2018), BMF (2021) and Reflection (2017). As the evil and saucy doctor, Washington delivers a flawless performance here.
The lobby features an excellently-designed poster for the show, but alas it's only a digital display. Too bad they didn't produce it as a limited edition signed poster to raise funds for the theatre. I know Rocky fans from as far away as Michigan who wanted to see this production, and get that poster!
Scenic adaptation by Scott R. Groh was spectacular, with a real Gothic castle feel to the surroundings. The production numbers were also outstanding, with special mention of Don't Dream It-Be It, featuring the use of large red fans combined with choreography that harken back to the days of Hollywood films of the 1930s. The gold Egyptian-style costume worn by Frank N. Furter, together with the Egypt-themed set design for that segment, was a highlight of the show.
And of course, everyone got to do The Time Warp Again, with an extended version that ends the show. The audience was on their feet, and every person I spoke to simply said they loved it all.
Rocky is a living, breathing event, and for all their best effort the rendition of Time Warp didn't do it imbued with the true experience. You have to feel Rocky; you can dance and sing or you can dance and sing.
It's hard to critique a science-fiction musical about transsexuals from another planet! But dammit, Janet, it was really good! And shame on anyone who thought of a certain governor when wheelchair-bound Dr. Scott revealed he was wearing fishnet stockings.
The Rocky Horror Show, directed by Dave Steakley, is (I am happy to say) playing at the Zach Theatre thru May 1.
Photos by S. Cordeiro.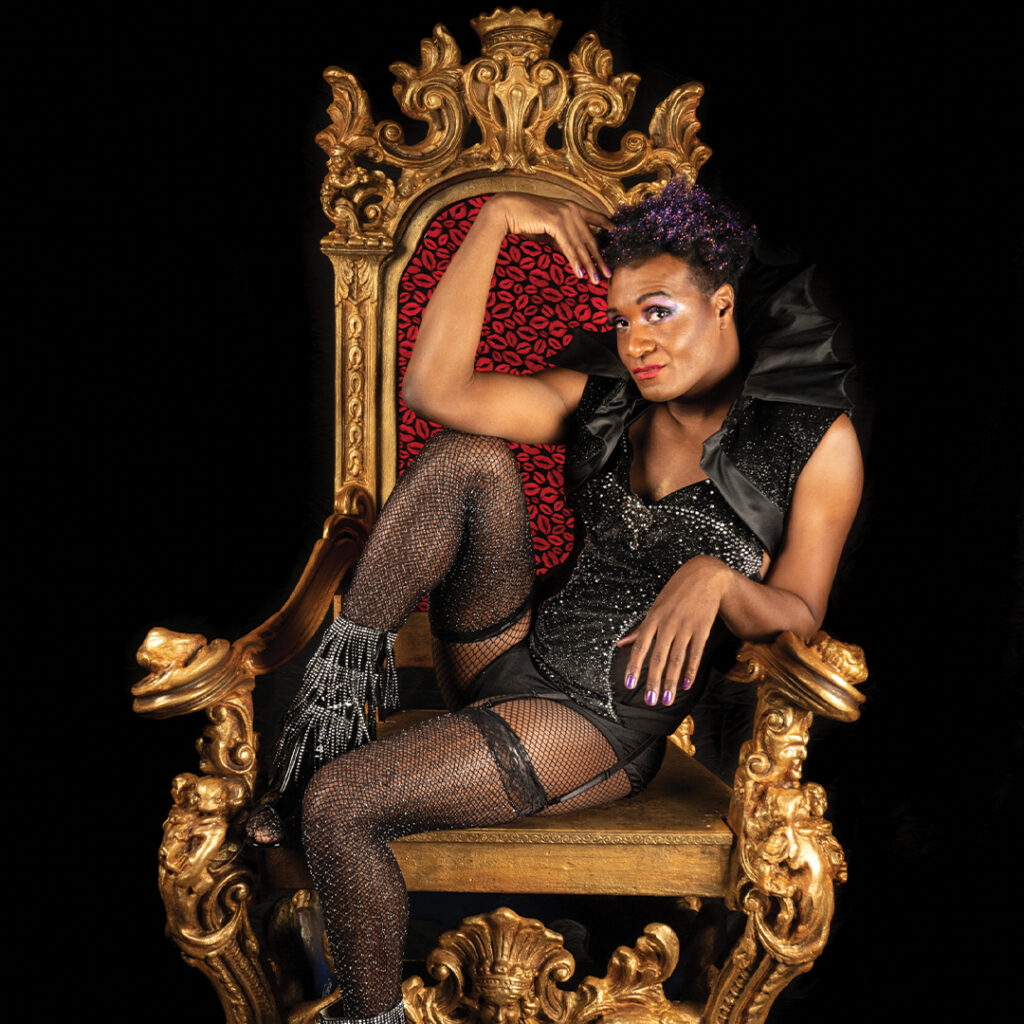 CAST
Cecil Washington Jr. – Frank-N-Furter
Daisy Wright – Janet Weiss
Jordan Barron – Brad Majors
Cameron Mitchell Bell –Riff Raff
Jill Blackwood – Magenta/Usherette
Hallie Walker – Columbia/Usherette
Logan Hart – Rocky
Chris Cornwell – Eddie/Dr. Scott/Guitar
Richard Robichaux – Narrator
Kaila Burritt – Usherette
Natalie Claire Freeman – Usherette