This book could have been subtitled The Many Faces of Diderot. Like the 1957 film Man of a Thousand Faces, even the world expert on Diderot, who authored this, can't fully explain him.
As editor of the 17-volume Encyclopédie, Denis Diderot (1713-1784) has been regarded by many as the Face of the Enlightenment, although as this book's subtitle indicates, he should properly be positioned at its periphery. Like a spaceship orbiting a black hole outside the gravitational boundary known as the event horizon, Diderot's peripheral engagement with the Enlightenment afforded a special vantage point to interact with the most prominent men and women in France and beyond. My allusion to gravity here is deliberate, as the author writes this: "Diderot's work lacks the one single text (or the small number of canonized books) that we could consider a center of gravity; thus, it also seems to lack a thematic core."
Hans Ulrich Gumbrecht, Literature Professor Emeritus at Stanford University, brings to bear his 50-year intellectual love affair with Diderot to give us this magisterial study. While the book lacks an index and any illustrations (which are sorely needed in his discussion of Goya), it nonetheless offers an insight into the enigmatic Diderot, "whom we should not expect to always fulfill our standards of textual coherence and perfection."
Diderot exhibited "an openness to the world so radical that it constantly implied the risk of getting lost in details that fascinated him." Gumbrecht sets out the situation that confronts him in this book, one that would dissuade anyone else. "In the last forty years alone, more than ten full-volume biographies have appeared, most of them drowning in detail without providing any distinct profile of Diderot, let alone an impression of his life's driving energies." Only in the hands of Gumbrecht could we hope to break this logjam, and while the prose here is densely academic, he has succeeded on both counts to the extent anyone possibly could after the remove of 250 years. He does so by examining a subset of Diderot's writings, one of which was never printed in his lifetime, and reflecting those texts through the works of Goya, the music of Mozart, and the writing of Lichtenberg. I can only offer commentary on one of these prismatic interpretations.
Returning to my opener about faces, here is how the author draws a parallel between Mozart and Diderot. Existing portraits of Mozart, he writes, "show no similarity to each other…The divergence between the portraits may have reflected – and may still reflect for us – a centrifugal reality. Here we discover another interesting affinity with Diderot's remark about having 'a hundred faces every day.' The two characters converged inasmuch as neither of them particularly wanted to project a coherent image." For Diderot, all portraits of him "seem at a loss…the frontal view is never fully developed in the Diderot portraits."
A core principle of this book is the concept of contingency, which Gumbrecht uses in a restricted sense, "referring just to the status of situations or decisions between necessity and impossibility." He writes of Mozart and Diderot as having both lived "lives as an ongoing confrontation with the world's contingency, which obliges them to constantly engage in acts of judgment. The rhythm of this never-ending sequence transformed their worlds, including their self-images, into spheres of singularities." Here again the author invokes a black hole singularity in physics, although his text never makes that direct connexion. For Diderot, the application of judgment was expressed in his writings about the bi-annual art exhibit in Paris. For many years he judged the art there in a publication that was not accessible to the artists or general public, giving him the freedom to oscillate between praise and criticism without any repercussions, and it was "this criticism that made him more attentive to the singularity of individual phenomena and more willing to engage with them." Once again a singularity is invoked; I found it fascinating that terms from physics pepper the text to explain Diderot. Perhaps the lack of such analogous usage helps explains the failure of those ponderous biographies.
What animates this text is Diderot's "fluid intellectual energy," which, as any fluid does, sometimes shifted "out of the author's control."  Such was the case with Diderot's book Jacques le fataliste, published in 1778-1780. Gumbrecht tells us that all other studies of this complex text "focus on different dimensions of the text and keep them separate from each other." By applying contingency as a central layer of Diderot's thought and discourse as "prose of the world," (hence the title of his book), "makes it obligatory to describe both dimensions in their possible relationships and intellectual dynamic." Gumbrecht pins his analysis on the role of contingency which reveals itself "as an energy that permeates the text." He discerns three dimensions of contingency in Jacques, which "becomes an ever-expanding intellectual space where individuality can turn into isolation and the depressing realization of being lost." Once again, terms from physics: energy, dynamic and dimensions.
While this book has many layers, I found this sentence best encapsulates what Gumbrecht's analysis has revealed: "I have tried to show how judging became a central activity with Diderot's work, due to his fascination for complex situations of contingency but also to the accumulated effects of his frequent incapacity to fulfill the promise of uncovering patterns of necessity in observations of nature and society." It is just this incapacity that sets him apart in a way we find difficult to grapple with today, as the very uncovering of patterns in nature is central to the science of the Enlightenment, in many respects the progenitor of  science in the 21st century.
I found only one typo: "of of" should be "of" on pg. 122.
All students of the Enlightenment must read this eminent book, both to understand Diderot, and his heirs, who are all of us.
Prose of the World: Denis Diderot and the Periphery of Enlightenment is $35 by Stanford University Press.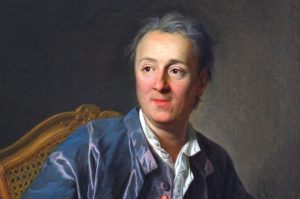 photo: Louis-Michel van Loo's portrait of Diderot in 1767. Courtesy, Wikimedia Commons. This image appears on the front cover of the book.