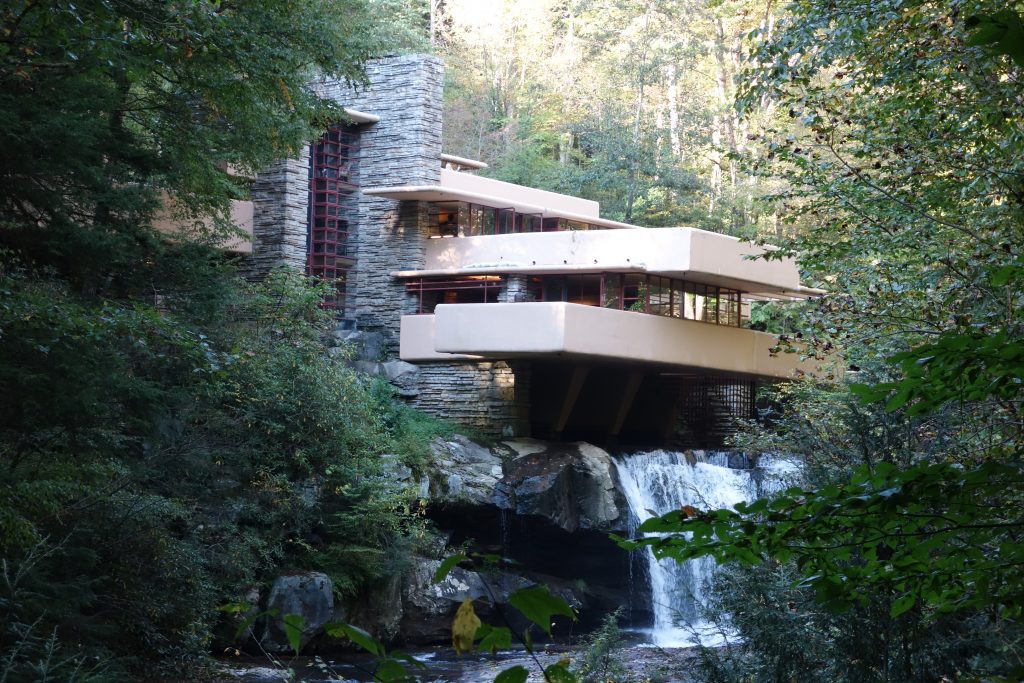 When is Fallingwater not Fallingwater? Answer: some winters are so cold the waterfall at the ueber-famous Frank Lloyd Wright house freezes. One of the guides told me it is quite eerie when the house is bathed in silence instead of the sound of water falling and flowing.
Fortunately my visit in early October was unusually warm, almost like summer. The energy from the water transfers to the house in a way that triggers some subliminal response in the human brain, an echo from the distant past of evolution. That is the magic Wright captured in Fallingwater, certainly one of the most recognisable homes in the world. It is perhaps no coincidence that his initials FLW are incorporated in the name.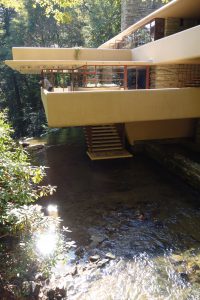 But that magic comes at a steep price: maintenance costs run to some $3 million annually. The house is nearing its 6 millionth visitor since it opened in 1964, and the wear and tear of all those people through the decades must constantly be counteracted. Then there is Mother Nature, who has also been unkind. The bedroom of Liliane, wife of Pittsburgh businessman Edgar who commissioned the house in 1935, was the major restoration task 2 years ago.
The artwork in the house was sent out for conservancy last year, and an ongoing project for the past 6 years has been replacement of the windows. Visitors now will see scaffolding on a small portion of the exterior that needs work. When I visited the outdoor balcony from one of the rooms had just recently been given a new floor, so it could not be walked on. There was still ample opportunity for outdoor views from the house, but photos are not permitted during the guided tours. Look for small items on the tour, like a model of the solar system and a Japanese artwork from 1834 dedicated and signed by Wright as a gift to the Kaufmans.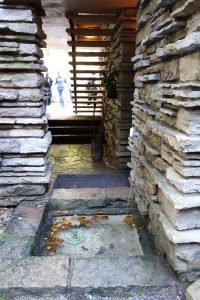 To get the "iconic" shot, which is the feature with this story, you must walk to a designated point to see the waterfall under the building.
Beautiful to look at but difficult to live in, as many Wright houses are, Fallingwater is a must-see for any visitor to Pittsburgh or the western/central portion of Pennsylvania. Tours range from the basic $30 option to an "in-depth tour" for $80, all the way up to $1200 for a "focus tour" of up to 4 people. A visit to the website Fallingwater.org has the the information. The house is open most days of the year, but closed every Wednesday.
Photos with this article by C. Cunningham.