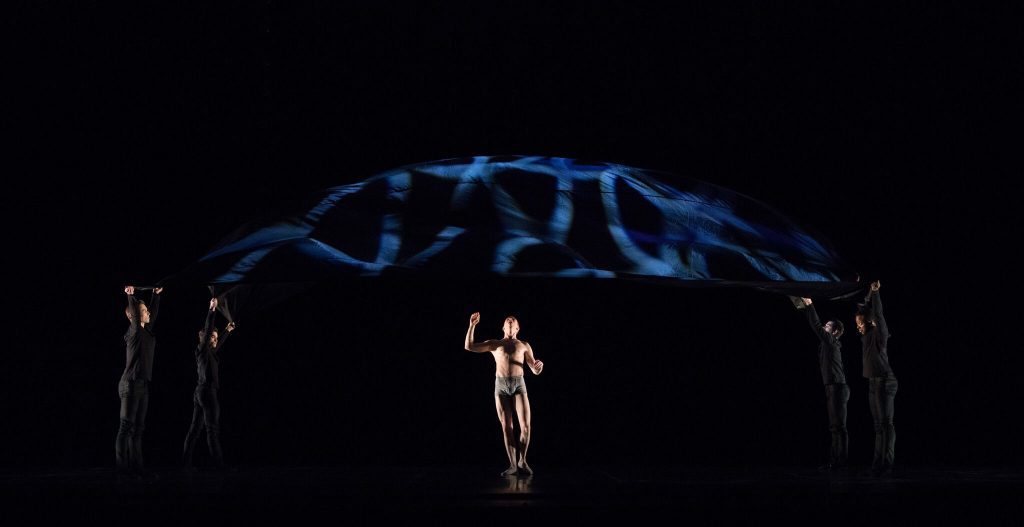 Austinites were treated to a world premiere performance of the ballet Exit Wounds by Ballet Austin's artistic director Stephen Mills.
An audience member personally familiar with his work since the 1990s told me she was "overwhelmed" by Exit Wounds, a creation "unlike anything he has done before, and never on such a personal level."
When we lose someone, Mills said in a voice-over to the introductory video shown on a large screen, "they take a piece of our heart and soul, and leave exit wounds." This three-part ballet was inspired by three exit wounds in Mills' life: the loss of his Mother, the loss of his friends in a New York City ballet company, and his experience with sexual violence.
Collectively they represent a profile in courage that Mills equated with Churchill's example as "he almost single handedly saved us from facism. Courage doesn't exist in a vacuum," Mills told an audience at the Long Center after the performance. "What choice have you made or will make in the future" he asked rhetorically, that will exhibit courage? "I reflected on courage in action, which resulted in this work."
A grant from Dr. Beverly Dale, a microbiologist, enabled Mills to "take the reins off" in developing a new ballet. But the financial freedom was a 2-edged sword. "Taking away boundaries is sometimes as difficult as having boundaries," he admitted.
Commenting on the current state of affairs in the country, Mills noted sadly "we are in a situation in which a huge lack of courage is on display." What will future generations think of the time we are living in? Mills is in no doubt it should be exposed for all it's worth. "History should be excavated and held up so other people can see it."
This was portrayed in the ballet's third segment, shown in the lead photo with this article. It is entitled Truth Rescued by Time, which featured a sheet of poly silk that variously hovered over, or enveloped, the dancers. It was a fine metaphor for how sexual misconduct can weave its way into one's life.
The opening segment, Fields, is about Mills' mother, set to music composed especially for this performance by Graham Reynolds. The choice of music was exquisite, and set just the right atmospheric tone for a story about a life ending. When his mother died, Mills said she did not go quietly to Heaven. "I think she kicked in the door," he said.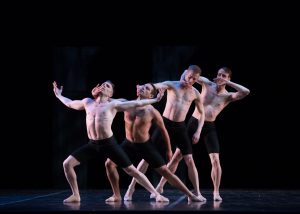 Both this and the second segment, Four Mortal Men (pictured here), deal with the primal fear of death. In the second segment, the subject is the so-called 'gay plague' that Mills encountered firsthand in the 1980s. He was a member of a ballet company, with three particularly close friends. Four Mortal Men is an eloquent depiction of how each of his friends receded into an abyss. The final scene shone light into this abyss, to reveal his first two friends lifting the third up to a staircase that they all then ascended. There were few dry eyes in the house.
Each of the three portions of the ballet was capable of evoking personal memories in anyone who experienced it. For those who have not yet experienced an exit wound, the ballet presages what life will bring. Only those with courage will be able to face it with equanimity.
My only criticism, which was shared by others I spoke to, was the music being too loud and 'canned' instead of live, as befitted a world premiere. The troupe of dancers acquitted themselves with thorough professionalism, which did justice to this extraordinary ballet.
Exit Wounds will surely prove to be an enduring work, and one that will enter the canon of modern ballet.
photos are by Anne Marie Bloodgood
For details on future ballets in Austin, visit the website www.balletaustin.org