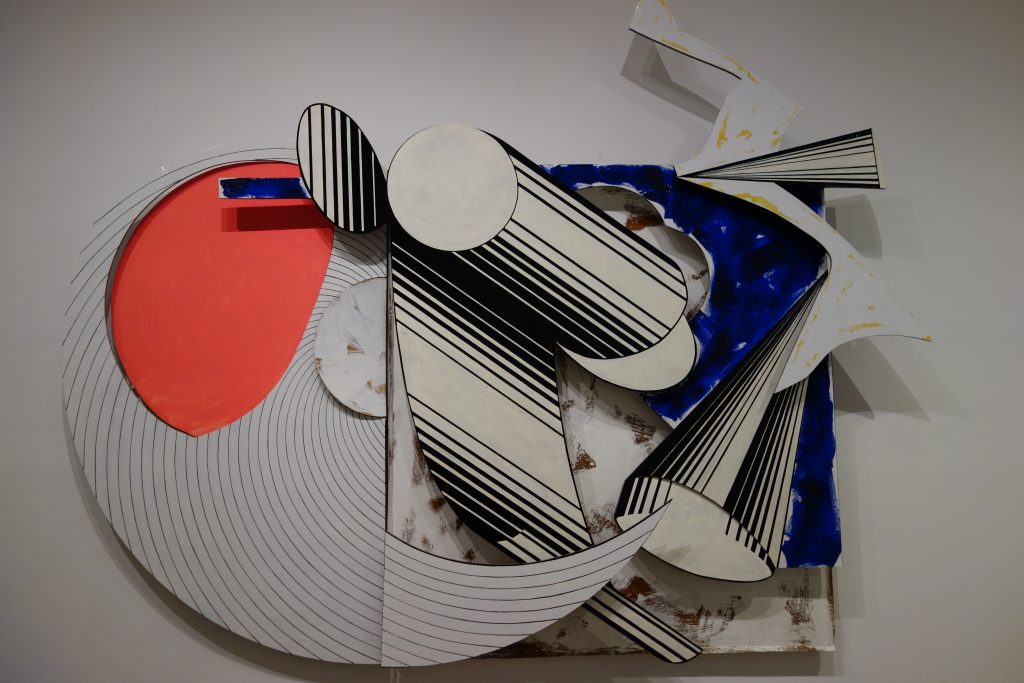 Few modern artists can boast of a 60-year career in art. An exhibit that has taken over almost the entire display space at the NSU Art Museum Ft. Lauderdale is a tribute to Frank Stella, who personally decided on the layout of his works.
Most of these are quite large: it took 14 trucks to transport all the pieces, many of which are in private collections in southern Florida. A last-minute addition is the only one he did not create, having been done by his mother Constance. It is a stained glass study, dated to 2006, the year she died. It is thought to be a signal of his mother's important artistic influence.
In his early career, influenced by Jasper Johns and Mondrian, Stella's idea was to eliminate the frame. He wanted to break way from norms, so he moved from three dimensional to 2 dimensional art. Some of the early works (late 50s and the 60s) on display shows how he played with irregular polygons. A small catalogue for the exhibit written by Bonnie Clearwater, Director of the museum, says these paintings "mark a shift in the relationship between the artist, his work, and the viewer." Instead of dictating how the viewer should perceive the art, "the multidirectional Irregular Polygons, for the first time, liberate viewers to choose their own paths."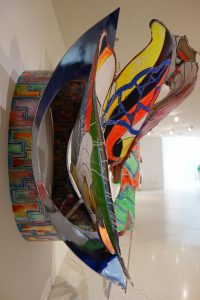 The show is arranged thematically rather than chronologically, so it takes a bit of effort to trace the artistic path Stella has been on for six decades. One thing is certain: he has always reinvented himself. He long ago transitioned from 2D to 3D. Many of huge works on display are not on canvas at all, but rather use materials such as stainless steel and aluminum, and they extend right up to his latest works from 2017. One of these, pictured here from the side to show how it projects from the wall, is painted on both sides. It is part of the so-called Moby Dick series from 1986-1997.
This followed and slightly overlapped with his series Cones and Pillars from 1984-1987, an example of which is the lead photo with this article. It is a further exploration, in 3D, of his earlier 2D geometrical work. He loved to work with illusion: how your mind perceives art.
Fans of Stella will be especially pleased to see both of his Racetrack works on display. It is the first time both have been exhibited together. He apparently wanted to create the largest possible work that could be viewed as a whole by human vision. If you stand back you can just barely see one of them from left to right without turning your head from side to side.
For those who believe 'modern art' is an oxymoron, this exhibit will confirm their belief. Those who believe the opposite will find much to marvel at here. Whatever the case, a career of 60 years is one to be respected, and you can see why until the closing date of July 8, 2018.