I thought I was attending a play about Confederate monuments but instead I was transported (quite literally) into the Star Trek universe.
The World Premiere of the play Nightbird is currently showing thanks to Austin Playhouse. It was created by the gay playwright R. Eric Thomas (lead photo), who won the 2022 Lambda Literary Award in the LGBTQ Drama category for his play Mrs. Harrison. This new play, Nightbird, will hopefully garner Thomas another award, as it is truly exceptional.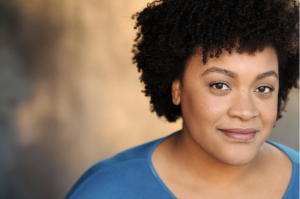 "I am in the future," declares Thalai (played by Indiia Wilmott) as the sound of the transporter from the original Star Trek series begins and ends the play. "All it takes is glitter and a glass of water to make me believe I can be anyplace in the Universe."(In the days of 60s television, the transporter effect on the show was created by glitter in water.) And yes, the iconic phrase "Beam me up Scotty" is spoken in this play. (By the way, it's not the first time I've been to the 24th century, as I appeared as a Starfleet officer on Star Trek: Deep Space Nine)
Thalia is the voice of reason in this play, which is dominated by the extremely combative encounters between Willard (Hollis L. Edwards III) and his sister Chelle (Taji Senior). What they mostly spar about are the merits of Confederate statues or monuments. Chelle lives in Baltimore, as a youngster lived across a park with a statue of Robert E. Lee, leader of the Confederate army. She could view it from every window of her home, but as she moved back into that same home later in life, the statue was being removed to an unknown location. As an artist, she spends much of the play envisioning what to replace it with: an empty plinth in the park becomes a vessel for a lot of emotional angst between her and Willard. She wants to "forge a new relativity with space" (the empty space of the plinth) while Willard optimistically opines "We are all guardians of our legacy."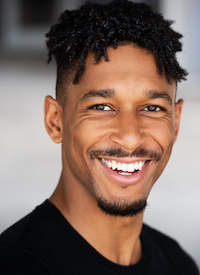 While Senior attacks the role of Chelle with reckless abandon (which is exactly what is needed to fully realise her character), Edwards is in full reactive mode, admirably portraying a young black man who can't understand why Chelle has not only decorated her house with a Confederate flag, but a large portrait of Lee as well! "We need to free ourselves from mental slavery," he screams as the visage of Lee looks down upon him.
Chelle knows all about that mental slavery, and it struck one black patron of the play as a very important element of the production. Chelle remembered being in a place where she was the only black person and still being "other, made to feel like she didn't belong . That, compared to what her mom fought for, which was equality – is that even something that could happen in her lifetime? I guess that's what the author is trying to position or put out there."
Thalia's obsession with Star Trek traces to Whoopi Goldberg. "I've always liked space, but when I saw her my brain said 'Oh, there's a black woman in space.' The future is anything, right?: space, planets, time travel! It's all a possibility and I love that. I love that I can dream about all that could be, and when I saw her I knew it meant I could dream myself into it too!" (Reflections of MLK's dream here?)
A couple weeks of a high school course could be built around an analysis of the text of Nightbird; it is fraught with symbolism of a very complex nature, with heavy doses of psychology and science fiction thrown in for good measure. When Celle declares the empty plinth to be "The Unresolved Space," we see that immediately, but when she then declares "I am unresolved," the depths of the play are fully revealed. She bizarrely sees herself as Judith with the head of Holofernes, but to learn about that you must see it for yourself. Even the line in the play "We are not avatars of ourselves" could be the basis of an entire essay. And how about Thalia's description of the holodeck on a starship: "It's as real as anything inside of us." Even over a period of more than 2 hours with one intermission, this production holds one's attention.
A beautiful play, not to be missed!
Nightbird runs thru Mar 26, 2023. It is directed by Dr. Marcus McQuirter, chair of the Drama Department, Austin Community College.
Austin Playhouse is located at 405 W 22nd St, very close to the UT campus. Visit their website:
Austinplayhouse.com