On one of my trips to London this year I dined at the best Italian restaurant of all, La Mia Mama. It is a unique place in London, where all the chefs are mamas from Italy, who are brought over from Italy to cook their own regional dishes. Every few months, the roster switches to another region. There are actually three La Mia Mama restaurants in London now, so one can sample the cuisine from three regions at any one time.
While there I got to know one particular Italian chef, Marta Messuri, whose sparkling personality is every bit as delightful as her food. To my additional delight she told me about her other passion: in addition to her culinary talents, Messuri is an artist. Here I present, for the first time in a news outlet, a few examples of her works.
Messri wrote to me of her background and interest in art:
"I was born in a small town in Molise (Italy), Monteroduni, in 1958. Since I was a child I began to show passion for painting and I enjoyed painting on pieces of wood that I then gave to relatives or school friends.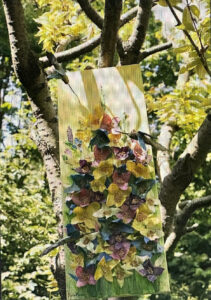 "I have lived in several cities. For a long time I lived in Naples, where I learned irony and the ability to never break down… In San felice Circeo, where I could enjoy the beauty of Nature and the serenity that gives the soul… In Rome where I lived surrounded by history and artistic beauty… Now in London where I learned to be myself and to feel free.
"I have two wonderful children, Tea and William…they may not know but they are the origin of the joy that I have inside me. I live and work in London and when I have the chance to take a break and relax, I take my brushes and my colours and I renew my strength and serenity.I never attended a real school of painting – I always painted what I wanted to see then on the canvas and stop with brushes. Over time I understood and felt more and more my passion.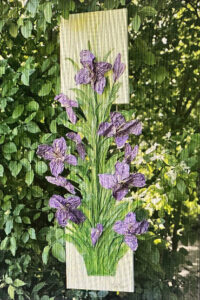 "When I paint, time and space no longer have dimension…I immerse myself in an 'elsewhere' full of peace and well-being. For this reason I never considered painting as 'work'. For me painting is cathartic, equivalent to transfer on canvas my moods, my emotions. I participated in many exhibitions including Spoleto Festival Art, where I had great reviews. I do not deal with the sale of my paintings; one day my son said to me, Mom, I understand that for you they don't have a price but you can't afford to give them away.. You will be ruined! So, I entrusted the technical evaluation and the sale of my paintings to my son, who takes care of the economic aspect."
Since her works are inspired by floral scenes, the optimal place to display them for photographic pruposes is outdoors, so they become part of the landscape. Two are shown here nestled in trees, with a large work brightening up a park.
A gallery in London should certainly take a serious look at Messuri's works, and give them a showing to the public they deserve!
Messuri can be reached by email at: messuri.arte@gmail.com
Here is a link to my article on the restaurant: