Almost Real Things is a free pocket-sized publication featuring the art of artists in Austin's burgeoning ecosphere. Natalie Earheart, editor-in-chief, and Zachary Zulch, creative director and event organizer started this project 6 years ago. Here is a transcript of my interview:
When did ART start? Was it based on a similar project you saw where? (Portland, was it?)
We started working on Almost Real Things in 2015 and the first issue came out in January 2016. We took a two-month tour around Europe in 2013 and were inspired by their print promo materials for concerts and art shows—leagues beyond what we had seen before. So many high quality beautiful objects that were enticing. we wanted to (and did) save everything. We had plans since college to make a zine with all our weird ideas, games, activities, fake companies, puns, collections of knowledge, etc. So when we moved to Austin in 2015 we thought that a pocket-size magazine was the most unique way to get our own art seen, meet new people and share everything we were learning about the city.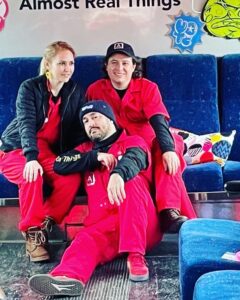 You went from a magazine to what now… describe the progression
Almost Real Things is a community. The first issue was just a test to help us make friends and get our work seen but when we started getting dozens of emails from people who wanted to be in the next issue we knew we were on to something.
By late 2016 for our double issue 3+4 we had figured out the City of Austin's Community Initiatives grant program and jumped into throwing fun events that combined art markets, concerts, gallery shows, local food & drink, activities and interactive installations—basically mini festivals that we marketed as the live version of the magazine since everyone who was featured had a chance to be included in the event.
As we've seen Austin grow and shift it became clear that we needed a permanent location if we wanted to continue to thrive. That's when we developed the ART Ecosystem: Produce, Promote, Sell. It's a triangle of processes for a sustainable creative career. You need a place to make work, then you need a promotional outlet, followed by a place to share and sell in person. We started our property search in 2018 and finally found and moved into our 3,000 sq ft ART HQ location in June of 2021. We provide studio space, gallery programming, rehearsal and venue space for as many creators as possible. But we'll need to grow into a larger spot soon as our waitlist keeps growing and the city keeps losing vital creative spaces.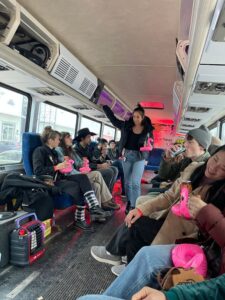 When did you begin ART BUS Tours? Tell me about the new bus purchase, how many seats/customers you can fit
Almost Real Things' first ART BUS Tour was in 2019 for WEST. We wanted a better way to visit the stops and introduce people to artists directly. As artists ourselves, we find it difficult to navigate where to go/what to see so we wanted to make the art scene more accessible so people can support Austin's thriving arts community. After that first tour we knew the idea was a good one since 90% of people bought art and most of them spent over $100. We immediately felt more integrated into the creative community here—all in 2.5 hours.
Once we brought back the tour in November, 2021 we agreed that this was something impactful that we could do monthly if we had our own bus. So the search began and by February we purchased the ART BUS, a 45′ MCI coach with 55 seats. We began conversion over the following months to modify the seats to make them face the center, install a professional sound system with a full mixing board and space for a DJ booth or merch space in the back, along with room for a bar in the middle. We're done with V1 conversions and will be hosting more tours with around 30 people per tour as we continue to improve the interior.
 How is ART funded?
We partner with local companies to fund our various events and our mentorship program ART Ahead. We strategize with them to build out creative marketing assets, commissioned artworks, promotional campaigns, videography/photography and more. We've featured over 1,500 creators so far so if a brand needs something, there's a good chance we can make it happen! Plus we have our membership program, ART Club.
 Who are the current sponsors?
For the ART BUS Tour: Guayakí Yerba Mate, Topo Chico, Celzo, Art Direct, ArtUs Co and Kwik Ice, Tito's, Dulce Vida Tequila, Mighty Swell, Tequila 512, Unique Prints, who also sponsored events this year.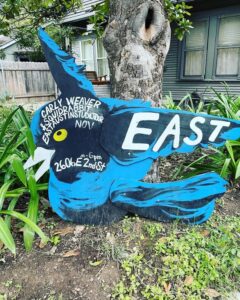 Can you provide our readers with quotes from any of the artists whom you've supported over the years?
 Ryan Bataillon, Issue 24: "I want to tell you how much I appreciate being a part of the magazine and a vendor at the release party. A year ago I was beginning this journey selling little art pieces and t-shirts with my friends at Quickie Pickie, and now I'm surrounded by some of the most talented locals here in this city. The set-up and level of pride each artist had in their booth was inspiring. It reminded me why I illustrate, and has brought a renewed want to push further; to set artistic goals and dive deeper into my practice."
Felipe Gomez, Issue 24 & ART Ahead mentee: "I have always loved everything that Almost Real Things have done and the impact they've had on the community. I have nothing but vast respect for the quality of work and the selfless love of creatives and artists."
What are your goals for 2023 and beyond?
Our current ART HQ property has been an amazing test of what can be done with 3,000 sq ft of space. We've hosted dozens of events here and provided studio space to many artists as well. If we want to make a dent in the space crisis that's currently happening in Austin we need to invest in our own property, ideally with 10,000+ sq ft. To get there we're going to need a lot of help, especially from the large companies who are moving to Austin. Without corporations providing adequate support for the creators and service workers who make Austin a hospitable environment to create, it will be very hard to sustain.
We're not planning on slowing down on our monthly event calendar with more gallery shows and concerts. Monthly ART BUS Tours are on the schedule. We also want to host more 6-week ART Ahead mentorships to help creators of all kinds take their art career to the next level so they can turn their passion projects into full-time careers.
This was my third Art Bus tour which took place on November 20 from 2:30 – 5:30. My how the transportation improved! The bus was a former travel coach converted to seat passengers facing one another. Free drinks, beer, and non-alcoholic beverages were served along the journey to visit artists on 3 stops. 92% of the riders over the course of the two day tour purchased art.
Routes and more info can be found at www.artbustour.com
Nov 20 was the final tour of the season.
Contact
hello@almostrealthings.com or on Instagram @almostrealthings
Vecome a member of ART Club, hosted on Patreon at www.patreon.com/almostrealthings for early access to open calls, discounts to events and access to resources.