The most famous Estonian artist is Lembit Sarapuu, celebrating his 92nd birthday this year. In honour of more than six decades of artistic output, the Kumu Art Museum in Tallinn, Estonia, is currently displaying some 150 of his works. It is a truly mind-bending experience.
His work is divided into three themes, as explained by Anders Härm, the curator of the exhibition. "At one end of the exhibition are simple landscapes, nudes and portraits, at the other end sexual, brutal and grotesque mythological paintings, and in the middle of it all, ironic and clever works dealing with everyday life and being human. He has interpreted his work as a reciprocal movement between the reality of life and the actual, from which this exhibition also got its name."
For much of his career, he worked as a citizen of the Soviet Union, as Estonia did not achieve its current independence until 1991. He rejected the official art style of the Soviet Union, known as social realism. Rather, he borrowed naïve depictions from amateur artists, transforming them into his own style of art. Impossible to categorise, the work of Sarapuu is gloriously unique.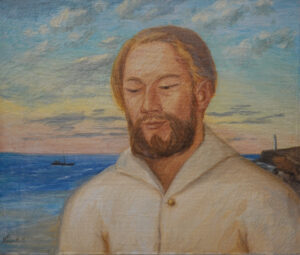 An example of this uniqueness comes in his description of portraiture. "It's said that the portrait painter must penetrate the inner world of the subject. I consider this inappropriate. Let everyone have their own life and own inner world. It's not polite to invade another person's inner world. I paint what I see. As the saying goes: my vision." As Sarapuu upends the central tenet of painting a person, one gets treated here to a fascinating display of many portraits. Instead of being placed along a wall, each is hung on a small, free-standing wall along a long corridor. As one wends their way first left and then right through these walls, one is confronted with different sight angles from which to view the works. Quite inventive and entirely appropriate for what a visitor sees. Towards the end we encounter a self-portrait of the artist, shown here from a private collection.
"It seems," writes Sarapuu, "that Nature has used the same material, and sometimes even the same details, when creating humans as it did when creating animals. Every person conceals an animal within, along with its appearance, characteristics and behaviour. The myths of many nations prove this strange connection."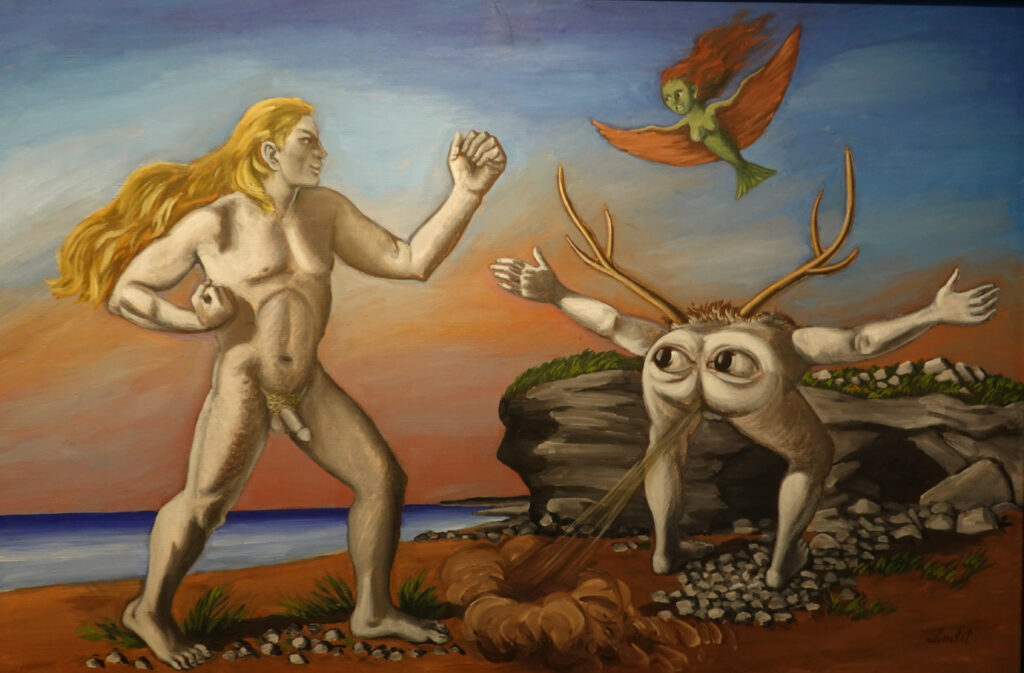 On the subject of national myth, we have Kalevipoeg in the Underworld (1988), the lead photo with this article. It is based on the national epic Kalevipoeg, depicting a mythical giant. The earliest reference to this creature can be found in an Anglo-Saxon poem some 1,400 years ago. Through the centuries he came to be identified with Estonia. In this particular painting he is shown in a cave, holding a flaming torch, with flaming blonde hair to match. Stalactites drip from the cave ceiling. In Battle with the Devil from 1989, we see the most extreme form of the artists' grotesque mythological imagery. A harpie flies in to attack our brave warrior, while the Devil keeps on eye on things from an unusual vantage point.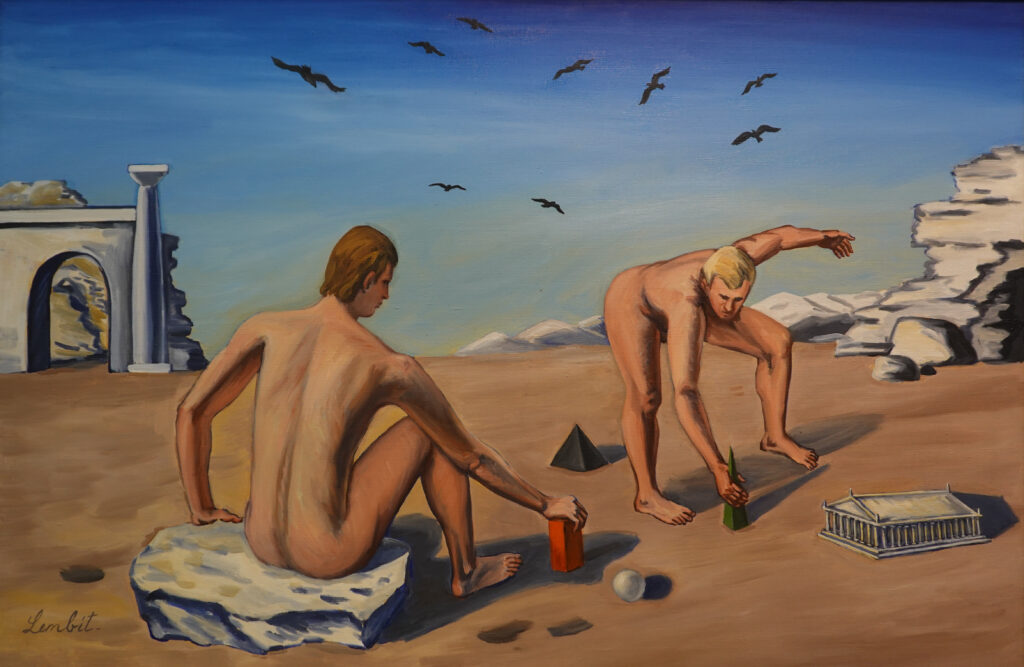 At a more contemplative level, I found the archetypal depiction of architects to be especially fine. Imbued with classical imagery, including a miniature Greek temple at right, these figures are using the basic building blocks from which architecture derives. Architects, done in 1995, is in a private collection.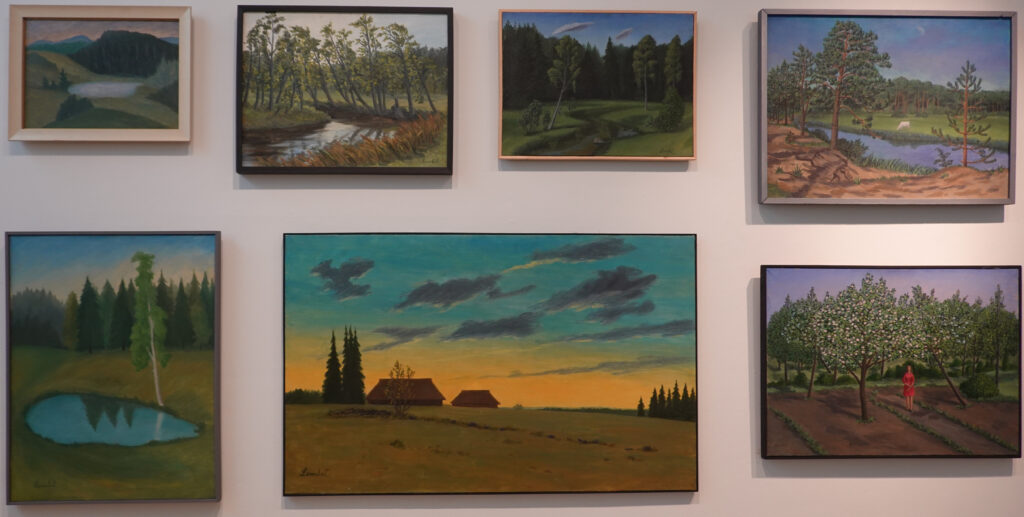 "A good work of art cannot create anything general if he hasn't experienced very much in his soul," writes Sarapuu. "A good work of art is a happy combination of the personal and the generally comprehensible." To illustrate this, I am showing a suite of 7 landscapes, only one of which has a person. His use of shadows on water is evident, and an expert handling of cloud formations is notable in the largest one.
An exhibit of incredible intensity and astonishing versatility, this should be sent on tour as few people who would appreciate this virtuoso artist will be travelling to Estonia. But unlike any other American news outlet, Sun News Austin was there to bring it to you and a wider audience.
The Sarapuu exhibit runs thru Sept. 18, 2022
Visit the museum website, and by all means see the permanent collection including 52 examples of Baltic German art arranged on a giant sail-shaped wall in one of the finest art displays I have seen anywhere:
https://kumu.ekm.ee/en/