What lies underground? Monsters perhaps. And diamonds too.
A summer 2022 exhibit in Helsinki's Amos Rex Museum, Subterranean, explores man's fascination with various facets of the underworld. Those facets include diamonds (of course), and here we can see a large 3D artwork with large diamond-shaped objects that rotate.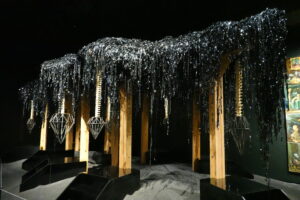 It is included in the Geology section of the exhibit, and is a 2012 creation entitled Diamondscape by Pascale Tayou from Cameroon. It represents the production of diamonds in African countries. The precious stones have caused violent conflicts for many years, and are referred to as 'blood diamonds' when they have been mined in conflict areas.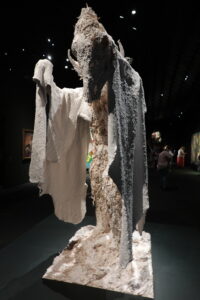 That is just one of the many terrors visitors will encounter here. Particularly fearsome is a large Minotaur that looks ready to pounce upon anyone foolish enough to get too close. And if you ever wondered what Purgatory might feel like, look closely at the 1923 painting of that name by Magnus Enckell.
Even though the subject is all about below ground, visitors must look up too, as some of the large artworks on display hang from the ceiling. A photo of one of the large rooms in the exhibit shows what I mean. In that photo the wide blue-coloured artwork is a 2022 creation by Per Wizén of Sweden. Here he has reworked Disney's animated version of Alice in Wonderland and created a large, dark forest. That, in turn, is based on the painting The Hunt in the Forest, a 1460 work by Paolo Uccello. Standing in front of Blue Hunt, one can get lost in the forest. It is a memorable experience.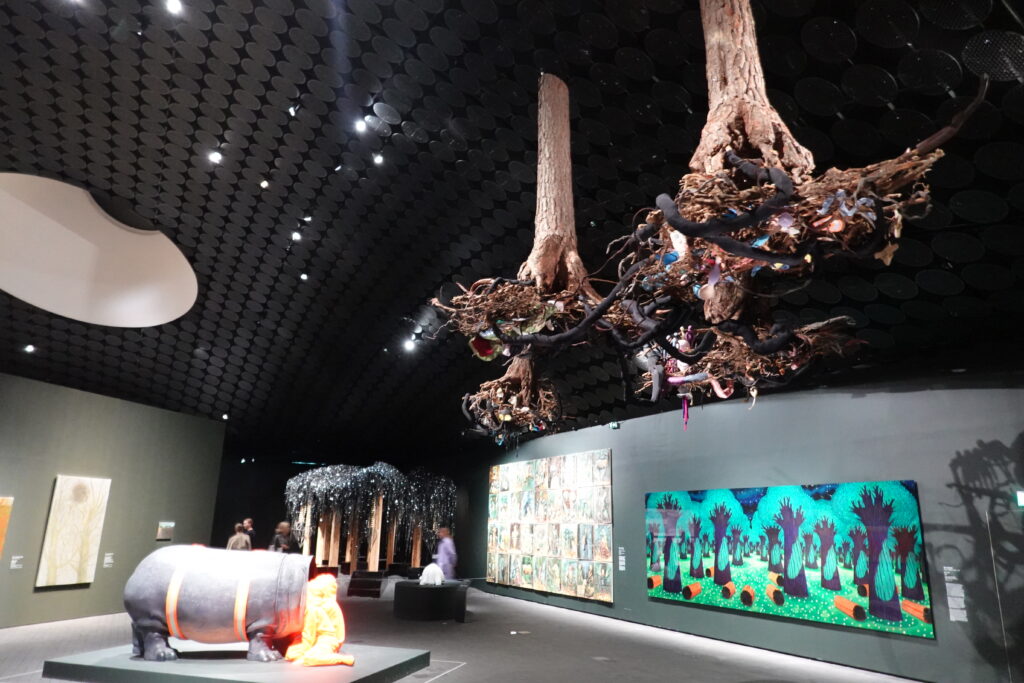 In addition to these large installations and wall-hanging art, there are sensory experiences. At one point you might hear a cry for help coming from beneath your feet. Looking down, there appears to be a small opening in the floor. In a cave beneath the museum, a person is trapped! Quite unnerving.
Caves feature a lot here, including an 1835 painting by Martinus Rorbye (I show a detail of the scene as the lead photo). The artist was part of the Danish golden age of visual art. He travelled widely, encountering caves near the village of Cervara outside Rome, which was a popular destination of artists. He was interested in geology and fascinated by the sunlight that illuminates the rear wall of the cave, all the while revelling in the Romantic view of a mountain visible through the mouth of the cave. Local residents extracting stone inside the cave gives the image a local and rural dimension.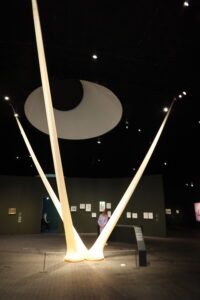 The literary is not confined to Alice in Wonderland (1865). A more intimate setting off one of the main galleries concentrates on illustrations from various books. Just as Alice tumbled down into an underworld, so too did Niels Klim back in 1741. He was the creation of the Norwegian-Danish dramatist Ludvig Holberg. The book is a satire and an early example of science fiction. Since it not possible to flip through the book to see the illustrations they are displayed on a screen which loops back in case you want to look more closely at one in particular. This is a very fine use of modern technology in an art museum setting.
Also delving into the literary aspect, there is one painting in particular I would like to have seen in the exhibit. It is in Talinn, Estonia, at the Kumu Art Museum. By Oskar Kalllis, it's a 1915 pastel entitled Kalevipoeg in the Underworld. It is based on the national epic Kalevipoeg, depicting a mythical giant. In this particular painting he is shown crouching in a cave, surrounded by stalactites and stalagmites. Another depiction of this, with an identical title, is also at the Kumu. It is a 1988 painting by Lembit Sarapuu, and is shown in my SunNewsAustin review of his exhibit.
There is a lot of depth to this exhibit (pun intended), and it was well worth seeing. It is a prime example of the thought-provoking art installations that Amos Rex is noted for. Until Sept. 9, 2022, visitors can see a portion of an art installation partially visible from outside the museum entrance. A surge of reclaimed materials spills over the roof and soars up the courtyard chimney. It is called The Nest, and is by Tadashi Kawamata. Junk or art? The decision is yours.
For fine art, the museum also houses the personal collection of Sigurd Frosterus, a Finnish architect who died in 1956. Most of the artworks were collected between 1905 and 1915 when Frosterus was active as an art critic and essayist. Almost half of the paintings are the work of Magnus Enckell (1870–1925), who did the Purgatory, and the Brussels-born artist Alfred Wilhelm Finch (1854–1930) who had settled in Finland in 1897. They were leading figures in the Finnish Septem Group that followed in the footsteps of Impressionism. This is an important collection, beautifully displayed, and quite impressive.
A visit here is essential for anyone visiting Helsinki. The building itself is an architectural gem; details are on their website:
www.amosrex.fi