In June I dined at La Mia Mamma, the best Italian restaurant in London. This month I will be there again.
Unique among Italian restaurants real Italian mothers are the cooks. They are flown in from Italy, from a particular region, so the menu reflects their style of cooking. Every few months they change.
And since La Mia Mamma now has different locations, each one featuring the food from a different region of Italy, frequent visits are necessary to sample it all. For those who watched the Stanley Tucci TV show on Finding Italy, he featured this restaurant.
Instead of sitting at a table at the King's Rd location, I chose a stool at the counter which faces out onto the street. It's a great place to see people and traffic going by, including the red double decker bus seen here. Some of the desserts are also prepared in the tiny kitchen between the counter and front window, so you see close-up how they are created.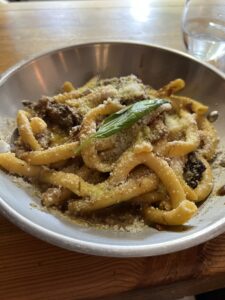 Also shown in this review is the main course I had from the Lazio region (Naples). This is the Ziti alla Genovese, a Neapolitan pasta with a luscious sauce made with 8-hour slow cooked onion, beef and Parmesan. Delicious.
By all means go to La Mia Mamma on your next trip to London. Tell them Cliff sent you!
www.lamiamamma.co.uk
3 locations:
Notting Hill
190 Kensington Park Road, W112ES
————————————-
​Chelsea
257 King's Rd, SW35EL
————————————–
​Chelsea
2, Hollywood Rd, SW109HY