For decades International Male titillated the fantasies of millions of gay men across America. With their clothing catalogue featuring the most handsome men in the world, wearing clothing the likes of which no one had seen before, it molded the view men in the 1970s and 80s had about themselves. Both gay and straight.
The opening film of the Austin Gay & Lesbian International Film Festival presented All Man: The International Male Story. In attendance was Peter Jones, the director, and Brian Buzzini, one of IM's most popular models.
I interviewed Buzzini, whose modelling credits include Playgirl magazine; he also worked with Versace many times on ads. "I was the first male supermodel," he told me. After having work at IM since 1984, by 1993 Buzzini was known as "the face of International Male."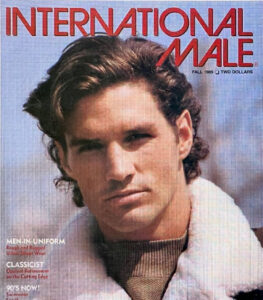 Buzzini said "the movie crosses over the generations, both culturally and by gender. I have a couple of 20-something-year-old daughters and they got to see the movie with me. It was a wonderful experience to get to enjoy that with them. I think the movie is especially important for the environment right now, especially for the gay and lesbian communities."
Much of his fan base is IM. "I received, just after the premiere in New York at Tribeca, 400 messages. Everything was positive."
The film is based on an interview given by IM founder Gene Burkard shortly before his death in 2020. This is interspersed with interviews with some his employees and the models. It really is an incredibly fine documentary, helped of course by a plethora of images of IM models. Celebrities are interviewed about how they reacted to looking at the models. I will let you guess what many of them did while gazing at these god-like figures. "International Male was low-brow fantasy," we are told in the film. Maybe so, but it opened the door for a lot of men to be free. But that is all in the past, as it ended about 20 years ago.
Peter Jones explained the origins of the film. "I saw 2 copies of IM sitting on top of a recycling bin. I picked them up and held them close to my heart and I was like 'Oh my God I haven't thought of this in so long!' It was so formative. I went to Brian and I said we should make this funny little 5-minute documentary about International Male, and this is what came out of that." Five years in the making, we now have this marvellous 83-minute film.
Overlapping IM in time is the film festival itself, which is celebrating its 35th year in 2022.
Today, Aug. 25, is the second day of the festival, which runs through the 28th. Go to the website and buy some tickets, or a badge, or even become a member. www.aGLIFF.org
aGLIFF now stands for (All Genders, Lifestyles, and Identities Film Festival)