If you thought the Wild West was only in Texas, look up to the sky. Cowboys In Space, a new exhibit at the Bullock Museum in Austin, shows that cowboys fly spaceships at least as well as they ride broncos.
The roots of space adventure go back a long way, to 19th century books by Jules Verne. But in the 20th century things really got going with silent movies featuring trips to the Moon. The first Science Fiction Western was a 12-part movie serial of Phantom Empire in 1935, starring the ultimate good guy, Gene Autry. On display is an original movie poster, courtesy of the Autry Museum in LA. The detail shown here depicts our cowboy in the clutches of the lost tribe of Muranians that he encounters far below his ranch on Earth. Even though the movie is not set in space, the Muranians are shown with robots, ray-guns, rocket ships and video phones, making it about a century ahead of its time.
Another example from the 30s is a book, Northwest of Earth. In this case it is not a direction but the given name of a rogue smuggler and gun slinger, Northwest Smith. He started a saloon on Mars with an alien friend from Venus. Smith's similarity with Han Solo has led to speculation George Lucas drew inspiration from the Smith stories for Star Wars, unusually (for the time) written by a woman, Catherine L. Moore.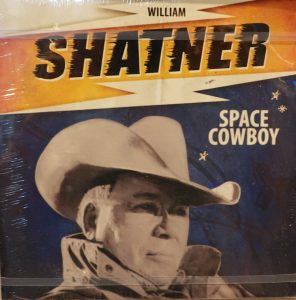 There are many unusual delights here, such as a mid-20th century painting by Hy Hintermeister (on loan from the Harlan Crow Library, Dallas), showing a young lad in a space helmet building a rocket from scraps he got around the farm. Being small, its only astronaut is the pet dog.
Fans of the 2002 TV show Firefly will be pleased to see several items here. Director Joss Whedon was inspired by John Ford's 1939 movie Stagecoach to create Firefly. Animated shows are not ignored, with a nod to BraveStarr from 1987. It features an American Indian lawman on a planet called New Texas. A large Western town model from New Texas that kids could buy at the time is set up, complete with Command Center, Bank and Jail. Quite impressive.
References to Star Trek abound, with a figure of Worf from Next Generation dressed in his old West outfit in a fan favourite holodeck adventure. You can listen to a clip of William Shatner singing (if that is the word) from his album Space Cowboy. We also see the first officer of Star Trek Voyager, Chakotay, a character inspired by American Indian ancestry (even though the actor had Mexican ancestry!).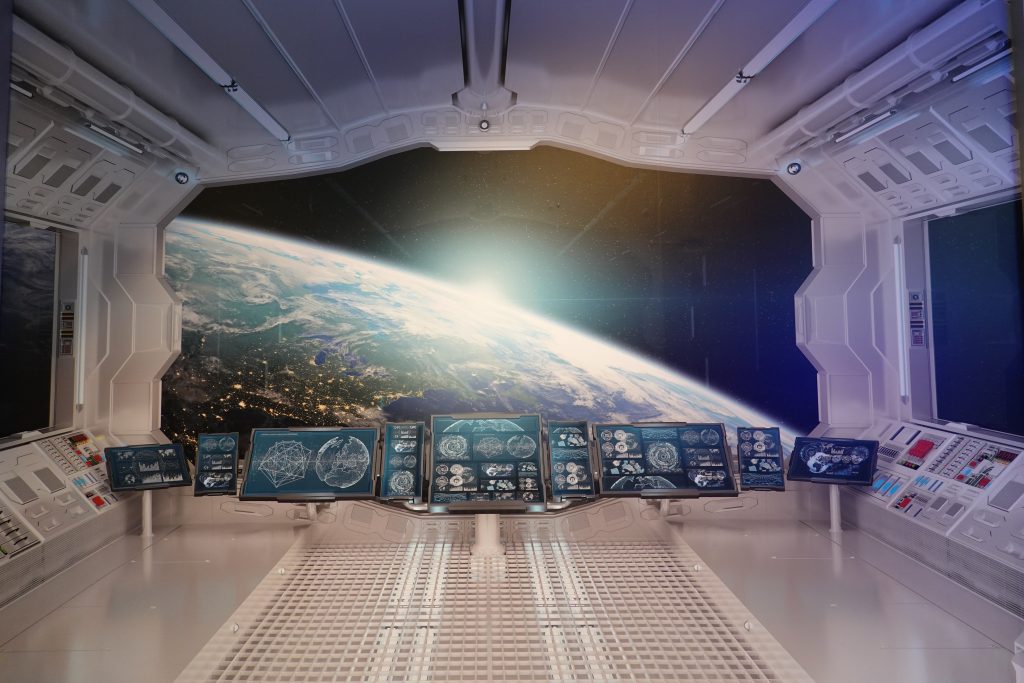 With large backdrops like the one shown here placed around the walls of the 3rd floor of the Bullock, this becomes an immersive experience and, if you read the display captions, quite informative.
With ArmadilloCon currently underway in Austin, and a permanent art exhibit of "Robots in Rowboats" at Art for the People on S. First St., the city has a lot of science fiction on tap for every taste.
Photos by C Cunningham
Cowboys in Space will be on display on the 3rd floor of the Bullock Museum until Dec. 1, 2019.