In the 1930s Paul Sethe, Nazi-appointed editor of the Frankfurter Zeitung newspaper, wrote a review of a book on Ivan the Terrible. A recent book by Berghahn claims it was a veiled criticism of Hitler. In fact, it's about Stalin.
Studies of Ivan are often taken to be about someone else. This highlights a crucial legacy of Sergei Eisenstein's film Ivan the Terrible: was it about Ivan, or was it really a veiled attack on Stalin? This is just one of the critical questions addressed by University of Texas professor Joan Neuberger is her important new book This Thing of Darkness. She began working on this book in 1998 with a trip to Moscow, where Eisenstein's (hereafter referred to as E) diaries had just become available. "No one had done any research with them," she said in a talk at UT in Austin.
"The early part of his career," said Neuberger, "has been studied a lot. The last half of his career has been seen as a caving-in to Stalin. The goal of my book is to change all that."
Most noted for his creative use of montage, the author explained that E (who lived from 1898-1948) "never stopped experimenting with film. Ivan the Terrible is experimental both artistically and politically."
On the political side, Neuberger said E's "goal wasn't just to critique Stalin," who, like Ivan, was a tyrant who murdered countless people. It was in period 1565 to 1572 that Ivan "unleashed a campaign of mass violence." As she writes in her book, "Stalinist historiography promoted Ivan as the heroic founder of Russia's modern state."
Thus Stalin was behind the production of a film about Ivan, but he didn't get what he bargained for. "Stalin wanted artists to justify his purges but he didn't recognise how tricky that would be," the author said in her Austin presentation. "The tragedy of absolute power is shown in Ivan the Terrible, a monumental triumphalist epic that relates to our thoughts of political responsibility." Regarding Ivan, the man himself, Neuberger writes in her book that "the issues Ivan posed helped E explore who we are-all of us-in our own times."
While the first part of the film was released in the Soviet Union, the last half was never finished. "Stalin said Ivan was portrayed as too Hamlet-like, and he hated Hamlet," who was riven by self-doubt. E showed Ivan had a conscience, but as a psychopath, Stalin had none. "Stalin also hated the homoeroticism of part 2, and banned the film." The second half, unfinished, did not see the light of day until 1958, five years after Stalin's evil soul left this Earth.
As Neuberger states in her book, an article E wrote in 1942 demonstrates his "ability to maneuver in the Stalinist political-cultural labyrinth," such that he could "conform to the official line in a way that made possible a veiled, more complex inquiry into the nature of power and the psychology of the powerful." As E himself wrote, "the secret of the whole thing is to humanize, explain the most atrocious things!"
Neuberger writes "I see this article (written a year after finishing the first draft of the scenario) as a real tour de force that shows us E's ability to exploit the rhetoric of Soviet speech to challenge simplistic moral and political categories and raise complex questions about Soviet public life and political rulers." Despite the ease with which we can now view the film as a hunger for power, the Soviet powers at the time were hoodwinked. "How did he get away with it?" ponders Neuberger. "Ivan the Terrible is an edifice that deceived enough viewers- the right viewers at the time- but E laced the mortar that held its bricks together with his own blood and ashes."
The first part of the film appeared in 1944. "People in Russia were completely confused by it, and it scared people," said Neuberger. Perhaps not surprising, since E set about "digging into the most sinister and twisted dynamics within his characters." The film is not just a Russian tragedy, but a depiction of the tragedy of Russia, a country that can only be ruled by an autocrat (Ivan the Terrible, Catherine the Great, Peter the Great, Lenin, Stalin, Putin…..)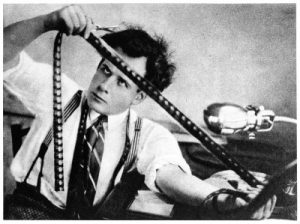 Certainly understanding the film is no easy task. The filmmaker "expected the audience to have a sensory memory of what happened early in the movie and relate it to what happened later." He pushed the limits of cinematography in a masterful employment of lighting. "He used shadows to represent transformation: sometimes they become autonomous from the characters. He used lighting to probe the depth of human experience, from the surface to deep down."
The book does contain a few typos. Text should read "them to germinate" (p98); "dynamics is one" (p114); "challenges us to consider" (p184); and "the film", not "the the film" on p191. The Index, while generally good, has issues. For example, entries for Konstantin Stanislavsky are incomplete, and there is no entry at all for a major historical figure, Andrei Kurbsky, who is mentioned on several pages. It was Kurbsky who defected from Ivan, attacking his cruelty and tyranny in a letter to Ivan himself.
Like the film, this book is intricate and complex. As a study of a single film the book certainly rises to the upper echelons of anything comparable in film studies. It should have wide appeal, not only to historians and students of film (and cinematography in particular) but also a crucial text in studies of psychology, Stalin, Eisenstein, Russian history, and studies of tragedy and power.
This Thing of Darkness: Eisenstein's Ivan the Terrible in Stalin's Russia ($48.95) is published by Cornell University Press.
To see what Neuberger terms this "beautiful, inspiring film," the YouTube version, with updated subtitles, is the best one.