At this year's 30th Austin Film Festival, I caught up with Australian indie filmmaker Heath Davis (pictured), a writer/director/producer of the features Broke, Book Week, and Locusts.
Featured at this year's festival is his latest Christmess, which hits Aussie and NZ theatres from Nov 30 and stars three of Australia's finest: Darren Gilshenan (from Fox's No Activity), Steve Le Marquand (Two Hands), Aaron Glenane (Snowpiercer) as well as Hannah Joy – the lead singer of indie rock darlings Middle Kids, who are killing it Stateside.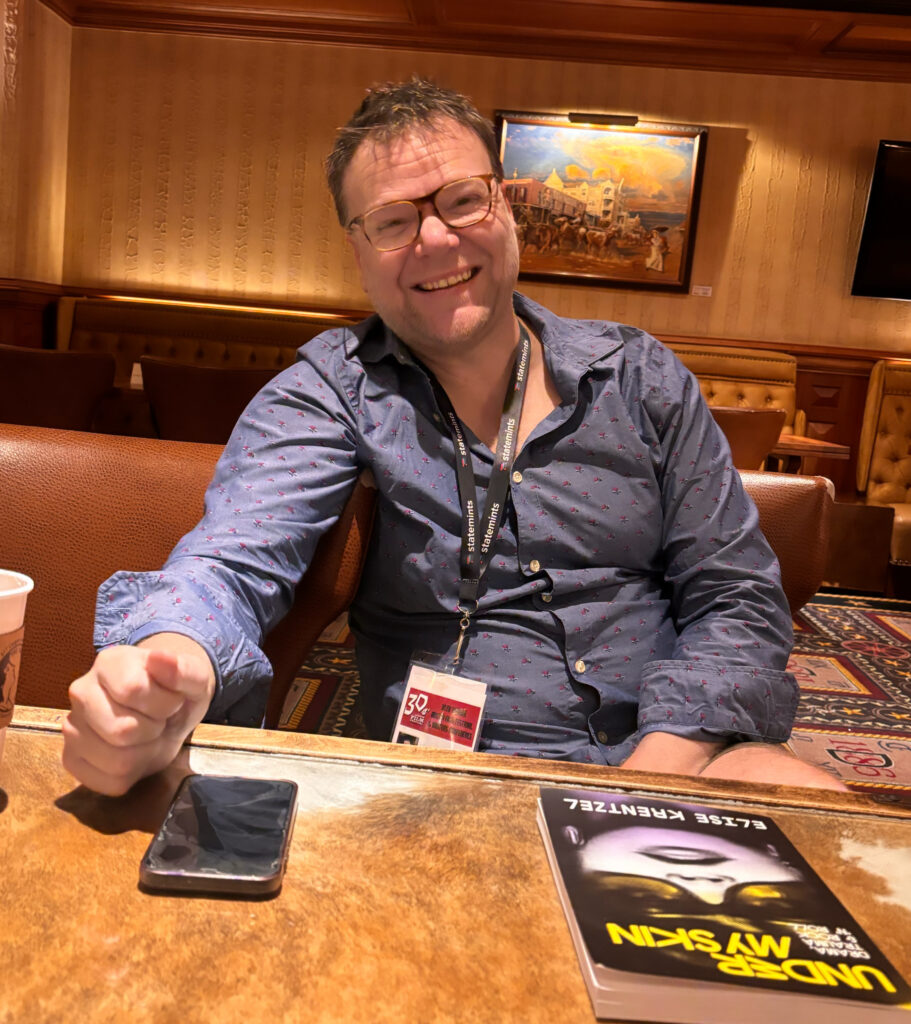 This real-life dramedy hits home for the people who detest and dread the idea of a commercialized Christmas due to a myriad of reasons: loneliness, being without a family, wishing to avoid their family of origin or the pressure society exerts on being happy, and a good samaritan during the holiday.
Here's the synopsis of Christmess. Fresh out of rehab, a washed-up actor, Chris Flint (Steve Le Marquand) – takes a job as a suburban strip mall Santa Claus, where he encounters his long-estranged daughter. With the support of his caring sponsor, Nick (Darren Gilshenan), and a young, sharp-tongued musician in recovery named Joy (Hannah Joy), Chris sets about staying sober to win his daughter's forgiveness for Christmas.
Heath revealed to me his own Christ messes during his life. He had to come to terms with the projections of how life ought to be on that holiday and how he used to get swept away in that illusion of a perfect dinner, but it wasn't reality. A lot of soul-searching went on.
"A specific date on the calendar says, hey, I'm supposed to be cheerful, but looking back on my childhood, I knew it would be a tough time for me looking back at my childhood and all the drama that came with the festive season. I had to make strategies and implement them to get through the period.
How I wanted to know did he get through them. With a lot of alcohol, he snickered. Admitting it's not the best way to handle the situation, Heath added, "I have to monitor it; it's the first thing Australians and many Americans go to. We drink to severe excess in that period to deal with things, but it doesn't go well. There's the Christmas party at work, getting together with friends we haven't seen, and it's all about drinks, drinks, drinks.
"It's the same with tragedy. What do you do at a funeral? You drink, and if there's an underlying mental health issue, it exacerbates the problem. I also have to watch myself to not go over the precipice."
The film was based on a true story and reflects Heath's self-exploration. He shared (speaking in the third person) that the safety nets and mechanisms you think you have in place stem from childhood family issues are not there for many, many people, and it's often the kindness of strangers that gets you through.
I pointed out that one can look at these heavy times differently. You can look at tomorrow and say hey, tomorrow is going to be as shitty as today, or it's going to be better, or I'm going to make it better. An optimistic outcome from a bad situation doesn't always work, but I wondered how Heath handled the situation when his outlook was narrow.
"It's taken a lot of hard work, self-examination, therapy, hindsight, wisdom, and reflection. I started a family with two little kids in the last six years. When there are kids, you begin to reflect as you see yourself in them, and you don't want to repeat your parents' mistakes."
While the film is not a direct biopic of Heath's life, there are truthful elements. For example, the leading actor is his friend. It was emotionally trying for him to make the film for these reasons and because the market for Christmas movies, aka Hallmark and others, flood the homes of millions of viewers beginning in November. Heath did extensive ho-hum research watching hundreds of Christmas flicks and found them to be bland, very similar, and boring for the most part. Christmess should hit the US market in 2024 for a messy Christmas. Keep following Heath Davis' moves on IMDb. https://www.imdb.com/find/?q=heath%20davis&ref_=nv_sr_sm
Watch the trailer here. https://www.youtube.com/watch?v=xswpKi5DIFw
Photo credit Elise Krentzel