Probably not, but you should be.
There is a famous jingle in Edward Albee's play, which is also the title of his play, Who's Afraid of Virginia Woolf?. It has the same tune as "who's afraid of the big bad wolf?" in Disney's 1933 film Three Little Pigs, as both relate to illusion. In real life Virginia Woolf (who does not appear as a character in the play) was a writer who exposed layers of pretension that masked her social peers. So the title of the play has been revealed by those who have delved into it as another way of asking "Who's afraid to live without illusion?"
The third act of Albee's play is quite incomprehensible without understanding that living with an illusion – quite literally living an illusory life – is what this is all about.
Those living the illusory life are Martha and George (a curious allusion to Martha and George Washington), played most famously in the 1966 film by Elizabeth Taylor and Richard Burton. In the City Theatre Company production currently on stage in Austin, the couple is played by Meredith O'Brien and Rick Smith. Both talented actors have appeared in City Theatre productions, most recently in a play about Oscar Wilde. Their protagonists are another, younger, couple, played here by Chiara McCarty and Carl Kraines. As a quartet they deliver the powerful punch Albee was looking for, and all are to be commended for keeping the acting at a high level throughout a play that lasts close to 3 hours.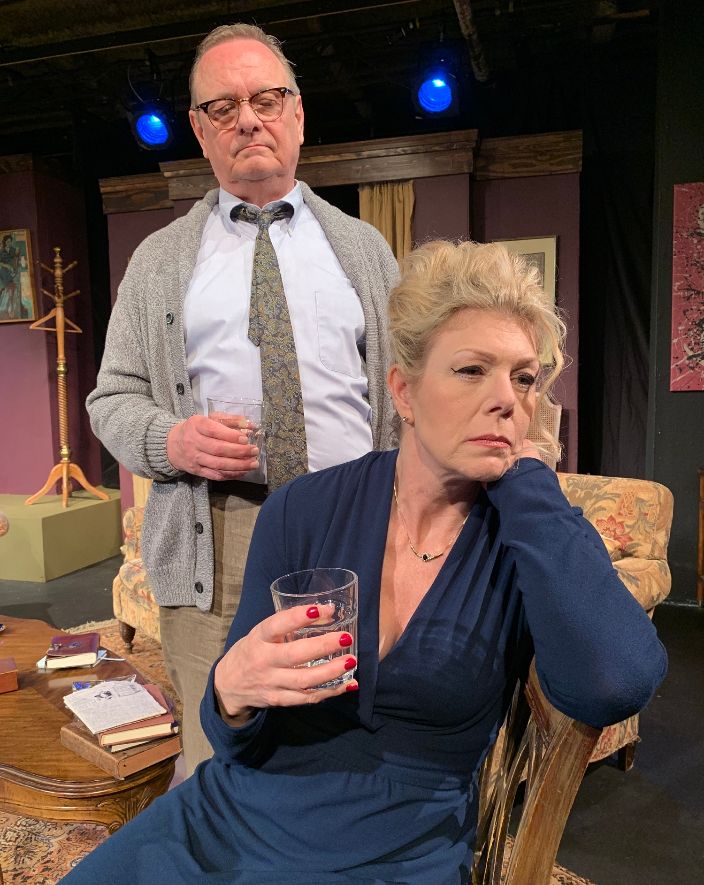 In an exclusive interview with SunNewsAustin, Production Director Karen Sneed said "There is a lot in this play that is real and painful to me." Being able to project this personal reality onto the stage, through her direction of the actors, is the secret ingredient that makes this a production you really must see.
The play was first performed in 1962, and in '63 it won the Tony award, but Sneed told me it did not win the Pulitzer prize. "They would not let the play have it because of the language. The play was a comment on American life at the time," but the Pulitzer committee decided it did not portray a "wholesome" view of that life. As a result, nobody won the Pulitzer for drama that year, and half the committee resigned to show support for Albee!  Albee later went on to win three Pulitzer prizes for drama. "The version we are presenting," said Sneed, "is the revised 2005 version by Albee." He died in 2016.
In the play, Martha states "I have a fine sense of the ridiculous but no sense of humour." Anyone in the audience who can (at least for 3 hours) hold to that mindset will appreciate it best. This is dark comedy at its sharpest, a genre that began with Aristophanes in ancient Greece, but really got going in the English language in the works of Jonathan Swift. Anyone who has not read A Modest Proposal (1729) as a way to reduce the Irish population is missing a real gem.
This production is a real gem too, one of the finest The City Theatre Company has given to Austin.
Who's Afraid of Virginia Woolf? is showing through May 1, 2022.
Tickets at www.citytheatreaustin.org
Photo credit: Andy Berkovsky