Cass, the star of the play, declares early on that she is "a tall glass of bubbly cider." This pretty well sums up the frothy nature of this madcap comedy. Like most modern comedies, it is really a dark comedy, whose prime motivation is marital breakup and infidelity, leading to an on-stage death.
Wonder of the World does not, however, go full-tilt into becoming a melodramatic farce like the 1916 Broadway production Cheating Cheaters. It's more akin to the 1926 play The Constant Wife, where the long-suffering wife decides to create an independent life. But in '26, when it was still quite a statement to see a woman setting off on her own, Somerset Maugham made sure she did something sensible by becoming an interior decorator. Now that being an independent woman is the norm, playwright David Lindsay-Abaire had to choose a far different path. He directs his character into a life of frivolity, ticking off a list of to-do items so indicative of the vapid culture we find ourselves in (he wrote this in 2000).
In this case Cassie is not actually propelled to leave her husband because he is with another woman, but rather has a perverted fixation on Barbie dolls.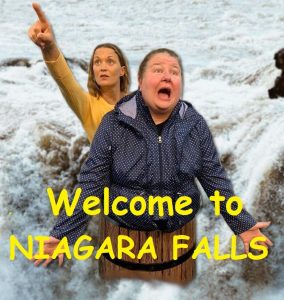 Cassie, played by actress Jill Klopp Turner with perfect poise amidst a delirious cast of characters, attaches herself to a woman with suicidal tendencies on her way to Niagara Falls (yes, a dark comedy). She is played with reckless abandon by Robyn Conner. Perfect duo casting (which is fortunate as they get stuck together in a barrel!).
Patrick Wheeler plays the Barbie-fixated husband Kip; Kevin Anderson plays a handsome ship captain who Cassie falls for; Kirk Kelso and Jennifer Gonzalez offer up the ditziest duo imaginable, and Shannon Embry ties it all together by dispensing marital advice while dressed in a clown suit. Their combined abilities were best expressed to me by an audience member who gave the production two thumbs up. "It is seamless," he told me. "It is not like people acting it out, but like we are witnessing what's really going on. It's pretty much solid laughter throughout."
With its reference to the pointillism of the painter Seurat, Lindsay-Abaire at least makes the attempt at adding a sprinkle of intellectualism into the play, which is seeing its Austin premiere courtesy of City Theatre Austin and Beyond August Productions, a new theatre company formed here just this year by Wheeler, Turner, Embry and Conner. As they have already achieved a "seamless" experience for the audience in their premiere outing, one can confidently state great things are in store from this talented troupe.
The production runs thru Oct. 24, 2021. Website for tickets: citytheatreaustin.org
Photos courtesy of Aleks Ortynski. Lead photo (l to r) Embry, Turner, Gonzalez, Kelso, Conner.
About the playwright:
David Lindsay-Abaire is a Pulitzer Prize winning playwright, screenwriter, lyricist, and librettist. He has been awarded the New York Drama Critics Circle Award for Best Play, the Horton Foote Prize, The Edgerton New American Play Award, and has received numerous Tony nominations for his work. His plays include Rabbit Hole, Good People, Wonder of the World, Fuddy Meers, Kimberly Akimbo, High Fidelity, A Devil Inside, and book and lyrics for the Broadway hit Shrek the Musical. In addition to his theatre work, his screen credits include the film adaptation of Rabbit Hole (with Nicole Kidman), Rise of the Guardians, and The Family Fand. He is a New Dramatist graduate, member of the Dramatists Guild Council, and, along with Marsha Norman, he is Co-Director of the Playwrighting Program at the Julliard School.