Today it's just known as A Christmas Carol, but the book's full original title is A Christmas Carol. In Prose. Being a Ghost Story of Christmas. It was published on December 19 in 1843 and became a stage play within months. A first edition of this Charles Dickens classic is now worth $27,000.
At the Zach Theatre you can see this ghost story in a musical adaptation that has become an annual Austin staple. The production debuted here in 2014. Since this is an annual production, I wondered about the practical continuity issues. I asked Production and Technical Director Austin Manning, who told me this is the largest production the Zach does every year. The hydraulic lift and turntable stage are just two elements in what are technically known as "axes of automation." The lighting alone is another challenge, with 8 moving lights, dozens of LEDs and 80 conventional lights. Add to that props, costumes, and several dozen wigs that require weekly maintenance, and you have a really big show! When not in use, much of it is housed in a 53-foot trailer.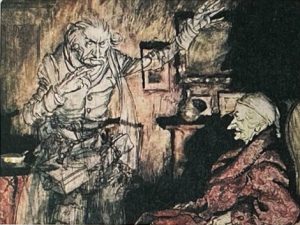 Another continuity aspect is the cast. Of the three ghosts, two are haunting Ebenezer Scrooge again. Both Roderick Sanford (Ghost of Christmas Future) and the irrepressible Kenny Williams (Christmas Past), first appeared in the 2015 production. The Ghost of Christmas Present is now being played by Leslie McDonel, who played Mrs. Cratchit in the 2019 production. That was the most recent production, as Covid cancelled it in 2020. Marc Pouhe stars as Scrooge.
All the singing is very strong. Paul Sanchez as Bob Cratchit brought the house down (as he has done in previous years) with his rendition of O Night Divine; and Sanford, doubling in his role as the ghost of Jacob Marley, channeled the power of the damned in his confrontation with Scrooge. In fact, Sanford's voice is so good it should be considered a national treasure. Also packing a punch are the songs delivered by the tall commanding presence of Michael Valentine as Fred (Scrooge's nephew). The entire cast collaborates in full-on musical numbers which turn into a phantasmagoric spectacle with audience members waving light wands.
While several musical numbers are new, the song chosen for the finale remains the same. Andy Grammer's 2015 hit Good To Be Alive (one of my favourite tunes of the last decade) is the perfect choice. Overall this is the most invigorating staging of A Christmas Carol the Zach has done yet, with higher production values and superior musical choices.
The only negative note I heard was a comment that the Ghost of Christmas Past section didn't have enough spirit, but that may just have been a really bad pun!
As the first indoor production at the Zach Theatre since the shutdown, this is a rousing choice to relight musical theatre in Austin and get in the Christmas spirit (another pun).
A Christmas Carol will be performed until Jan. 2, 2022.