"We have been in the woods for 20 months, now we are finally getting out of it," said Kevin Wilson of the Zach Theatre, referring to the virus-induced shutdown of theatrical productions. Wilson, the Individual Giving Manager of the Zach, told me this in an interview at a performance of Stephen Sondheim's Into the Woods. The play, in effect, is acting as a parable for the journey the Zach Theatre and its dedicated staff has made to help revive live theatre in Austin.
"For everybody it's been a complicated over-20 months and after that time there are two things we noticed the community needed most: empathy and joy," Wilson explained. This required creative thinking, the result being the "first full production ever done outside." Into the Woods is a truly 360-degree immersive experience. A long-time worker at the Zach enthused that Dave Steakley, Zach's Artistic Director, "has been a genius – that we are finally we are using the plaza sensibly like this is spectacular. We have never been able to use the Juliet balcony before."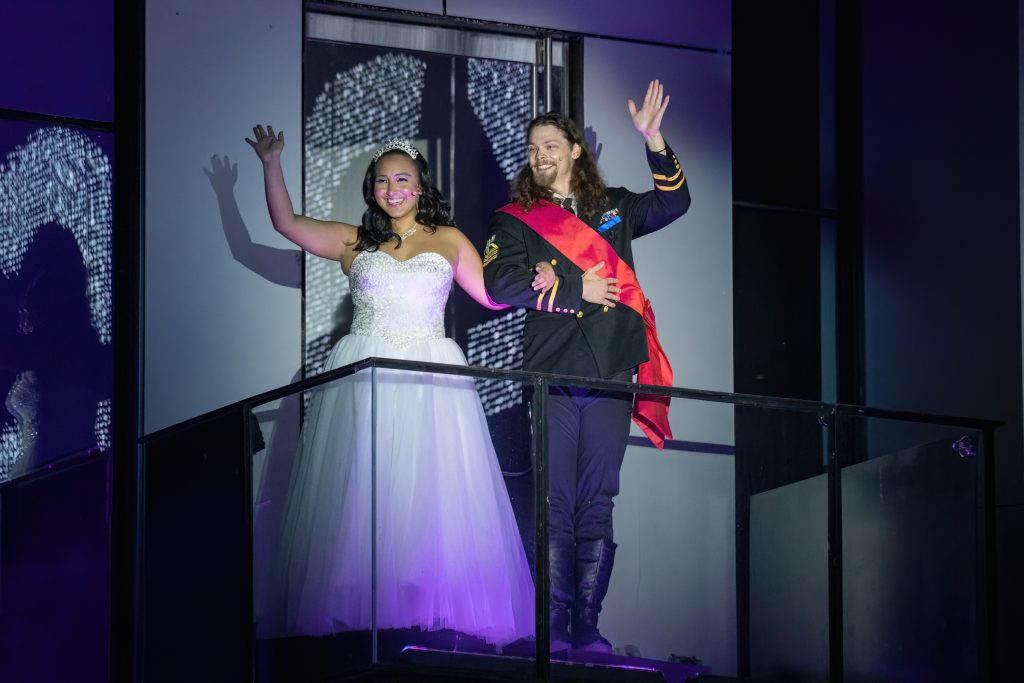 For this production it is not Juliet but Rapunzel who gets to use the balcony to great effect, with her long streaming hair hanging down from there. She is but one of several iconic fairy-tale figures who populate this musical in a mélange of fantasy and mayhem. Remember, fairy tales were not written for kids, but for adults, so death stalks many here. Once you see the play, you will realise this is a pun on the Jack in the Beanstalk story!
Audience reaction to the production was very positive. "This is amazing, and I don't even like musicals," one young lady told me. "It is very innovative and has multiple plot lines so you don't get bored. They have taken the entire area and utilized it to the max." Another member of the audience said "I was a tad skeptical, it but is working out phenomenally. I love how interactive it is!"
Into the Woods hardly needs a summary here as it is by now a venerable war horse of the theatre, having debuted in 1986. It's creator, Sondheim, is now 91 years old.
With characters as diverse as a philandering Prince Charming (played by the tall Nordic-godlike Ethan Rogers), a witch (Nova Payton [lead photo], with her commanding presence and marvellous voice a true gift to the audience), Little Red Riding Hood (portrayed saucily by Justine Grace), and Cinderella (a demanding role ably handled by Shelby Acosta), this is a production for Zach to be proud of.
"We had to find a way to get going again safely," said Wilson. "We're not going anywhere – we are just as necessary as ever."
Tickets at: zachtheatre.org
Photos by Suzanne Cordeiro