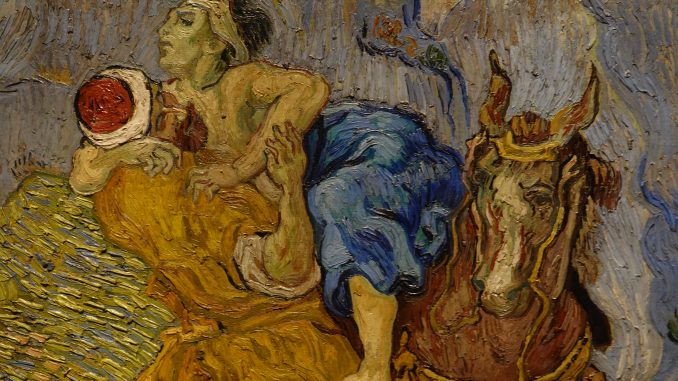 Several images come to mind when one thinks of Van Gogh, especially sunflowers, and starry night scenes. The current exhibit of 50 of his works at the Museum of Fine Arts, Houston is, to a large extent, van Gogh as you have never seen him.
The first gallery you enter shows off several of his iconic paintings, but these are only reproductions. While you will find one self portrait, and one of his extraordinary Iris paintings in the exhibit proper, the vast majority of works on display will be new to all but aficionados of his oeuvre. The disappointment in not seeing his most stellar works is offset by the thrill of discovery though, as this exhibit brings us closer to the man himself.
Most of the paintings and drawings are on loan from the Van Gogh Museum in Amsterdam, which I visited some years ago. Most others are from the Kroeller-Mueller Museum, Otterlo, The Netherlands. But Texas has an entries here too: the Houston museum has one of its own, The Rocks from 1888; and the McNay Art Museum in San Antonio loaned Woman Crossing the Fields from 1890, one of his last works.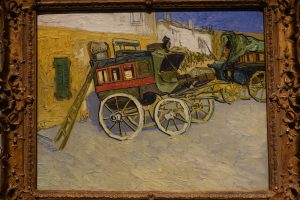 Another painting that is reminiscent of 19th century Texas is the Tarascon Stagecoach, an 1888 work on loan from the Princeton University Art Museum, which has the painting courtesy of The Henry and Rose Pearlman Foundation. Van Gogh painted this and 15 other large works as decoration for the house where he was about to share with Paul Gauguin.
My personal favourite on display is The Old Church Tower at Neunen, done in June 1885 (from the VG Museum in Amsterdam). This medieval church could be seen from vicarage when Van Gogh's parents lived. It is one of his first major paintings; he was very prolific during his 2-year stay in Neunen, with an output of some 200 paintings. (Neunen is in the south-eastern part of The Netherlands.) The site shown here was of particular significance for Vincent as his father had been buried in this churchyard just 4 months earlier. The white cross in the foreground is a memorial to his beloved father. The painting also has architectural significance, as the structure we see here was demolished just a few weeks later.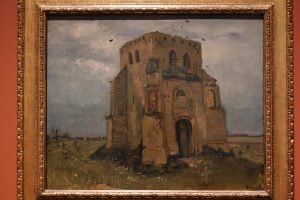 A particularly vibrant work is The Good Samaritan from 1890, on loan from Otterlo. Van Gogh especially liked a painting of the Good Samaritan by Delacroix: a lithograph of it decorated his hospital room in Arles in 1889. He likely never saw the original, with Delacroix's own colours, so this composition with a red accent in the turban is all Vincent. The image shown here is a detail from Vincent's painting.
The Houston museum has made Van Gogh's words especially engaging by creating an interactive room where you can actually walk into some of paintings. Entire scenes are either recreated in 3D that you can enter, or backdrops are set up such as a cafe scene, with a table one can sit at. His Starry Night painting has even been put into action with the swirls in motion. A great idea that should be repeated at other exhibits to get young people more interested in fine art.
The exhibit runs through June 27, 2019. Visit mfah.org for tickets