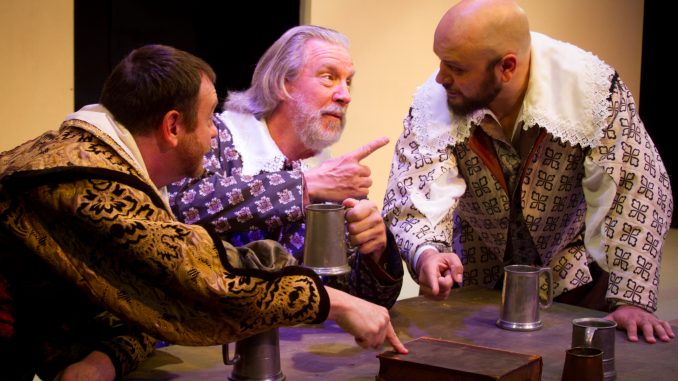 The Book of Will was developed at the Colorado New Play Summit, and commissioned in 2016 by the Denver Center for the Performing Arts. In 2018 it won the best new play award from the American Theatre Critics Association.
This exceptionally fine play is now being performed by Austin Playhouse, starring Huck Huckaby as John Heminge and J. Ben Wolfe as Henry Condell. It was Heminge and Condell who acted in the plays Will Shakespeare wrote; this play tells the story of how they collected and published all of the plays into the famous First Folio. The concept sounds dry, but playwright Lauren Gunderson has infused it with such passion it scans like an X-ray to reveal the meaning of humanity beneath the bravado that actors of any age must project.
There is plenty of bravado here, especially in the person of Ben Jonson, played by Toby Minor. His portrayal is so immediate one can easily believe he is Jonson. Huckaby and Wolfe sound like true Elizabethan actors, especially when they spar with Minor, whose real-life Ben Jonson had a love-hate relationship with the real Shakespeare.
When Shakespeare died in 1616, Jonson wrote "Soul of the age! / The applause, delight, and wonder of our stage / My Shakespeare, rise!" Despite tussles with his colleague, Jonson certainly admired Shakespeare, and this play shows how Heminge persuaded him to write a few lines of praise that begin the Folio. It was thought having England's Poet Laureate as a contributor would give the work the official stamp of approval. (It also disproves the conspiracy theories that someone else wrote the plays.)
Wolfe delivers a stellar performance, and with his portrayal of Heminge, Huckaby can now law claim to being Austin's finest actor. A superb showing by both.
Cyndi Williams as John's wife shows what a great influence she had in getting her husband to commit himself to publishing the Folio. Time and again he says it is impossible, as many of the original manuscripts are missing, but as the detective story of finding Shakespeare's works proceeds he finally relents. Finding the paperwork was hard enough, but finding a publisher was just as hard. Joey Banks as Isaac Jaggard, and his scoundrel of a father William (played to the hilt by Tom Parker) have the ability to print it, but will Condell and Heminge agree? As much verbal acid as printer's ink is spilled in resolving that dilemma; the vicissitudes of publishing functions as the dramatic engine that propels the play.

The cast is rounded out by Boni Hester as Condells' wife Elizabeth, Stephen Mercantel as the editor of the Folio, and Owen Ziegler as the Boy Hamlet. Last but not least is Marie Fahlgren as John's daughter Rebecca (another female force to be reckoned with), who has a great line as she spars with Ben Jonson about the greatness of Shakespeare: "You wrote for professors, he wrote for people!"
"Does the devil answer prayers?" wonders Condell in the play. Whoever answered their prayer to get the works of Shakespeare published, it is not a spoiler to relate it finally did happen. To express how much he meant to the age and every age since, read this excerpt from the actual introduction to the Shakespeare Folio, written by John Heminge and Henry Condell in 1623:
"His mind and hand went together: And what he thought, he uttered with that easinesse, that we have scarce received from him a blot in his papers. But it is not our province, who only gather his works, and give them you, to praise him. It is yours that read him. And there we hope, to your divers capacities, you will find enough, both to draw, and hold you: for his wit can no more lie hid, then it could be lost. Read him, therefore; and again, and again : And if then you do not like him, surely you are in some manifest danger, not to understand him."
Photos courtesy of Austin Playhouse
The Book of Will (directed by Lara Toner Haddock) plays until June 30, 2019. Tickets at Austinplayhouse.com