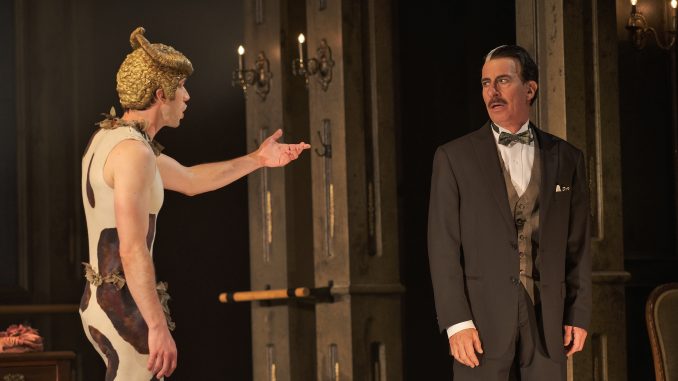 "I wasn't in the theatre last night, I was on Mt. Parnassus." This elevating line from Terrence McNally's latest play, Immortal Longings, sums up the experience nicely. Mt. Parnassus towers above Delphi, home to the Temple of Apollo, and centre of the world. Only the loftiest ambitions are on display in this dramatic and sensual expose of the Ballet Russes (Russian Ballet).
Leading the cast is Steven Epp as Sergei Diaghilev (1872-1929), founder of the world's most famous ballet company of all time. As the ultimate impresario, Diaghilev is served well by Epp, who delivers a sympathetic and powerful performance. I would have preferred if the character shouted less and let the dialogue express his angst more, but Epp certainly gives the playwright what he asked for in a drama just as filled with artistic tension as it is with sexual tension.
This is exemplified first by Diaghilev's 'discovery': Vaslav Nijinsky (1889-1950), the most famous male ballet dancer of the first half on the 20th century. Wyatt Fenner as Nijinsky is delightfully nude in both acts, showing both Diaghilev and the audience he has nothing to hide. But that is also his downfall, as Nijinsky did not hide from his mentor the fact he wanted to marry a woman, even though his mentor loved him. He was with Ballet Russes from 1909 till 1913, when he did in fact get married.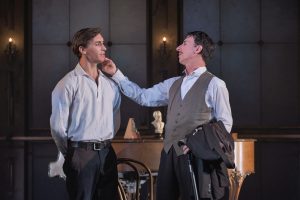 That break between the two, certainly the most notorious in the history of ballet, saw the rise of Leonide Massine (1896-1979) as Diaghilev's new star and sensual idol, played here with insouciant flare by Joshua Pagan. Massine's first ballet was in 1915. Massine went on to become one of ballet's greatest dancers and choreographers.
McNally's play seems to follow the actual events quite closely: even Diaghilev's distaste for any motion pictures of his ballet company as he felt the poor quality of video recording at the time would not have done justice to his performers. Fortunately for posterity several still photos exist, including the famous one of Nijinsky in the faun costume. This is beautifully recreated here for Fenner to wear by costume designer Ann Hould Ward. Other fine costumes were designed by Susan Branch Towne.
Not all of Diaghilev's productions in Paris met with crowd approval. One with Russian folklore elements, enacted in this play, caused the Paris ballet audience to revolt in disgust. In this production Epp as Diaghilev goes out on stage to denounce the Parisian audience, which I'm sure many producers would love to do when their hard work is met with derision. "I choose to make this world a more beautiful place," declares the impresario. He allowed no one and nothing to stand in his way of making that happen.
The entire cast is excellent: Shannon Koob, James Patrick Nelson, Suzanne Warmanen, Ian J. Bethany, Rachel Hanlon, Kevin Murdock-Waters, Marie Pearce and Rob Greenfield. Scenic design by Michael Hoover was subtle and evocative, establishing just the right tone.
"I sell dreams," declares Diaghilev in the play. McNally sells dreams too, and here we have his most recent dream in a world premiere at Austin's Zach Theatre. If you can't visit Mt. Parnassus in the next 2 weeks, visit the Zach Theatre instead.
Additional coverage of Terrence McNally in SunNewsAustin can be found at these links:
http://sunnewsaustin.com/2019/05/26/mcnallys-lost-generation/
Immortal Longings (directed by Peter Rothstein) plays at the Zach Theatre until July 14, 2019
Lead photo: Wyatt Fenner (l) in his faun costume, and Steven Epp
Second photo: Joshua Pagan (l) and Steven Epp
Photos by Kirk Tuck