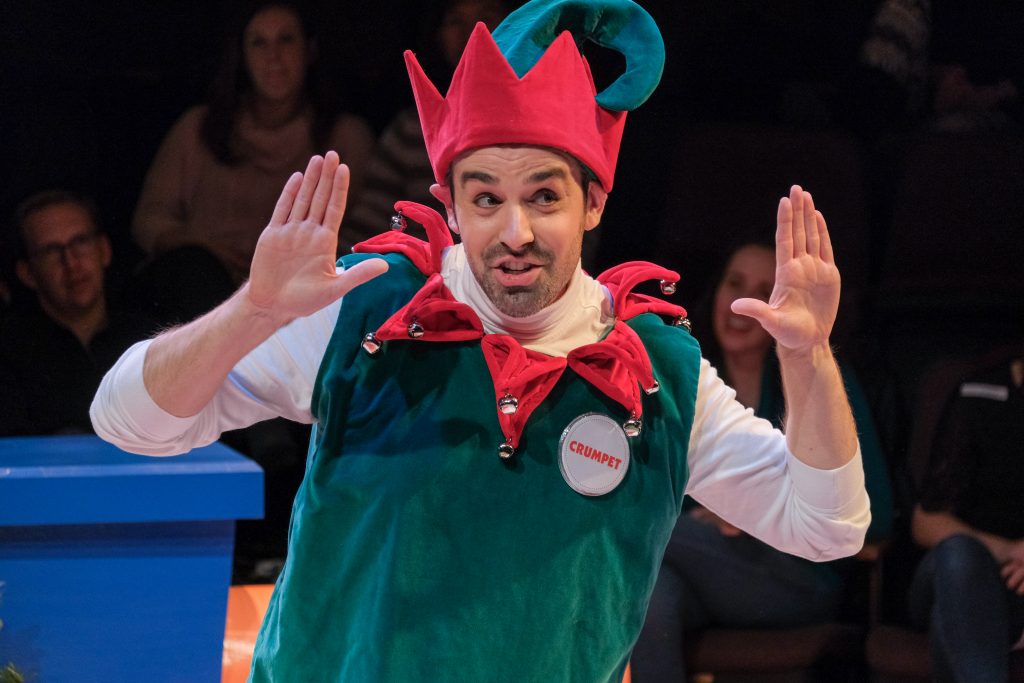 Santa's little elf isn't so little. In the Santaland Diaries, being performed now at the Zach Theatre, he is a full-grown man with a saucy tongue and a rapier wit. This elf is no fool.
The play is the brainchild of David Sedaris, who had played an elf in Macy's department store at Christmas. Sedaris first read an essay he wrote about this experience on a radio show in 1992, and by 1996 it had been turned into a one-man play in New York City. This has now become a perennial favourite at the Zach, having first appeared here in Austin 20 years ago.
It is staged in the round at the Wisenhunt, a small venue that many people accustomed to the huge Topfer Theatre may never have visited before. It is perfect for this intimate romp through toyland at a major department store, taking people from the moment he sees an ad in the newspaper for an elf, through the interview and induction process, and finally into the daily grind of being merry and nice all day long. By Dec. 24, Crumpet the elf says "It was them against us."
The 'them' was not only the naughty children but a large number of adults. This is not to say all is well in elf land either, as Crumpet dishes the dirt on his fellow elves. "My least favourite is The Walrus. He uses Santaland as a singles bar." One of his pickup lines to females elves is "Santa's married but I'm not!" The gay elves hardly fare better. The cutest one, from Queens, is Snowball. "He is hands down adorable," claims Crumpet, before realising Snowball has eyes for other male elves and some Santas too. "Snowball just leads elves on," Crumpet laments.
The purveyor of all this is actor J. Robert Moore, who has also served as Artistic Director for Zilker Theatre Productions here in Austin for the 2018 season. While Snowball gets the cute award, the audience certainly gives Moore the most adorable elf award for his portrayal of Crumpet.
While he is not a professional dancer, who captivated audiences at a Georgetown production of Santaland Diaries last year, Moore cavorts and rolicks around the stage to great effect. Delivered on the knife edge of gay camp, he wrings every nuance from the script and engages various audience members to advance his tale of delight and misery as an overworked elf at Christmas time. A delightful performance.
Definitely not a play for small children, this jaundiced look at Christmas has its own special charms. It's sort of like drinking from the non-alcoholic punch bowl at the office party, only to realise that someone switched the labels. Santaland Diaries may be the best holiday hangover you ever have.
Santaland Diaries, directed by Nat Miller, will be performed through Dec. 30, 2018. For more Christmas cheer, attend A Christmas Carol at the Zach, a truly tremendous large-cast spectacle, also on stage till Dec. 30. Visit website Zachtheatre.org for tickets.
From Dec. 26-30, Crumpet will be played by Kevin Pellicone
Photo by Kirk Tuck