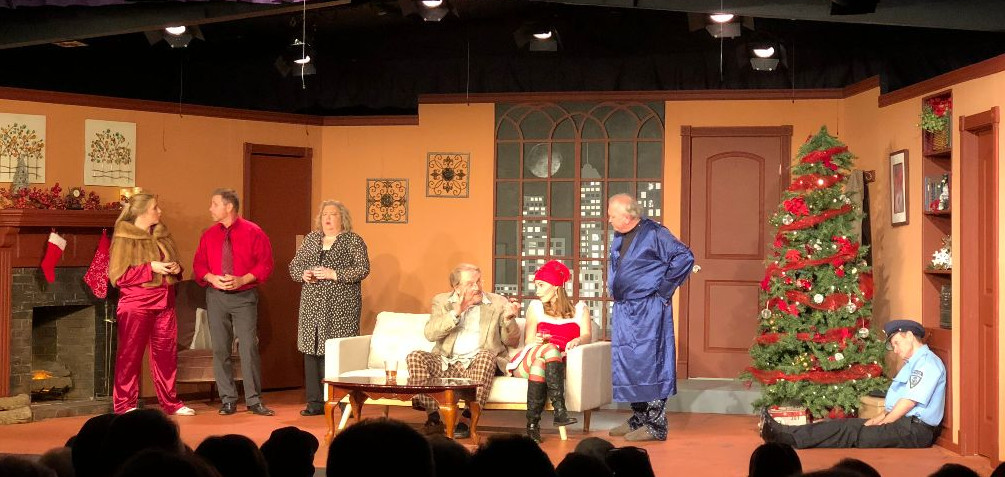 As political analyst Steve Schmidt said on TV recently, "You can't solve crazy, and you can't solve stupid." If it appears the entire cast of characters in Sorry! Wrong Chimney are either crazy or stupid, that's because they are.
This zany comedy, currently playing in Cottonwood Shores (about an hour west of Austin), is a Christmas-themed play you will not soon forget. The plot centres on a dumb blonde, riven by insecurity, played by the lovably annoying Bess Gershowitz. She suspects her husband (Michael Fox) of infidelity because he stays at the office every night. In reality he has taken a second job as a department store Santa to earn enough money for a special present for her.
In what must have been a homage to I Love Lucy, we now have the zany wife and her serious working husband. All we need is Ethel and Fred Mertz, the neighbours who spend more time in Lucy's apartment than their own. Enter Natalie, played to the hilt by Kay Baker, and her psychiatrist husband, the blowhard William played by Don R. Jacks. His insufferable persona really provides the oil that keeps all the moving parts of this play smoothly rolling along to a conclusion.
There are indeed many moving parts, involving hypnotism, a policeman (Graham Avery), a burglar dressed like Santa (Randy Hilmer) and his moll (Christina Munoz). Add in an erotic dance and a couple of gunshots and you see why a methodical review of this mayhem is impossible. A true ensemble cast, they give the audience a real Christmas treat.
Before you go, brush up on North Pole Syndrome. It is usually manifested by a woman who dresses up as Santa's little helper, someone who drinks too much eggnog and becomes addicted to Bing Crosby movies. Armed with this psychiatric knowledge, you will be ready to fully enjoy this play which I heartily recommend making the drive from Austin to attend.
Sorry! Wrong Chimney is at the Hill Country Community Theatre. It is directed by Kay Baker, who also stars as Natalie. Visit their website for tickets: