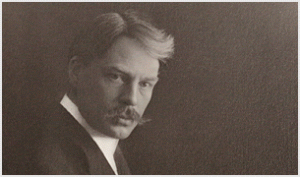 The latest offering by the Austin Symphony Orchestra was an instructive lesson about why some composers are cherished and remembered, while others are best left forgotten.
Offering a centrepiece piano concerto by a composer few outside the classical cognoscenti have ever heard of is a bold move, and one that I applaud Music Director Peter Bay for making. Edward MacDowell (1861-1908) was an American composer who became the first Professor of Music at Columbia University. That was in 1896; a decade earlier he composed Piano Concerto No. 2 (he only did two), which is what a less than full house heard at the Long Center on Feb. 23.
If you have never heard of MacDowell, all you had to do was listen to this symphony to understand why, keeping in mind it is MacDowell's only large-scale composition still being performed. All his others are so bad (or merely out of style, for those charitably inclined), no orchestra plays them anymore.
I must say at the outset that guest pianist Rick Rowley cannot be faulted for offering a technically adept and nuanced performance of this challenging piece. He seemed especially pleased with the quirky ending of the 2nd movement.
A mix of dark and whimsical, the piano concerto begins with a less than captivating movement in which the composers' over-reliance on glissandos becomes quite annoying. Overall the sturm und drang elements of the concerto most resemble a Rorschach test. What it means or resembles is anyone's guess, but schizoid diagnosis would not be far off the mark.
The other two selections of the Symphony concert shows why we remember Robert Schumann (1810-1856). His Manfred Overture, which opened the concert, is a fan favourite and one Schumann himself regarded as one his finest works. His Symphony No. 2, performed with sparkling intensity after intermission, is a complex treasure.
Dating from 1845, the first movement begins slowly but builds to a very emphatic and impressive conclusion. The effervescent melody of the second movement has a frothy texture that accelerates to super speed in its ending. Thus, the contrast with the third movement is all the greater. Gloomy and brooding, it is only relieved by a few hopeful notes from the flute. A passage of great psychological depth, which some in the audience found long and arduous.
Schumann himself wrote he felt much better as he created the Finale, and this is reflected in the music. It feels like floating above the 3rd movement, in a gaily decorated hot air balloon. All exuberance and light after the gloom falls away as the balloon ascends. Too bad it did not last for Schumann, as just a decade later he would die of mental disease. But for us a musical repertoire to be remembered.
The Austin Symphony will repeat this performance tonite, Feb. 24, 2018.