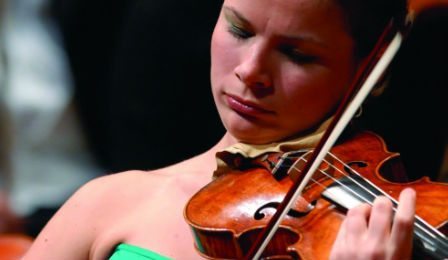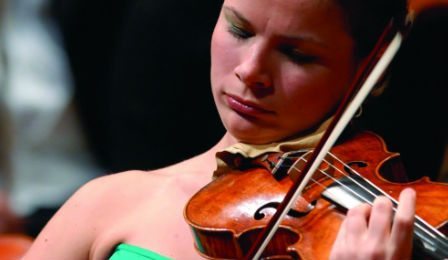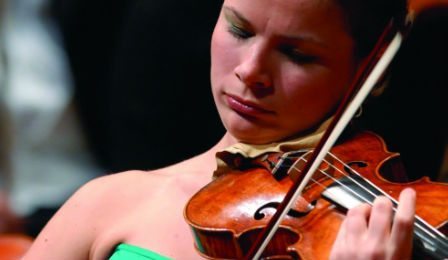 Taming Stravinsky's beast took a Bulgarian with a violin made in 1655, but the feat was accomplished in Austin by Bella Hristova.
While some music experts I talked with in the audience at The Long Center enjoy every phase of Stravinsky's musical output, I only like his neoclassical phase. Fortunately his Violin Concerto in D Major fits squarely in that period, having been composed in 1931. It's a beast to play, but Bella, who has won several prizes and awards, brought the Austin audience to its feet with a bravura rendition of the concerto.
It is comprised of four movements, the first of which is evocative of a hurly burly metropolitan scene, much like Berlin was when the concerto made its premiere there in October 1931. Stravinsky himself conducted that opening night.
As the concerto progresses, one realises it is a sequence of set-piece conversations between the violin soloist and other instruments in turn: another violin (in the hands of the concertmaster), an oboe, and a flute. The effervescent second movement was my favourite, as the notes from Bella's violin literally rode the crest of a wave from the flute. It ended with a bursting bubble, quite delightful and difficult to achieve.
The third movement is the film noir section, a deeply introspective passage that received its inspiration from Bach at his most langorous. In the finale of the concerto, Bella stretched her antique violin to the limits, reaching atmospherically high notes. She delighted the audience by returning to the stage to play a short composition inspired by Bulgarian folk music. Entitled Ratchenista, by Petar Hristoskov, it gave the entire audience a shot of espresso so they could head into intermission on a caffeine high.
The programme notes indicate the Stravinsky concerto (which some in the audience did not enjoy, likening it to chicken scratching) was composed in homage to Bach's Concerto for Two Violins in D minor. Since this was the first time in the history of the Austin Symphony that this concerto was performed, it is unfortunate the opportunity was not taken to perform this as well. Instead we heard Bach's Brandenburg Concerto No. 3.
Rounding out the evening was the Overture to Semiramide by Rossini, Symphony No. 94 by Haydn, and the much more rarely heard Celestial Fantasy by Alan Hovhaness in 1944. An excellent and unusual composition whose black and sombre opening slowly gives rise to a revelation. It could easily be used in an astronomical documentary showing the birth of a star from a dark, condensing nebular mass.  The Austin Symphony performed superbly throughout the concert, and is to be commended for offering a mix of daring compositions along with fan favourites.
The concert will be performed again tonight, Jan. 13, 2018. For upcoming concerts, visit the website: www.austinsymphony.org