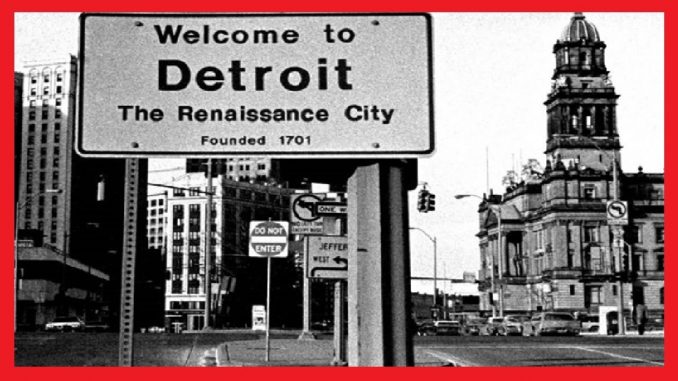 The city of Detroit has certainly not fared well of late, but this book by Paul Vachon takes the long view, starting as it does a million years ago when the topography of Michigan was formed in various ice ages.
Vachon takes a timeline format in this illustrated look at Detroit. He devotes 20 pages to the period from 1600-1800. The 1800s get about 55 pages and the 1900s some 140 pages. The most recent 20 years is hardly mentioned, with just 4 pages.
The book concentrates primarily on events, not buildings, so those looking for a page about the old city hall, for example, will have to look elsewhere. Some buildings are given their due, such as the 1929 Union Trust, nicknamed the Cathedral of Finance. In a book covering such an expanse of time, many people familiar with specific aspects of the city will wish he had included a whole host of things that simply didn't make the cut. It is already a large book, nearly a foot wide and more than 9 inches high.
Topics and places that unfortunately do not appear are the Red Wings ice hockey Olympic stadium and the Joe Louis Stadium; The Brewster-Douglas & Herman Gardens housing projects in the 1940s and 50s (Detroit's attempt at social engineering and micro-managing the poor); Rouge Park on the far western side of Detroit; Sanders Chocolates which opened in downtown Detroit in 1875; the three casinos that have helped lead a revival of downtown; the world famous John King bookstore in downtown for nearly 50 years (which I shopped at a few weeks ago) and the notorious People Mover. It was supposed to be a panacea for getting around downtown, but it just goes around decrepit buildings in a circle.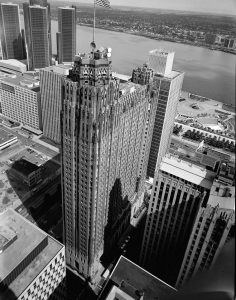 But for every aspect that does not appear, Vachon offers us "much-needed light on areas unknown to the reader." One of these is the Scarab Club, whose clubhouse was built in the Arts and Crafts style in 1928. The aspect likely unknown to most can be found in the beams of the second floor, which are covered by the autographs of visiting artists including Norman Rockwell and Diego Rivera. Even more intriguing in the arts world is The Players, an amateur theatre group whose Renaissance style building dates from 1925. Like plays presented in ancient Greece, all female roles are portrayed by men in this all-male private club.
Detroit was a leader in many ways. The Park Davis company begun in 1866 "is credited with starting the first pharmaceutical laboratory to conduct research and clinical trials of new drugs…The city entered the age of electric lighting in 1879 when the first incandescent light bulbs were switched on at the Detroit Free Press." Electric street lighting followed in 1883. In 1922 Detroit's police force was the first to have radio communication in its cars.
The lead photo here (not included in the book) proudly proclaims Detroit was founded in 1701. As Vachon explains the exact date was July 24, and its original name was Fort Pontchartrain du Detroit. The man responsible was Antoine Cadillac, a surname that would become synonymous with the automobile in this, The Motor City: the car company Cadillac was founded here in 1902. The iconic Dime building of 1912, which housed a bank where customers could open a savings account for only a dime, is now Chrysler House, as that automaker has moved some corporate offices there since 2012.
Vachon devotes several pages to the automotive industry, with looks at such personalities as William Durant (founder of General Motors), George Mason (founder of American Motors Corp. in 1954); Charles King, who constructed Detroit's first car in 1896; and of course Henry Ford, whose index entry is the book's longest (the young Ford actually followed King on a bicycle in that historic ride of '96). Vachon describes Ford's death in 1947 as the end of an era "for Detroit, and the nation."
But all was not rosy between Ford and Detroit over the decades. As Vachon said during a book tour appearance in Ann Arbor that I attended, "a 1937 goon squad damaged the reputation of Ford." The photograph of tough guys roughing up workers who were striking for better wages was so powerful "it inspired the creation of a Pulitzer Prize for Photography." Ford's wife threatened to divorce him if he did not recognise the unions.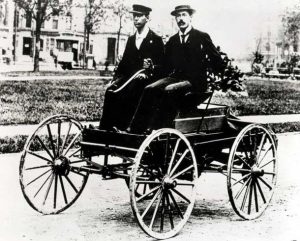 Another "sad moment in Detroit's history" that Vachon highlighted in his discussion involved freeways. Since the great companies were building cars, they needed roads. "Did they respond to a need or did they create a need?" he asked. "There was very little sensitivity about the displacement of people for highway plans." That disruption naturally hit poor black people the hardest, as it did elsewhere in the country. Vachon talked about the racial experience.
"Detroit was one of several northern cities that saw black people move North. There was a lot of  de facto segregation, and a move to ban racial bias in housing was rejected in a 7-2 city council vote in 1963. This was seen as a pivotal moment, 4 years before the riots." (the first race riot in the city was 1863). Vachon referred to the July 1967 riots that saw 43 people killed and more than $200 million damage. "The police arrested everyone," said Vachon. "The force was 95% white, including many Southern transplants who had a lot of bigotry in them. After the riot there was an outflow of resources and people."
After 52 years Detroit is just now beginning to recover. "In the last 5 years there has been a tremendous amount of reinvestment," Vachon said in Ann Arbor. "It's wonderful as that adds to the city's vitality but a far greater challenge will be bringing the whole city back. The recent use of the Michigan central train station by Ford [curiously Vachon does not mention the train station's history in the book] is really a game-changer and certainly welcome. It is a tipping point. My hope is that in 10 to 20 years we will see a more peaceful Detroit than we have today."
The book is very easy to follow with easily digestible bits that are presented on either a single page or two facing pages. As the author of four books on Detroit, Vachon is well placed to tell the story of his city in this engaging chronological format. With hundreds of illustrations, it is beautifully produced, although the publisher did cut the caption off the picture of the first Ford factory. That minor quibble aside, this book is highly recommended for anyone interested not just in Detroit but the rise of urban America.
Detroit: An Illustrated Timeline is $39.95 by Reedy Press. For those in Michigan, Vachon will be having a book signing on July 21 at Eastern Market, 2934 Russell St., Detroit from 7am to 6pm.