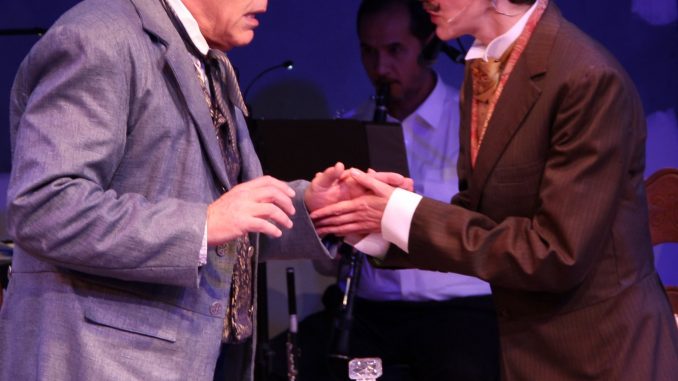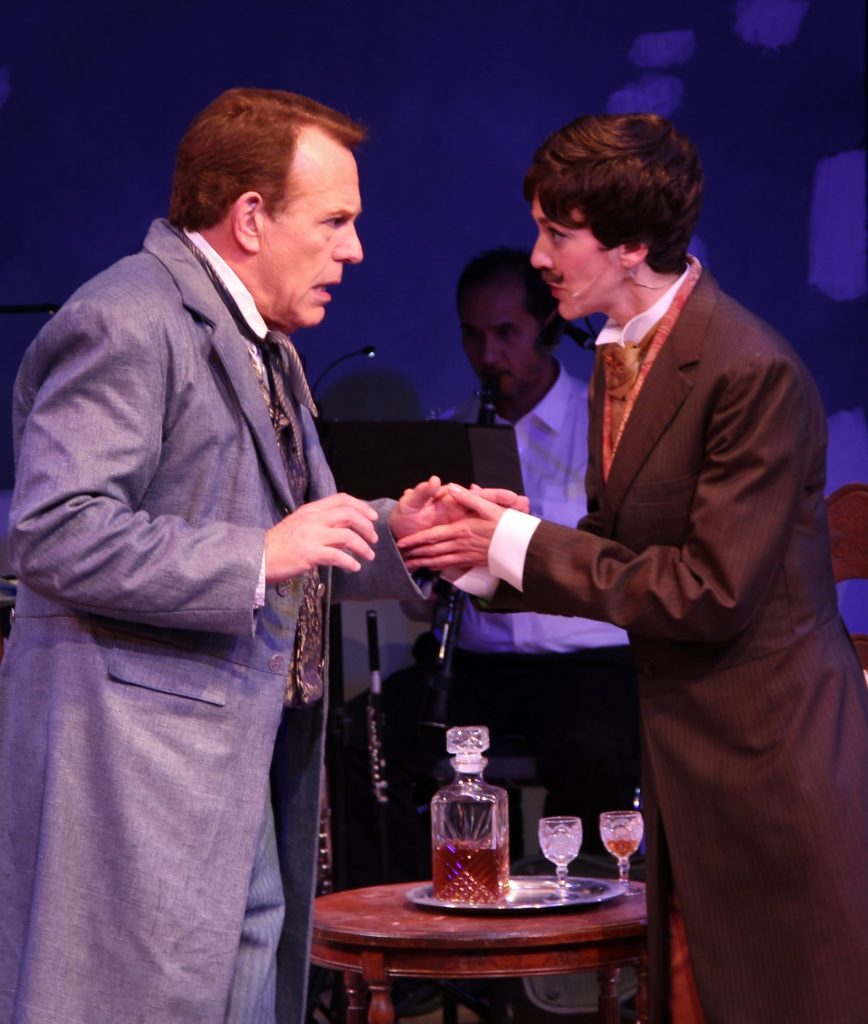 Rupert Holmes, who created the musical Mystery of Edwin Drood, is on record as hoping, and thinking, that Charles Dickens would have enjoyed his creation. Based as it is on Dickens' last novel, which remained unfinished at his death, I suppose it is natural that a modern playwright would feel emboldened to bestow posthumous plaudits on his own work.
If the professional theatre community is to be believed, he certainly succeeded in pleasing those who first saw this musical in 1985. It won not only the Drama Desk Award as outstanding musical, but the Tony for Best Musical (1986). Musical theatre tastes have certainly changed in the intervening third of a century. Set as it is in England in 1892, this 33-year-old musical seems doubly trapped in time.
Whether this is a good or bad thing is a matter of personal taste. One theatregoer at the Austin Playhouse told me the musical "is not my cup of tea," which I thought was an appropriately English way to assess it. Another, however, got a very positive vibe from the hard-working actors and singers. "They have wonderful voices, and they enjoyed performing the musical so we enjoyed it too."
The key to the success of this musical is in fact its uniquely interactive nature. Since Dickens never finished the plot, no one knows if Edwin Drood (played in English pantomime style by a woman) was killed off. And if he was, who did it? There is no butler here, so the butler didn't do it. The identity of the killer is decided by a vote of the audience. Cast members go through and ask each person who did it, and the one who gets the most votes takes the fall (Holmes had to write multiple endings to accommodate the various possibilities).
The timing of the play here in Austin is excellent, as part of the action is set on Christmas Eve. Costume design by Diana Huckaby is excellent, and there is a live band in the back of the stage. At times the brass seemed a bit overpowering, resulting in a loss of ability to hear the lyrics, but it was certainly fun to have live music, just as it would be in a stage show in 1892.
The cast is too large to enumerate fully, but special mention must be made of Jill Blackwood in the title role, Rick Roemer as the villainous John Jasper, her uncle, Claire Grasso as Rosa Bud, the love of Edwin, and the host of the show, Huck Huckaby. Despite the lack of memorable tunes, they wring every ounce of physical comedy from Holmes' creation.
For anyone who has never been exposed to the raucous and risque comedy that epitomised the English Music Hall (roughly from 1850 to 1920), this musical will seem quite peculiar and hard to relate to a century after it fell from favour. But if you are willing to experience something new (which is old) you will have a jolly good time.
This is the second time Austin Playhouse has staged The Mystery of Edwin Drood, the first being a decade ago. Many of the same performers are reprising their roles now. The musical runs through Dec. 15. Tickets: www.austinplayhouse.com
photo credit: Christopher Loveless