The in-and-out ramen served at Daiboku, a newer contender to the ever-growing culinary landscape in Austin, has won my heart. I'm a connoisseur of Japanese cuisine, having lived in Tokyo for five years and then spent over ten years on a regular commuting basis for work. Many Japanese people told me I was a "tsu" or gourmand for several reasons.
I had no fear of trying anything
I had little to no prejudice when trying anything
I liked natto (fermented soybeans in a sticky, gooey paste that smells like rotten eggs)
I could taste the difference between the various cuts of tuna sight unseen and other reasons.
So now that I've boasted about my culinary prowess, allow me to say this ramen is by far one of the best if not the best ramen bowl in Austin. My friend and I were peckish and ordered the Omma's (grandma's) pickles. These were lightly pickled cucumbers in rice vinegar and spiced with chile, roughly chopped (unJapanese).  A satisfying appetizer. I ordered the smoked chicken shoyu. A hearty bowl of thin noodles, chicken broth, shoyu tare, real smoked chicken breast, chi-yu, and house kosho! The noodles I was told by the manager are made in San Franciso to spec and flown in weekly. You can't go wrong for $16.50.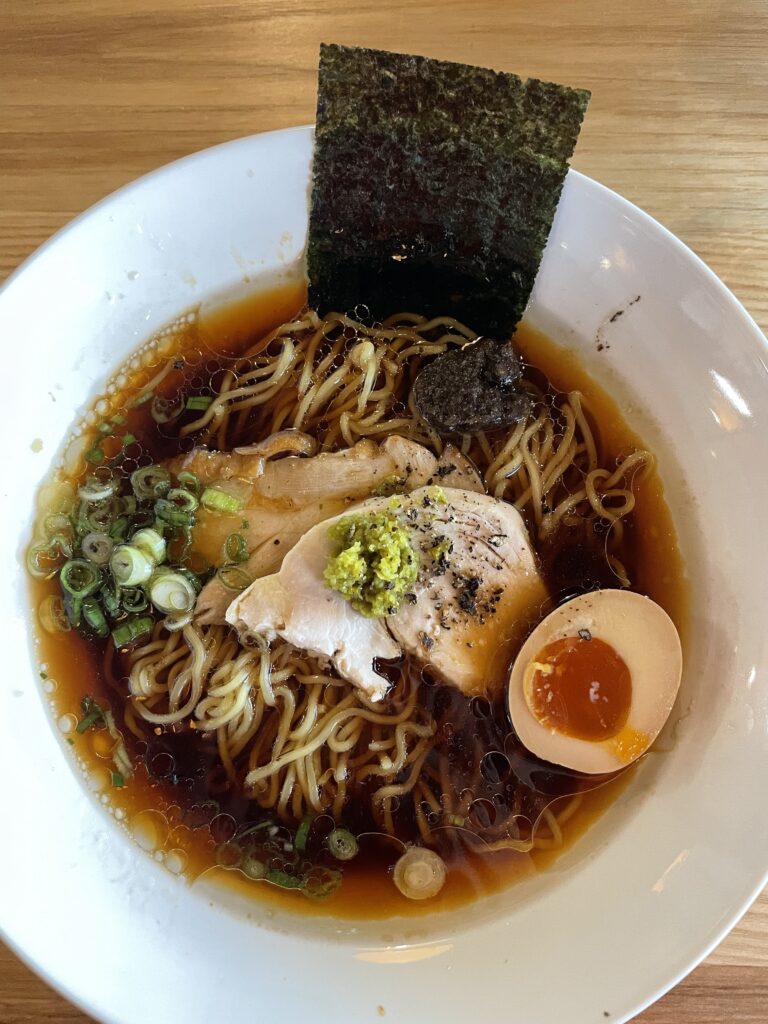 My friend had the Spicy Miso ramen bowl made with classic noodles (slightly wider than the ones I had), chicken and pork broth, pork chashu, a spicy bomb with leek, butter, corn and red onion. It was deliciously hot and could be made hotter on demand.
They have a small yet curated sake collection. I wanted one that was smooth, cold, and dry. Although I speak Japanese I do not read kanji. I was recommended to try the one in a blue bottle with cherry blossoms (see photo). So if you like dry, cold and smooth sake and you happen to be at Daiboku, show the image below. 🙂
Sazan Ramen is the parent to Daiboku and both serve outstanding ramen. Daiboku is near campus and come August will be teeming with students. For now we spotted quite a few "adults" slurping ramen and cheering Kampai.
Daiboku by Sazan is located at 609 W 29th St, Austin, TX 78705