Welcome to Part II in the travel series on Las Vegas. Continuing my 95-degree desert venture made for challenging walks lasting at most fifteen minutes outside. However, everywhere indoors was air-conditioned, and it was a little better than walking in the humidity back home in Austin.
If you're a KISS music fan, love playing mini golf (in the dark with day glo fittings), and need a family activity away from the hustle and bustle of the casinos, then KISS World & KISS Monster Mini Golf is the place for you.
KISS World & KISS Monster Mini Golf
I could write pages upon pages about this venue, and the enigmatic and down-to-earth owner Christina Vitagliano, whose story is epic. How she became the franchisor of KISS World Monster Minigolf in the USA, and her ventures with Gene Simmons is a book in and of itself. For the purpose of this article, I've written an abridged version.
When you walk through the casino and dark lobby of the Rio Hotel on a path leading to KISS World, you wonder, where on earth are they located? It's worth the walk, though. Before you even step into the venue, a massive automobile with a humongous head of Gene Simmons with its tongue sticking out on the car's roof greets you. As you do a 360, you notice the shop windows replete with KISS regalia: posters, chairs, memorabilia, collectibles, and tchotchkes. But that's nothing compared to when you get inside. It's a KISS fan's heaven on earth.
You're bombarded with KISS music, pinball machines, merchandise, and the mini golf course to the right. The dead center is the KISS Museum opened a year ago and requires a fee. You'll get a glimpse of platinum and gold albums and an almost life-sized model of Gene done exquisitely by an artist overseas. The model could be a figure in Madame Tussad's Wax Museum.
As you continue on the path with red velvet stanchions, you enter KISS World, the most extensive collection of Gene's, including original and first-pressed KISS album covers and items on the planet, ranging from keys to various cities such as Dallas to backstage passes and badges from concerts dating back to the 1970s in Europe. You'll find KISS dolls, liquor, toys, clothing, album covers, memorabilia, and pinball machines.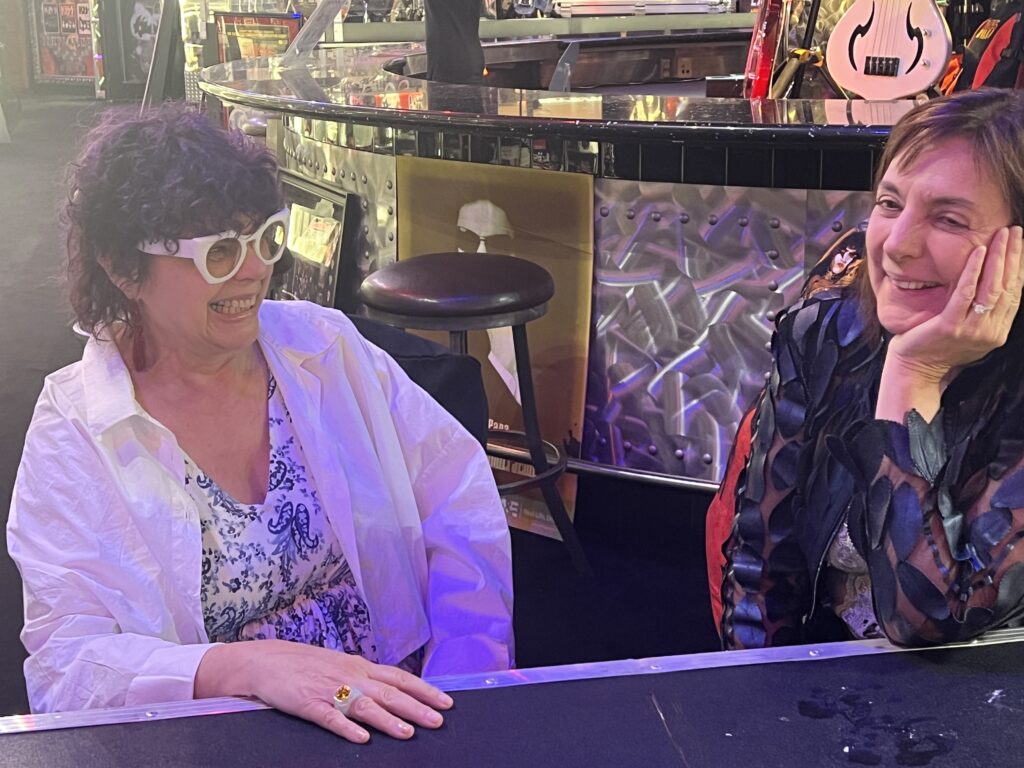 "Who is the owner of all this?"
"This is just a sliver of what Gene owns. He shipped the collection you see along with everything else that we warehouse. Since he has many duplicates of items, we set up his auction site to sell them at www.genesimmonsauction.com. We also manage his contests and activities with fans. You know when fans win to be onstage with him, or win a guitar with his signature."
"Geez when do you sleep?"
Christina laughed. "Hardly ever. Monster MiniGolf has a reputation for fun and we're not just for kids. At night time we have a DJ on the golf course, we do games, and we're creative. You'll see a lot of people our age here. I wanted to co-brand with rock n' roll and the band that is the best, cause we're edgy. That's how it came to me to get KISS. Chuck E. Cheese is Chucky E. Cheese. We're not.
"It took years for me to get the license to use the KISS name and a big risky investment but I knew it would pay off, even if my husband Patrick didn't at the time. Now he sees it and believes it!"
The other business ventures Christina and her husband own include:
SyFyMiniGolf.com at The Horseshoe Hotel & Casino, Las Vegas
RockNRollChapel.com at The Rio Hotel & Casino, Las Vegas
SciFiWeddingChapel.com at The Horseshoe Hotel & Casino, Las Vegas
Delices Gourmands French Bakery
I did a Google search for the best French bakery in town as I craved a custard-filled eclair, something I couldn't find in Austin, even at the specialty bakeries. I felt deprived since the beautiful French brasserie on 2nd Street, Le Politique, closed down. My friend and I ate breakfast with someone she hadn't seen in decades. Entering the bakery was at first disconcerting. It felt like a nothing deli in NYC, the interior bland, with an open kitchen. I ordered a Croque Madam and a custard-filled eclair. My friend got an omelet filled with every veggie under the sun. The price was meager, and everything we ordered was excellent. The Croque Madam had layers of cheese and was so filling I had to leave half of it. The place is run by DR natives who prepare authentic French bakery goods and breakfasts. We googled the pistachio-filled croissant but couldn't take another bite of anything. I'd give this place four stars.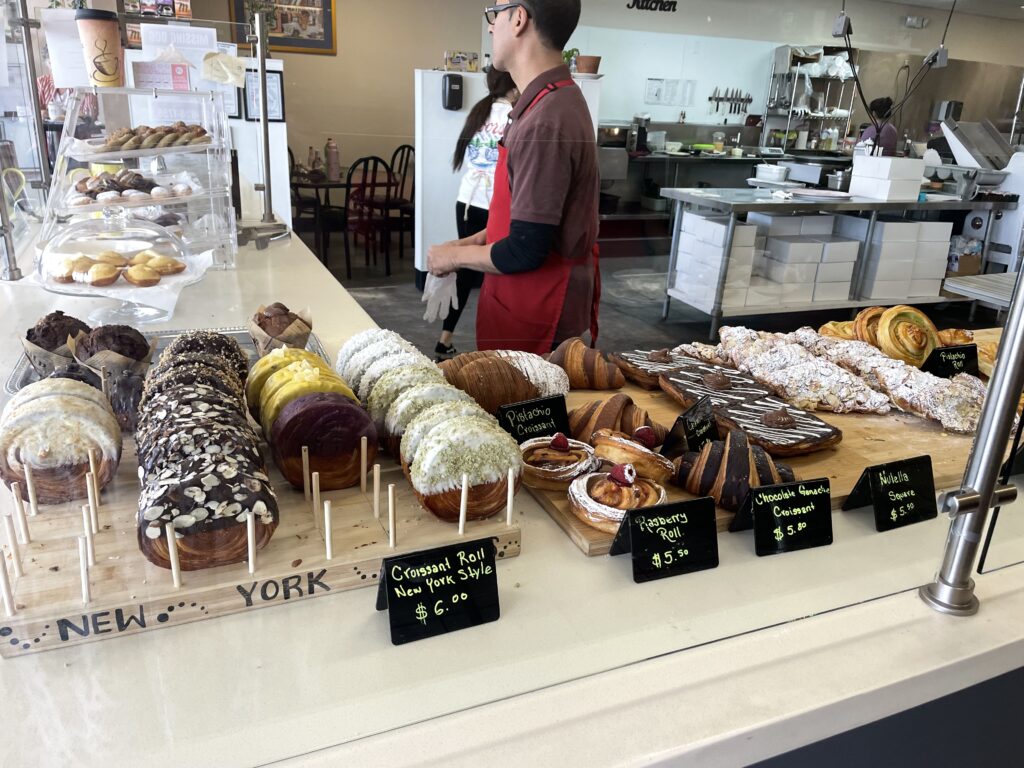 Eataly Las Vegas
I've been a fan of Eataly since they opened in my hometown of NYC in 2013. There are over 40 locations around the world, including Dallas in Texas. In case you haven't been, the concept is in a class of its own: good, clean, and fair food. Created by Oscar Farinetti in Torino, Italy, in 2007, it includes restaurants and shops to purchase wine and foodstuffs – fresh, canned, and preserved from local Italian producers in Italy and throughout the region where there's a new Eataly. You'll find bars for coffee, gelato, and wine.
Las Vegas is the smallest Eataly in the USA, but that didn't stop me and my friend from dipping into the Tricolore salad made with Belgian endives, arugula pine nut dressing, and Parmigiano Reggiano DOP for starters. We followed that by sharing the house-made pappardelle with mixed mushrooms. As expected, it didn't disappoint.
Jew Man Group Performance
There are a few, very few comedic performances in Austin or those that pass through exclusively Jewish in humor. We've all heard about the Bible Belt, but southerners may not have heard of the Borscht Belt. The moniker was given to an area in upstate New York in the Catskill Mountains at the beginning of and into the mid 20th century. Named as such since borscht is a Russian and east European soup and thousands of Jewish refugees from eastern European nations emigrated to New York. Amongst them were some of the greatest comedians who used to perform in the Catskills: Big name comics like Buddy Hackett, Don Rickles and Henny Youngman were famous for a style of comedy that defined much of Jewish American culture of their time, with quick-witted, rapid-fire one liners. Sid Caesar, Mickey Freeman and Jackie Mason, and Jerry Sinefeld were all influenced by the Borscht Belt comics.
So it was with anticipation I booked tickets for Jew Man Group, thinking it was a parody of the Blue Man Group show only with Jewish jokes, the ones I could relate to in a modern context. Oy vey was I wrong. The three men who changed costumes throughout the set, and performed numerous skits were well, dated. My grandfather's would've appreciated the humor but not me. Besides it being dated, the jokes were at times inappropriate for today's crowd, as in not funny. The show started out good enough but quickly descended into me and my girlfriend shrugging, or ughing, or shaking our heads as in, c'mon, that's old, done, heard it a million times growing up. Perhaps if you weren't exposed to this type of humor you'll find it funny or amusing at best, but not us.
Greenberg's Deli
My companion and I craved a good NY-style deli sandwich as there's unfortunately nowhere in Austin to get the real deals: pastrami on rye piled high or a corned beef Ruben. Whoever claims to make it NY-style in Austin is faking it. The closest place is Ziggy's in Houston, but I digress.
I want to give Greenberg's one star. First, the price was astronomical, and the pastrami was leathery, filled with fat (ick) strips, and almost unbearable to chew. The so-called rye bread fell apart on the sandwich leaving trails of tearful crumbs.
My friend's corned beef was no better. The dark vestibule outside the deli was spooky and unfit for a restaurant. Don't go here!
Links to the venues mentioned in this article:
www.GeneSimmonsauctions.com
https://www.delicesgourmandslv.com/
https://www.eataly.com/us_en/stores/las-vegas/restaurants/pizza-pasta-italian-restaurant-las-vegas