The Inheritance can best be understood by reading the book it was based on, Howard's End by E. M. Forster. But this is Howard's End viewed through the glass darkly. I am referring here not the use of the phrase from its ancient sources, but rather the Swedish film Through a Glass Darkly.
Like all Ingmar Bergman films, this 1961 outing was drenched in psychodrama. In the film, Karin finds the diary of her father David in which he described her disease as incurable. Even worse, the diary reveals he has been recording the details of her deterioration. Karin's husband Martin accuses David of sacrificing his daughter for his art and being self-absorbed, callous, cowardly and phony.
Mix all these elements together and reimagine the original Forster novel of 1910 and the Bergman film of 1961. What you get is The Inheritance, Part 1. (Part 2 is being performed in September at Austin's Zach Theatre)
In The Inheritance, much of the play looks back at the 1980s, when the gay community was decimated by disease. It is not just the singular character featured in the 1961 film, but a whole swath of society, that is at stake here. There is a scene where many members of the cast announce that a certain person is exhibiting a certain symptom, a parallel with the details of deterioration enumerated in the film. The inclusion of such shock value in the play may be questioned, but both that and a simulated gay sex scene (not including nudity) may have been a factor in a thinning of the audience between the first and second acts. Even fewer made it to the third act in this 3 ½-hour marathon.
To continue the parallels I am drawing between this play and a 1961 Swedish film, we have a man who is accused of  putting his art before his loved one.
In The Inheritance, enter the two lead characters Toby and Eric. Toby has ambitions to be a Broadway producer of his own screenplay, and in this he has been supported by Eric for close to 8 years. When Toby falls for Adam, the blonde bombshell he has hired for the lead role, their relationship unravels and ends in a nuclear explosion of a row. The main accusations Eric lobs at Toby? Phony and self-absorbed, with callous and cowardly more than implied. Ultimately, Toby sacrifices his boyfriend for his art, and leaves to continue his career. Toby's umbrella (directly lifted from the 1910 novel) is, like his life, tattered and worn.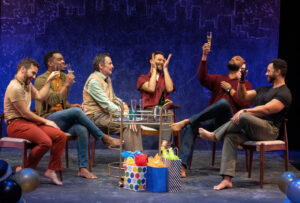 Throughout the play we have an older character on stage, a man who usually takes on either the persona of Forster, or the character Walter who befriends Eric in his time of need. Here the connection with Howard's End is most direct, as Walter owns a home in the countryside. In the 1910 novel, the home is called Howard's End. Visitors to England today can see Rook's Nest House, the inspiration for fictional home. Walter says "Eric possessed the capability to change the world." Eric's special connexion with Walter's house is only revealed at the end of this play, which is one of the finest play-endings I have ever seen.
As for the acting here, what can one say? Excellent would be faint praise. Peter Frechette, who plays Walter & Forster, gives us a tour de force as he morphs from one character to the other. As a gay man who portrays Forster (himself gay but deeply closeted during his lifetime) he brings to this performance every nuance demanded of him, and more. With a film, stage and TV career spanning 30 years, his gravitas impels the younger cast to strive for sublimity, and they succeed. Brenden Kyle MacDonald as Adam, Christopher Joel Onken as Eric and Jake Roberson as Toby all deliver sterling performances.
I liked the self-referential aspects of the play. At one point Eric and Henry (Walter's boyfriend) are attending an over-long production. "What the fuck are we watching?" asks Henry. Forster's great novel Maurice was not released until 1971, a year after his death, because it depicted gay love in early 20th century England. He gets excoriated in this play for not publishing Maurice when he wrote it in 1913. My favourite line is when Toby tells Forster "You're a Merchant Ivory film!", a sly reference to the 1992 Howard's End film directed by Ivory and produced by Merchant.
Set design is as minimal as it gets, with a couch or a few chairs brought on stage as the action demanded. Also minimal is the footwear: for some obscure reason, only Henry wears shoes.
The Inheritance was written by Matthew Lopez, who was deeply influenced by playwright Terrence McNally. A photo of them together appears in the programme notes by director David Steakley, and many Austinites will remember being with McNally for his 80th birthday, held right here at the Zach Theatre. In conclusion I will quote from an interview with Lopez after McNally's death in 2020.
"Terrence was the first writer to show me there was more to being a gay man than living tragically and dying tragically. Terrence taught me that it's possible to live a life filled with dignity as a gay man. That was his great gift, not just to the queer community, but to all of humanity."
The Inheritance opened on 2 March 2018, at Young Vic in London and later transferred to the West End at the Noël Coward Theatre. The production won four Olivier Awards including Best Play. On Broadway, it won the 2020 Tony Award for Best Play, even though it was a box-office flop. It ran for just 134 regular performances, the last 4 being cancelled because of COVID-19, the same virus that killed McNally.
Performances in Austin run thru Sept. 4, 2022. www.Zachtheatre.org
Photo credit: Suzanne Cordiero