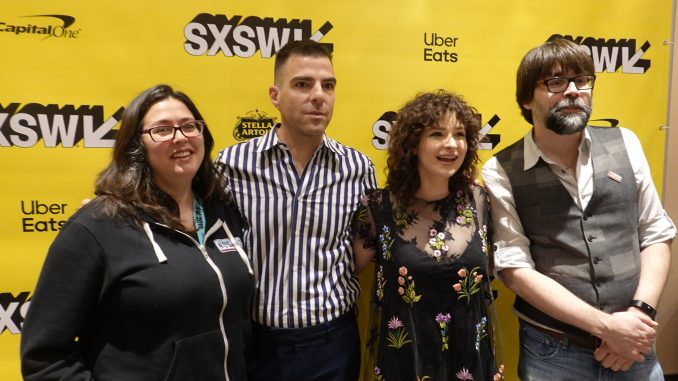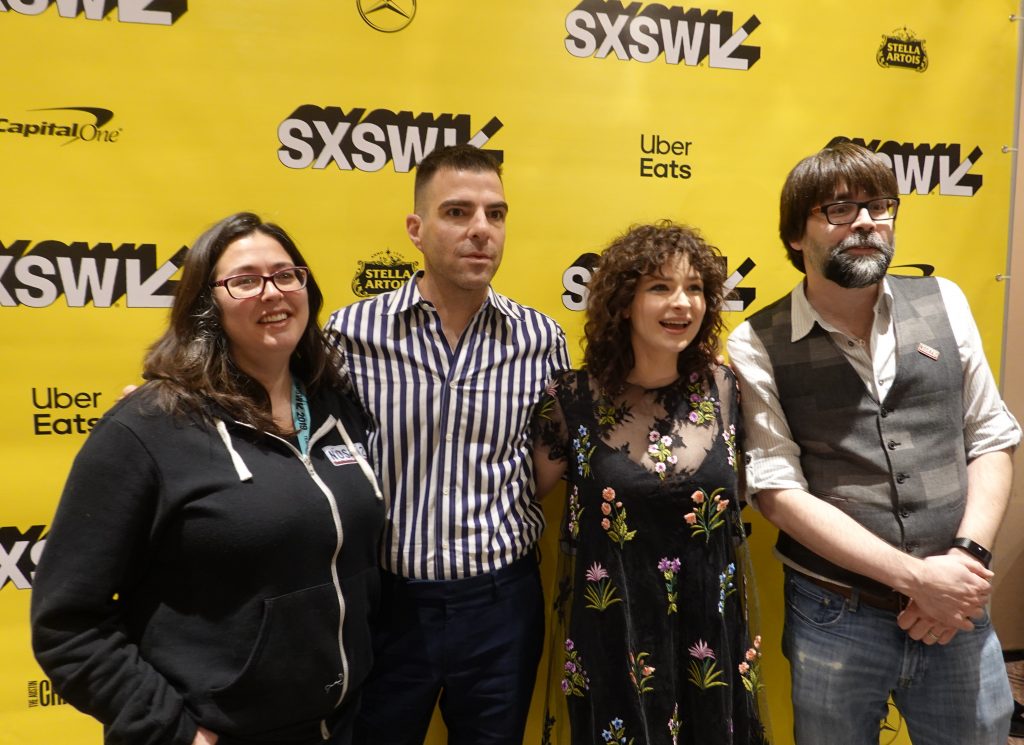 Charlie Manx is a man out of time. This complex character is the brainchild of author Joe Hill, who was at SXSW along with two stars of the upcoming TV based on his book NOS4A2 (code for the evil Nosferatu).
Manx is being played by none other than Zachary Quinto, best known as Mr. Spock in the Star Trek movies. Unlike most TV shows, the scripts for all the episodes were available for him to read at the outset. "I felt really excited at having the entire picture to look at, I was really drawn to that aspect of it," he said in remarks at a press conference in Austin.
Quinto said there "is this otherworldly territory that Manx traverses. It straddles the two worlds of our own and his." Manx is actually a 135-year-old man who is able to reverse his age by consuming the souls of children. At a certain level this is certainly a tale of horror, but Hill (the son of Stephen King whose literary career has been defined by horror) says the genre of horror "is not about grossing people out. It's about empathy. Good horror wins you over with compassion."
So what motivates Manx to rejuvenate himself at the expense of children? Quinto explains that "you have to understand Manx's experience in childhood, where unresolved trauma and psychological neglect are festering with no place to go. He is a warped vessel of childhood."
Showrunner Jamie O'Brien added that "Charlie Manx idealises motherhood but has not met anyone who is up to the task He is an endlessly layered character."
Hill explained why he grounds his stories in reality. "I write a lot of fantasy but I anchor a story in places I know and the kind of humour they have there. If I give you a family and place that seems real at the granular level, when they venture into an otherworldy aspect they are more believable."
Translating a book to the medium of television is always fraught with compromises and changes. . O'Brien said "I don't see how you can adapt something you don't love. We managed to honour the book." The author certainly agreed, saying "when I read Jamie's script for the first episode I thought it was one of the best scripts I'd read. There is more room for characters to breathe in the TV show than even in a 700-page novel."
Quinto said that "if you look at the world we live in it's nice to plug into a dark world to escape. There are a lot of different levels and layers here. Where they fall on an ethical level is less important to me. Manx is funny in his absurdity."
Getting into makeup as a super-old man was naturally a challenge, so Quinto told the producers "we need to get Joel Harlow. We worked together on Star Trek. That for me was the origin of the transformation. Stage 1 is like me, while stage 5 is the most extreme: Joel really did that. I'd been looking for a role to transform and this project gave me that."
Quinto's co-star on the show, the person trying to stop him from taking the souls of children (which he uses in part as fuel to drive a 1938 Rolls Royce Silver Wraith) is Ashley Cummings. She said the show "is a metaphor for what is going on in the real world."
To encapsulate the excitement and drama of NOS4A2 in a single line, Quinto nailed it: "It is a deliciously demented landscape to explore."
Photo by C. Cunningham: l to r: O'Brien, Quinto, Cummings, Hill
See it on AMC this summer. The pilot episode premiered at SXSW.