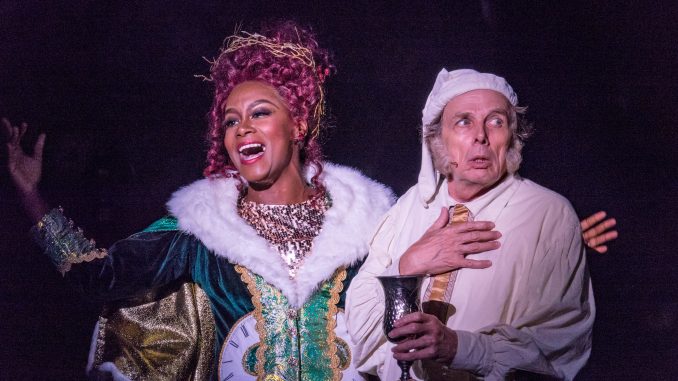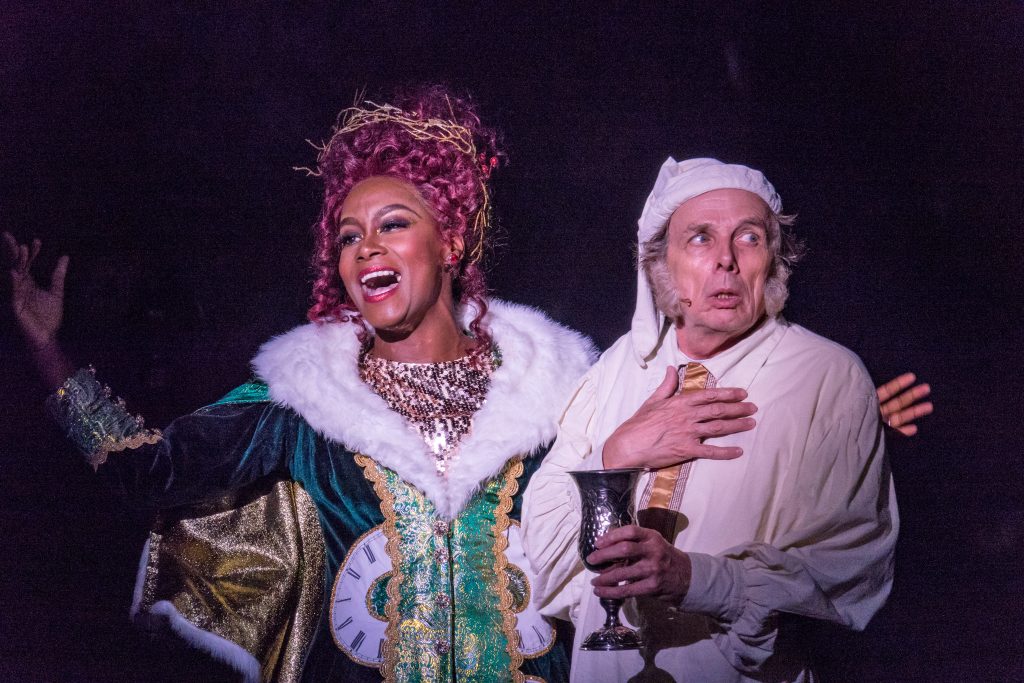 There is nothing better than a ghost for Halloween, except maybe a ghost for Christmas. At the Zach Theatre now you can see not one but four ghosts on stage in a musical adaptation of Dickens' A Christmas Carol.
This has become a tradition at the Zach: the production debuted in 2014 and is now a holiday staple in Austin. Of the three ghosts this year, two are haunting Ebenezer Scrooge again. Both Roderick Sanford (Ghost of Christmas Future) and Kenny Williams(Christmas Past), first appeared in the 2015 production. The Ghost of Christmas Present is now being played by Chanel, who has sold 2.5 million albums. Her voice, part of a gospel trio for nearly 20 years, is a powerful delight.
In fact all the singing is very strong. Scrooge as a young man is played by Riley Wesson, whose matinee idol looks and great voice are a highlight of the show. Paul Sanchez as Bob Cratchit brought the house down with his rendition of O Night Divine; and Sanford, doubling in his role as the ghost of Jacob Marley, channelled the power of the damned in his confrontation with Scrooge. Also packing a punch were the songs delivered by the tall commanding presence of Matthew Redden as Fred (Scrooge's nephew), and Michelle Alexander as Mrs. Cratchit.
The entire cast also collaborates in full-on musical numbers, notably I Didn't Know I Was Lost, which turned into a phantasmagoric spectacle with audience participation as many had light wands.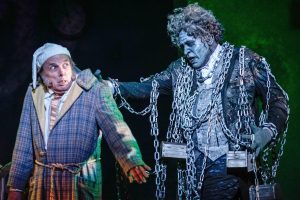 Selecting a suitable song to serve as the finale must have been a challenge, but Andy Grammer's 2015 hit Good To Be Alive was the perfect choice.
Throughout this production we see Scrooge follow the predictable path set for him by Charles Dickens, but only an actor of great poise is capable of maintaining that literary trajectory through a thicket of modern songs ranging from Beyonce to Michael Jackson (Dickens never envisioned A Christmas Carol as a musical !). Enter Jaston Williams, who has performed at the White House not once but three times. This famous Texan, recipient of the Texas Governor's Award for Outstanding Contribution to the Arts, is a sheer delight.
I was on hand for the Nov. 24 performance, which experienced a major glitch when the revolving stage stopped working near the end of the first act. A 20-minute repair job got things moving again, and Williams made a special point of thanking the audience at the conclusion for their understanding.
A truly uplifting experience, one that everyone in Austin should flock to see. Performances run through Dec. 30, 2018.
Lead photo: Chanel as the Ghost of Christmas Present, with Jaston Williams as Scrooge
Second photo: Williams (left) with Roderick Sanford as Marley's ghost