In 4 words, musical comedy is back! After a less than amusing pandemic that has shut down most theatrical productions for more than a year, the arts scene in Austin is coming back to life. "It feels so good to be at the theatre again!" one woman enthused after seeing Boomtown.
The Wild West is back, with a new hilarious production by Texas Comedies. They specialize in taking real Texas history as a basis for producing irreverent musical comedies. The one on tap now is Boomtown and it's at the Dougherty Arts Centre.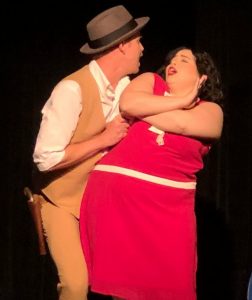 The case history here is Borger Town, founded by Ace Borger (played here by Heath Allyn) in 1926. The allure of oil brought 45,000 people here within a matter of months, and it just as quickly became a refuge for criminals. The town government was in the hands of "Two-Gun" Dick Herwig, portrayed here by Dan Dalbout. These two central characters interact with six other cast members, each of whom shines in solo, duet or all-cast musical numbers.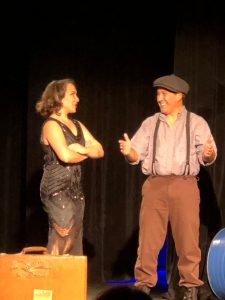 For example, Gone from Oklahoma is sung by Megan Moore Ortiz, a 'liberated' woman of the 19th century. She plays this role with an insouciant attitude that is a sheer delight, especially when she is rejecting the amorous advances of Spud, played by Wil Taberes. Their interplay is sparkling and provides the most light-hearted aspect of the play, which features more than one murder.
The founder of the town named in his honour, Ace, seems genuine when he says "I want to reach for something more." All his previous enterprises have fizzled, but Borger Town seems to be what his life has been leading to. Joshua Meindertsma as the hayseed who sold the land to Ace; his sister, played by Kelsey Kimble; and his brother-in-law played by Phil Rodriguez, all show how money and lack of empathy can devastate lives. Even though this is a comedy, it conveys a deep message about how humans can both create and destroy.
The pizzazz effect is delivered by Mia Washington in her bright red dress, as the owner of the town dance hall, with all the girls to satisfy the needs of those hungry oil thieves.
All the actors here have the ability to deliver both quick-witted lines and really fine tunes. The lead of the show, Heath Allyn, is given several opportunities to showcase his vocal talents, and he really fulfills his role in keeping this well-honed ensemble cast gliding along the boom-and-bust tale of Texas a century ago. A delightful production, highly recommended.
Photos with this story by C. Cunningham
Cast:
Heath Allyn, Dan Dalbout, Kelsey Kimble, Josh Meindertsma, Megan Moore Ortiz, Wil Pintauro-Taberes, Phil Rodriguez and Mia Washington.
Playdates: Sept. 23, 24 and 25, at 8pm. 1110 Barton Springs Rd.
Website: www.texascomedies.com/shows/boomtown