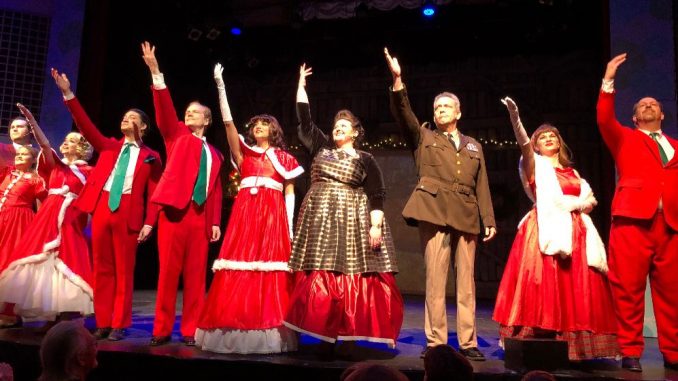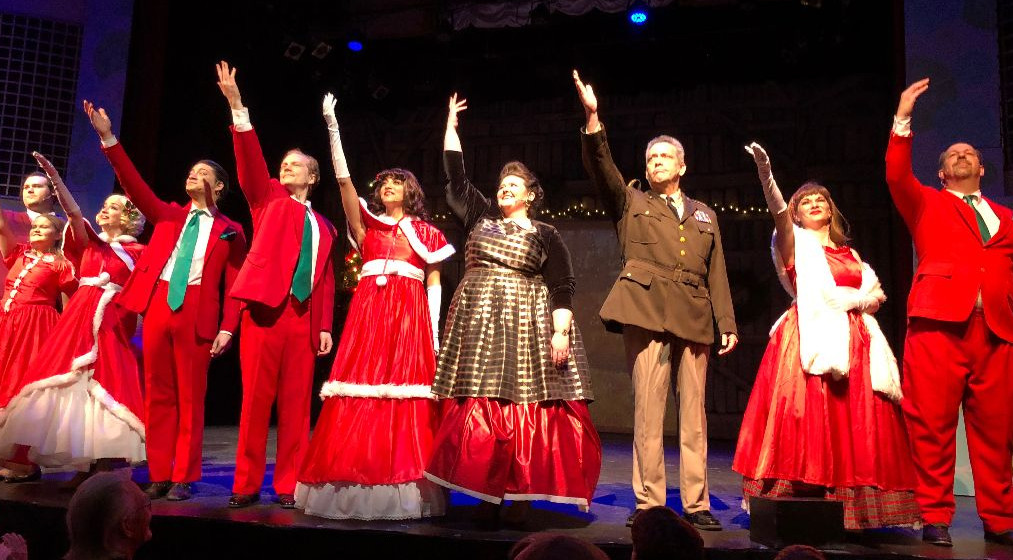 For those who harken back to a kinder and gentler time, there is no better tonic that the musical White Christmas, currently on stage at The Palace in Georgetown. For those under 30 who have not yet been exposed to civility, thanks to the corrosive discourse engendered by the inaptly named 'social media' of the 21st century, taking a trip into this time machine might open their eyes into how they should view the world.
While countless millions have seen the 1954 movie of the same name, this play did not debut until 2000, with a Broadway production delayed until 2008. This show features a large cast, with some dance routines featuring a dozen or more people on stage. While the dancing of the lead actors is very fine, the supporting members need to be a bit more polished and snappier as some appeared to be concentrating on the dance moves instead of letting it flow naturally. But for a production relying largely on local talent they have overall produced a tremendously exciting and engaging show that never flags or falters.
Lead cast members number six: the singing and tap dancing duo of Bob & Phil, played by Creighton Moench and Justin Dam. Their respective love interests as are the Haynes Sisters, Veronica Ryan and Samantha Watson. And finally General Waverly played by Scott Poppaw and the lady who manages his guest lodge in Vermont, Martha played by Leah Knight. Poppaw is so brilliantly cast as the four-star General one can hardly imagine anyone else in the role, and when Knight finally gets her solo, Let Me Sing and I'm Happy, you know The Voice has just entertained you.
The show is propelled by two main plots. First the falling-in-love sequence between Bob & Phil and the sisters. Second, the plot by Bob & Phil to rescue the financially failing lodge to help their former commanding officer from World War II (the play is set a decade later in 1954).
They can hardly go wrong thanks to the music. Unlike nearly every 21st century musical, this has a memorable tune. In fact, it is the exact opposite of modern musicals because nearly every tune IS memorable. Written by Irving Berlin, we have on tap here (yes, that was a pun on several tap dancing numbers) such extraordinary classics as Count Your Blessings, Blue Skies, I Love a Piano, How Deep in the Ocean, I'm Happy, and I've Got My Love to Keep Me Warm. Not to mention the tune that reached worldwide iconic status, White Christmas.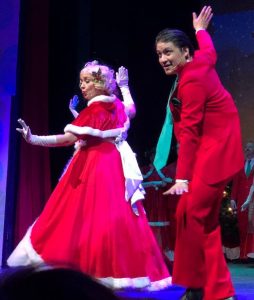 Veronica Ryan plays the jilted ingenue with passion, although the audience knows full well it was her misunderstanding of Bob's intentions that created these jilted feelings in the first place. Their duet as he sings How Deep is the Ocean is a highlight of the second act, and together they ensure this production is a success. It is not easy these days to project true goodness and make it believable, but they have captured the essence of Bing Crosby and Rosemary Clooney (who I was lucky enough to see in concert in the 90s), stars of the '54 movie. Danny Kaye and Vera-Ellen, the other duo from the movie, are ably portrayed by Dam and Watson. How she conquers the chorus girls who are after Phil is one of several amusing subplots in the musical.
This is the sort of musical where you can even wear that tacky Christmas sweater you got as a gift last year, and not feel embarrassed. Get up off the TV couch and see this production!
Very fine scenic design by Barb Jernigan, who has done more than 100 set designs at the Palace. Costumes by "A Cut Above Costume" were also excellent.
Irving Berlin's White Christmas, directed by Ron Watson, is being performed through Dec. 30 at the Georgetown Palace. Visit the website for tickets: Georgetownpalace.com. Upcoming productions in 2019 include Buddy & Patsy (Jan. 25-Feb. 10) and Pumpboys & Dinettes (Feb. 1-14).
Photos by C. Cunningham