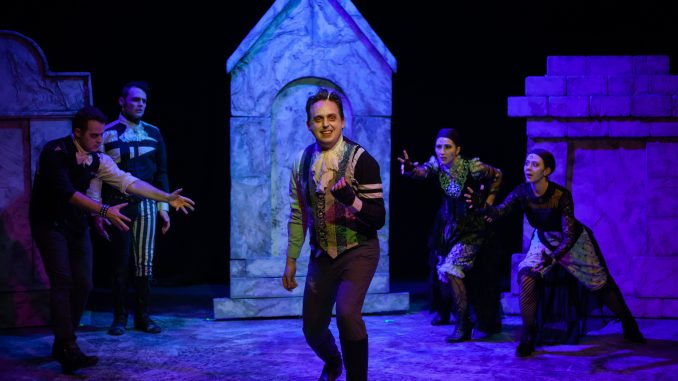 The musical Nevermore, currently playing in Austin, had a special showing on Halloween. This is quite appropriate as Poe's legacy is so identified with horror and the macabre. I actually visited his grave in Baltimore one Halloween night.
It may at first seem curious to transform his life and death into a musical, but if it's good enough for the Phantom of the Opera, it's good enough for Poe. I spoke to one theatre-goer who attended the Halloween performance with friends from Dallas. They were amazed at the high production value of Nevermore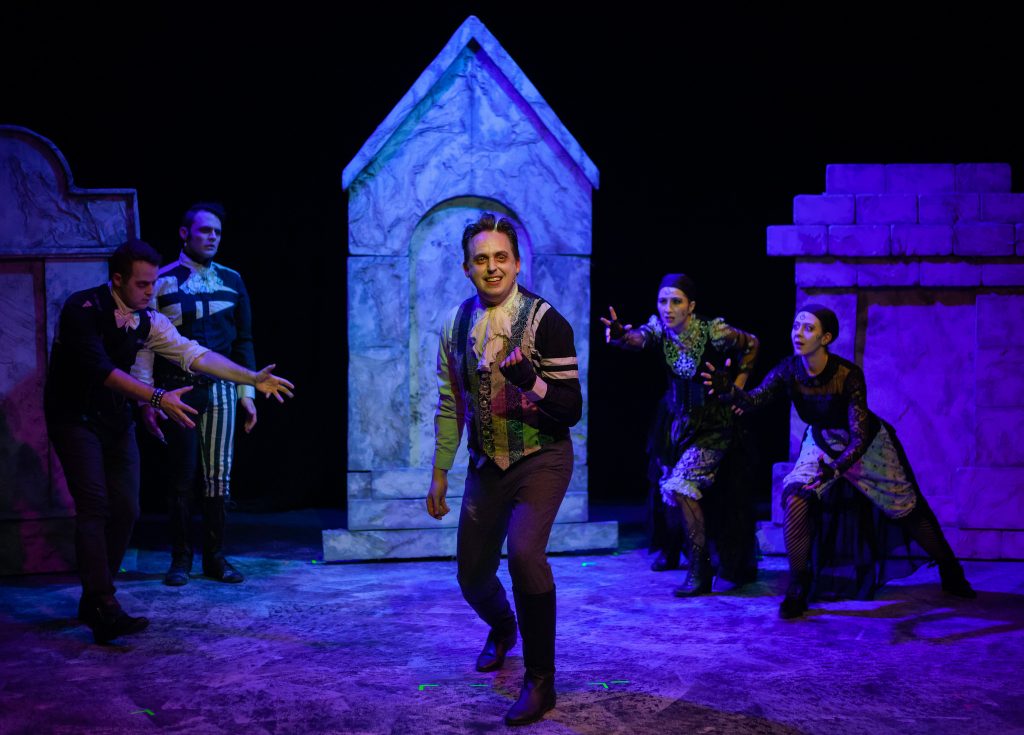 "This is community theatre in Austin?", they asked incredulously. Recent productions they saw in Dallas were not nearly as good, and this indeed is a musical to be savoured.
There are shades of Sweeney Todd here. Both are rooted in the Victorian era, but this quirky production is based on Poe's real life. While major elements such as his military service are not covered, it is easy to follow the trajectory of his experiences that became the source material for his spectacular poems. His step-father, Jock Allan (whence derives his middle name), says in the play "poetry is not a career of sufficient repute." Poe responds by identifying himself with the angel Israfel, subject of his 1831 poem of the same name. "He did sing and play the lute," sings Poe. "Poetry shall fill my soul! There is beauty where there is hope."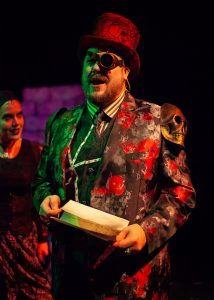 The style of vocal delivery and rhyming lyrics certainly has something of Gilbert & Sullivan about it. While the cadence becomes a bit repetitive at times, the music becomes an ear worm, dangerously addictive. One could become inured to nearly any horror by listening to it. When Poe's first love tells him the tale of a woman being buried alive, it actually sounds amusing, but watching the supporting cast enact the nightmare while the story is being told reminds one of its chilling nature. The biggest applause of the night was bestowed upon the song The Raven, where we see Poe in the spell of a raven much larger than himself on stage. It is just one of the very effective costumes, thanks to costume designer Glenda Wolfe. Her costume for Jock, complete with a skull on one shoulder (pictured here), is also fantastic. The minimalist set provides the perfect foil for her over-the-top outfits worn by the 7-person cast.
Tyler Jones stars as Poe, with Matt Connelly as Jock. The other members are no less prominent during the show: Stephen Mercantel, Joey Banks, Emily Smith, Suzanne Balling and Natalie Blackman. Nevermore was created by Jonathan Christenson for a theatre in Edmonton, Canada in 2009. For those who want to enjoy the music again, the 2005 Off-Broadway cast recording is available.
For details on future showtimes, visit the website: www.penfoldtheatre.org
Nevermore is being staged at the Ground Floor Theatre in East Austin.
Photo Credit: Kimberley Mead