Rome still rules. Those looking for the foundation of American law need seek no further than the Twelve Tables, the basis of Roman law promulgated in 449 BCE. At the latest Austin Symphony concert, the Fountains of Rome and the Pines of Rome were highlighted, courtesy of the composer Ottorino Respighi (1879-1936). These two great compositions still rule as the finest classical standards of the 20th century.
Conductor Peter Bay explained that this would be no ordinary performance of Pines of Rome. "Some unusual combination of instruments" was called for by Respighi, including 6 flugel horns and 2 euphoniums, a tenor-voiced brass instrument. Most interesting of all was a gramophone, "the first piece of music to include it." It was needed to play the song of a nightingale: Bay and the Orchestra did a deep dive into researching this. "We found the same record Respighi called for in the score. This will be the actual bird sound Respighi used and heard in 1924."
Pines of Rome exhibits a brilliant effervescence unlike anything ever written. This composition has it all: its opening iconic blasts from the horns are followed by a contemplative passage. As it progresses we encounter a sweet melody, as delicate as a honeycomb, accented by the harp. The nightingale song floating on ethereal air was rapture-inducing. Combined with the Fountains of Rome, this was a symphonic delight of the first magnitude.
The concert began with Lullaby by George Gershwin. As one might expect, it was a sleep-inducing trip through a delightful landscape.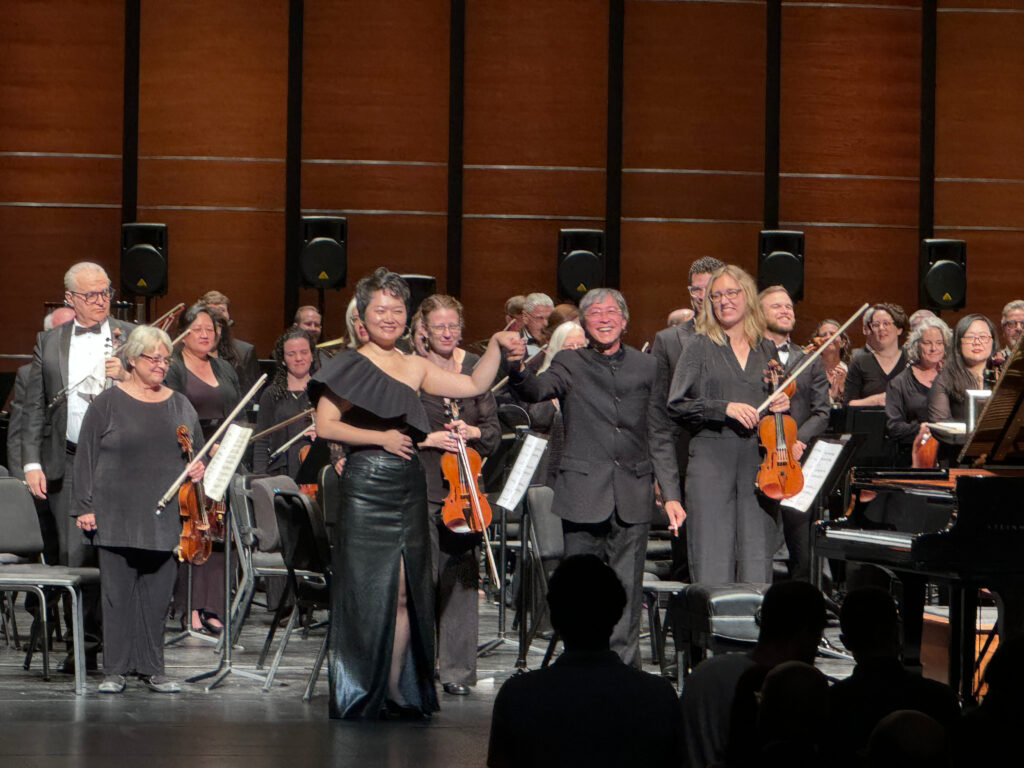 The highlight was another Gershwin composition, Concerto in F. It highlighted the talent of pianist Yifei Xu, who received the Roy Rubenstein Award, and the first prize in the American Prize Professional Solo. Drums and cymbals launch the Concerto. In the capable hands of Xu, the piano effortlessly glides in despite the waves by the raucous orchestra. Xu immediately asserted control over it: the tamed orchestra merely dips a toe in the water before together they embark on a musical voyage that leads to a maelstrom in the centre of which is the heart of George Gershwin. The Concerto, from 1925, showcases why he has been a dominant figure in American music ever since. Here we see the elemental Gershwin, with every facet of his musical genius on sparkling display. The finale was spine-tingling. Combined with the Respighi, this concert was a tour de force by the Austin Symphony Orchestra.
Photo by C. Cunningham