The Davis Gallery is in old Austin, near Shoal Creek and off North Lamar around 12th Street, hidden behind hedges and tucked into a little corner. I am only a fan of group shows if they are carefully curated and make sense intellectually and thematically. Two artists, in particular, drew me in at the Late Summer Dreams show. Coincidentally (or not), both used an eclectic array of materials in their vastly different assemblage pieces.
The two artists featured in this article are Steve Brudniak and Fallon Bartos.
Steve Brudniak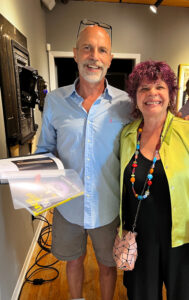 I had the pleasure of shaking hands and chatting with the surreal psychogenic artist Steve Brudniak after becoming mesmerized at Solipsistic Coma, his 2021
assemblage composed of meteorite, synthetic opal, blue laser, a distance sensor, and programmed electronics. I've worked with an electronic musician in the past who invented, using MIDI, a video-to-music plug-in, so I'm familiar with artists' reverse engineering, creation, and recreation of abnormal forms transcending and morphing into things unexpectedly strange, even adverse. Such is the case with his piece Ontological Catastrophe (in photo). I found it somewhat hopeful, wistful. Like an alien species whose original DNA once formed on Earth millions of years hence, it found its way back to the green planet of its origin. Steve explained the meteorite "has a name – Muonionalusta. It originated in Stockholm, Sweden, and I got it on eBay from the world's largest meteorite collector Ruben Garcia."
The black Bakelite antique electronic test equipment morphed into a crystalline formation, and the scarred tusk of some surreal beast jutted through the base. I felt the equipment recording my eye movements like modern-day Clear or TSA airport sensors. A friend in Switzerland runs the world's largest Bakelite museum, so I wondered where Steve got a hold of the materials.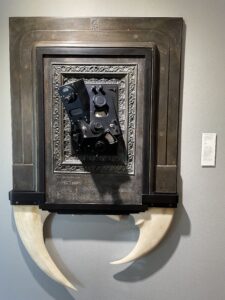 "The black plastic I have used on many works to create frameworks or transition parts over the last 20 years is similar to Bakelite. It's called phenolic and has paper embedded in the plastic to make it rigid. The paper is saturated with the phenolic resin, so you can't even see if it's sliced, but if you chip a corner off with a chisel, a little topography appears along the fracture where the layers are. It's costly and high-quality plastic. I bought a huge pile from a plastic company here in Austin for about a tenth of the price it was worth that a customer had cut and left."
Brudniak has a likeness to the Swiss kinetic sculptural machine artist Jean Tinguely, whose art satirized automation and the technological overproduction of material goods. Brudniak uses mechanical objects and other mediums such as Tesla coil lightning, magnetic fluid, biological and human blood preservations, gyro mechanics, and bespoke laser and optical applications. Perhaps because I liken myself to an archeologist, discovering Brudniak's work was an unexpected reward.
In 2008 his Astrogeneris Mementos became the first assemblage sculpture exhibited in outer space aboard the International Space Station. Brudniak's work is featured in several museums, galleries, and university libraries worldwide. Brudniak is an accomplished musician, actor, director, and TV and film producer. He's originally from Kansas and is based in Austin. https://stevebrudniak.com/
Fallon Bartos
Fallon Bartos' Nest Egg II (lead photo), made with bamboo, geode, and gold leaf, reminded me of my youthful days in Japan. I learned how to dive for uni, then caught some with the mandatory thick rubber gloves to not prick one's fingers and bleed. Once on land, we cracked open the porcupine-like shell only to discover the golden shade of glittery camel-to-apricot delicacy inside, which we ate up. Unfortunately, I could not pick out this golden egg, so I could only stare at it with nostalgic longing.
Some of Fallon's other works reminded me of feminine organic formations made with metal, minerals, and crystals. Using those "hard" materials was like a meditative and well-balanced poetic composition—blending the feminine and masculine qualities brought to life through art. I was not too surprised to discover she spent her youth in Japan. The Japanese aesthetic comprises a set of ancient ideals that include wabi (transient and stark beauty), sabi, and yūgen (profound grace and subtlety). It transcends trends and is an idealized version of life applied to all art forms. Fallon internalizes this concept into her pieces with elegance and subtlety. http://fallonstudio.com/ She happens to be the gallery director.