Can we have some more Oliver! please? This show at the Hill Country Community Theatre is so good I did not want it to end.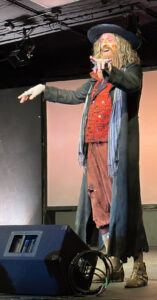 And as for Fagan, one must compare actor Ron Moody (in the original 1968 film) to the portrayal by Tim Dey in this production. My vote goes to Dey. It would be very easy to overplay this role as Fagan himself is a caricature. To keep him believable, an actor must exercise restraint. Dey's Fagan is perfectly expressive, especially with his hands. Vocally, his badinage is spot on when the largely comedic role of a pick-pocket master circa 1850 London requires it most. This is a Broadway-quality performance.
The 11-year-old lad who plays Oliver Twist is another example of excellent casting. Holdin Kash Boswell gets roughed up and even tossed into a casket in the demanding role of the orphan Oliver, but he was not fazed by any of it, and delivered excellent vocals. The sound system messed with his delivery of the song Where is Love?, and hopefully the techs will be able to sort that out for future performances.
Also superbly cast is Hunter Holder as the Artful Dodger in his second production at the HCCT. He got the plum vocal assignment: the hit song Consider Yourself (One of Us), and did a very fine job of it. Unlike nearly every musical for the past 20 years, the old chestnut Oliver! contains some memorable songs, including I'd Do Anything and As Long As He Needs Me, which gave Abbie Brown the chance to share her excellent voice with the audience. Great vocal projection!
The four costumers for this production are to be commended. Jordan Jones is exactly what we want to see as Mr. Bumble and Holli Jones as his love interest Mrs. Corney are delightfully expressed by what they wear. The sparks they throw off one another in their acting roles establish the sub-plot extremely well.
Austyn Carswell as Bill Sykes is suitably menacing in black and Kendall Collier as Mr. Brownlow captures the heart with his portrayal. They are the yin and yang of the play; without a starkly depicted 'good and evil' the play would not be grounded, but they pull it off. Since the final scene shows Sykes in silhouette, a projection of London Bridge on that screen would have been more evocative. One audience member said it never ceases to amaze that a community theatre in central Texas can call upon such a fine array of talent.
I've been subjected to some truly abysmal 'modern' plays in Austin recently, so it was refreshing to get back to the 20th century to remind one of what a theatrical experience should be. Time to get out of the big city, drive to this theatre near Marble Falls, and enjoy yourself.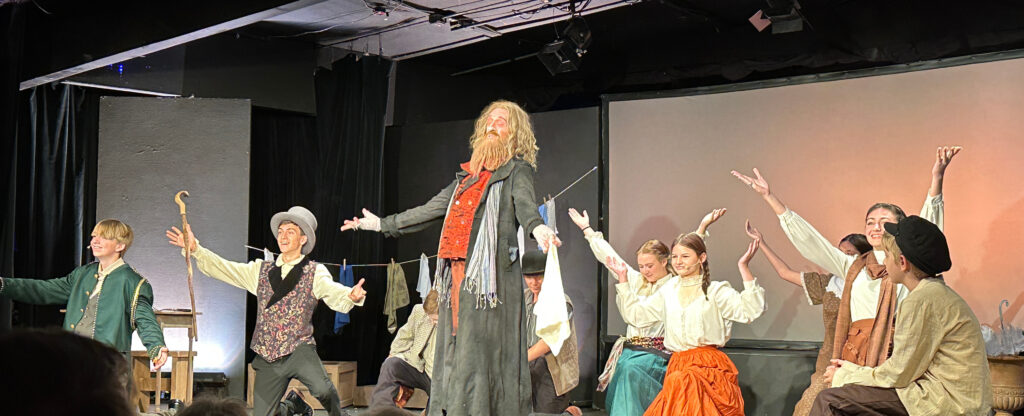 Visit the website for tickets: www.theHCCT.org
Oliver! is being performed thru Aug. 6, 2023.
The 38th season at HCCT starts in September with Little Shop of Horrors.