Who was the greatest sculptor of the Renaissance? Most would vote for Michelangelo (1475-1564), but solidly in second place must surely be Donatello (1386-1466), who died just 9 years before Michelangelo was born.
The largest ever UK exhibit of works by Donatello and his contemporaries is currently on display at the Victoria & Albert Museum in London. Sun News Austin was there earlier this month for this report.
Many of Donatello's works are massive: far too large and heavy to be transported to any museum exhibit. They reside in various churches in Florence and elsewhere in Italy. Thus, a full appreciation of his work is only possible by a dedicated trip to those places. However, the printed catalog is not constrained by the exhibit, so I highly recommend getting it. The full panoply of his artistic output is on glorious display in this large-format book, edited by Peta Motture (formerly Senior Curator of Sculpture at the V&A). Twenty-four others have contributed their expertise to a wide-ranging study of Donatello.
Museums that have loaned artifacts for this exhibit come mostly from Italy, Germany, France and Austria, but America is represented by the Detroit Institute of Arts, Museum of Fine Arts (Boston), The Met in New York, and the National Gallery in Washington DC.
By sheer numbers, images of Madonna and child predominate in this exhibit. However, I am leading this article with the head of a horse, one of the largest and most striking artifacts on display. Controversy has swirled about this horse head for centuries. As the catalog tells us, "visitors from the later sixteenth century assumed the bronze was ancient. The attribution to Donatello resurfaced in 1875, with more recent studies making this suggestion increasingly plausible." Why did many think it was from ancient Greece or Rome? Because it was so beautiful, the idea that an artist of the 15th century could create such a thing was scarcely credible. But it appears Donatello achieved the impossible by creating something that matched classical perfection. Lorenzo de' Medici gave the horse to Naples as a diplomatic gift in 1471, and there it remained in the courtyard of the Palazzo Carafa for 350 years. When not on display in London, it resides in the National Archeological Museum in Naples. Measuring 6 feet across, it is truly a wonder to behold.
The horse is not the only object here that evokes a "bridge" between classical antiquity and his own time. Two busts, one in silver-plated bronze, the other in painted terracotta, also serve to illustrate this. The reliquary bust of San Rossore was done around 1425. In his depiction of a Roman saint, "Donatello blurs the lines between the portrait bust and the reliquary bust." Unlike earlier reliquary busts by other artists, this one offers a naturalistic rendering and an expressive face. San Rossore (who died in 305 CE) appears as a real person! Donatello really lets loose when he is not confined to the rules governing a reliquary bust. In his 1455 bust of an unknown man, in terracotta, "the severe turn of the head in an apparent sudden motion gives a sense of dramatic moment, while adding a psychological dimension to the bust that hints at the thoughts of the sitter." A true innovation for that era, and a masterpiece of the highest order. Its permanent home is the Museo Nazionale del Bargello in Florence.
There is no way to concisely characterize the works on display here. Even the catalog admits it is "a rather loose concatenation of works," but sculpture reigns supreme. "When carving marble that invited close viewing, Donatello was able to invoke seemingly impossible effects of cloud and diaphanous veiling." There is that word impossible again. Donatello became one of the greatest of all time by making the impossible real.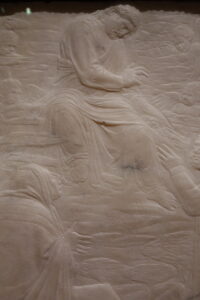 What he especially became a master of is expressed in Italian as rilievo schiacciato. It literally means squashed relief. With a depth of only 1 or 2 cm, he was able to create a "theatrical vision" that was unsurpassed. Here I show a detail from his marble sculpture done in this technique dated to 1430. As Christ ascends to heaven within a subtly undulating cloud supported by angels, he passes the keys of the Church to St. Peter (at bottom right). "Donatello's innovation," as the catalog explains, "was his insistence on depth of field, and the physicality and placement of figures in space, in defiance of the limitations imposed by the shallowness of the relief."
To quote the catalog once again, "One of Donatello's most endearing and innovative contributions to Renaissance art was his invention of the spiritello." These cherub-like figures are not just "decorative appendages to larger works but active dramatic contributors to the meaning and purpose of each ensemble they complemented."  I am showing one here, a bronze from 1434, clutching the base of a candle holder. Sometime over the centuries it has lost its gilding, which would have made it quite inspiring as candlelight flickered off its reflective surface. The exhibit includes several spiritello, mostly nudes. They were certainly inspired by ancient Roman and Etruscan examples, four of which are also on display for comparison.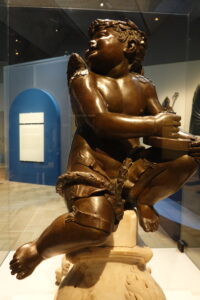 The V&A itself has an often-overlooked treasure in its Cast Courts. Casts hold little interest now, but when The Met in New York was young, its cast collection was its chief attraction. Most such displays have disappeared, but the V&A still has many casts of works by Donatello, including parts of the high altar of the Santo in Padua, and the baptismal font in Siena: some of the dancing cherubs in this exhibit originally perched on this font.
There is also a cast of another attempt Donatello made to sculpt David; most art critics find it to be a much more successful than the two marble Davids on display in the formal exhibit. According to art historian Nicholas Penny, the David one sees at the opening of the exhibit "is awkward in articulation and not only in his impossibly flexed wrist, being also unresolved in expression, and with attempted movement impeded by the narrow block." It was made in 1408 and is shown here; the catalog puts the best possible gloss on this one, saying it "demonstrates the artist's emerging promise." Penny also describes another David by Donatello (on loan from Washington DC and likely made in the 1430s) as awkward. It is placed at the conclusion to the exhibit.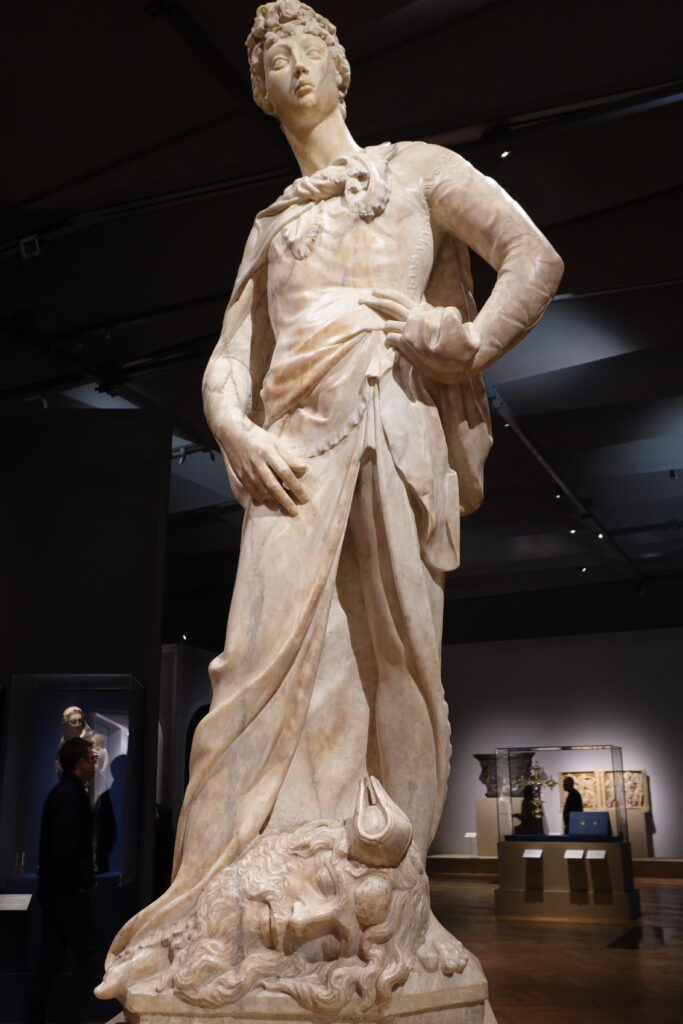 Approximately half of the objects on display are not by Donatello; some are ancient, some are modern pieces inspired by him, and others are by 15th century artists who created works that help put his own creations in context. Certainly a must-see exhibit and a truly rare treat for anyone travelling to London soon!
Donatello: Sculpting the Renaissance, is on display thru June 11, 2023. The hardcover catalog lists for $60.
For tickets, visit the V&A website: www.vam.ac.uk
Photos by C. Cunningham