How to express ineffable suffering through dance? That is the question Austin Ballet director Stephen Mills asked himself; the answer would propel him a years-long journey of discovery full of anguish and hope.
Light/The Holocaust & Humanity Project was first performed in Austin in 2005, and again in 2012. The production has taken on a second life of sorts, generating a documentary film (Findlight Light) that has already won awards in Berlin and Rome. The entire project is based on a conversation Mills had with Holocaust survivor Naomi Warren. An interview her can be found on YouTube:
https://www.youtube.com/watch?v=NtNRhm9Jnz0
After the performance, Mills said "I was moved after the events of 9/11 terrorist attacks in New York to try to find some deeper connexion to what I was doing as a dance maker. Classical ballet is known for its pink tutus and stories of fairy tales. At that moment I came face-to-face with the reality of why I was doing that. Might there be something more important that I could be occupying my time doing? So I went on a search to try to find some connexion to something – I didn't know what it was. A friend of mine introduced to a Holocaust survivor named Naomi Warren. Naomi was a member of the Holocaust survivor community based in Houston."
It was Naomi "who suggested that I do a work based upon her story, which seemed to me something I couldn't even imagine. Her point was that we are all citizens, we all participate, and that just because I was an artist does not make immune from that." She thought Mills should use his platform and voice "to make a statement." Mills described her a "a convincing voice."
The Second World War began in 1939 on the day of her 19th birthday. "At that time she was on her way to take her teaching exam. So, of course all of that went out the window, but she always had the heart of a teacher. She spent a lot of time talking and sharing with me her testimony. I felt it really important that in order to co-opt a story like this I needed to be as educated on the subject matter as I could be. I spent three weeks in Germany, the Czech Republic and Poland where I visited seven concentration camps, and came away understanding that the thing I committed to do was much deeper than I had even imagined.
After spending a week in Israel he began work on the dance. "Naomi's story was a singular story but there were certainly commonalities among people who were experiencing this. They all became targets, an otherised community if you will.
"The end of the work is about hope and regeneration. Naomi felt that had she not been in camp with hope she never would have survived."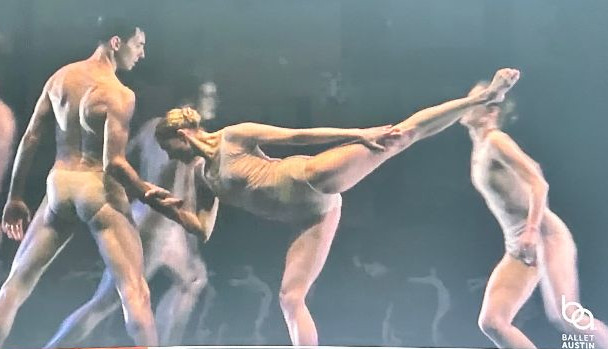 "Dance can be powerful but dance can also be feeble in its telling of emotional stories. So we determined at Ballet Austin that we were going to do an educational series of programs, with the ballet being the culmination. The first time we performed this, Elie Weisel spoke here in Austin; this year at the LBJ Library we had a conversation with the head of ACLU Texas and a member of the Anti-Defamation League out of New York."
Mills positioned the need for this third performance of the ballet against the backdrop of what is going on in America now. "The political issues, namely the resurgence of anti-Semitic hate and hate speech of all kinds, whether that is for people of colour, the queer community, and even women I dare say. And my need to do something demonstrable." Even though Mills admitted "this dance is not going to change the world," he clearly engenders the same level of hope that kept Naomi going in the dark days of the 1940s. "The past is present and not to be forgotten."
Aside from the dramatic visuals, the soundtrack of the ballet is unforgettable, but may put some people off. For the first 20 minutes there is a loud cacophony, and this is shortly followed by a series of wailing sirens at such a volume I had to plug my ears. If meant to evoke of sense of terror, it certainly succeeds, and as the dancers huddle in their skivvies and shake uncontrollably, one gets a sense of what they were going through in the concentration camps. This is followed by ethereal music and as the music in this section ends on a very low register, the conclusion of the ballet, filled as it is with hope and light, is all the more marked by the contrast. Light is very much symbolized early on with a globe of light (pictured), and hope both begins and ends the ballet – a tree of life with two dancers symbolizing Adam and Eve, and then the creation of families and even a wedding. This is the first time I've seen it, so I am very pleased Ballet Austin decided to stage it for the third time.
An extraordinary 84-minute production, and one that has rightfully put Ballet Austin on the map of international ballet productions.
A brief introduction to the ballet by Mills is also on Youtube:
Photos: still images from Finding Light; Mills and the cast at the conclusion of the ballet at the Long Centre, photo by C Cunningham

www.balletaustin.org next performs Cinderella