If you ever wondered what is behind a secret door in a spooky mansion, then head to Washington DC. At the Mansion on O Street, you can actually open that secret door. If you value your life however, you might want to reconsider.
I had a private tour of the O Mansion by its President, Ted Spero. Since I went into the secret Halloween rooms, I figured I would be safe with him as my guide.
Billed as "the only museum of its kind," the O is spread across five interconnected town houses comprising more than 100 rooms and some 70 secret doors (the exact count is sort of a secret, as more are being added as time goes on). At 30,000 square feet, this is now the largest mansion in the city. Originally three houses, it was designed in 1892 by Edward Clark, architect of the U.S. Capitol. In the 1930s it was converted into three separate rooming houses for FBI G-men. Its current reincarnation began in 1980, when the property was purchased by H.H. Leonards. By 1995 she had all 5 houses.
Spero said his wife H.H. Leonards "wanted to create with music and arts and creativity to hopefully inspire people. So they can walk in and forget about the daily routine they are stuck in and just have fun – that's really the nature of the house."
Spero described the house as having 32 bedrooms and 35 bedrooms. "There are 23 themed guest rooms available for rent including a 2-story log cabin, a garden room, a safari room, a John Lennon room and an Elvis room. Just about everything you see inside the house has been donated, and most of it is for sale. Everything we sell helps supports artists and heroes and residence programs. We are a non-profit museum, and host dinners, weddings, parties, corporate retreats, concerts, magic shows. A lot of times we'll have the World Bank here, or FBI, CIA, Special Ops, White House – they will come here to do a couple day retreat. And we are open to tours, about 1,500 people a week."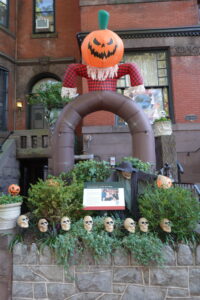 The giant pumpkin outside announces there is lots more inside these days. "Halloween is a big time for us. We're open late a lot of the days during this period, Thurs-Sat till 9pm which is pretty rare in this city." Specifically for Halloween, the Mansion hosts a treasure hunt tour based on the Halloween things in the house.
I think there are about five rooms devoted exclusively to Halloween now (I'm not sure of the exact number, as I was bit spooked going through them.) Many of the monstrous figures move and speak, and each room is expertly done to masterfully evoke the spirit of the time.
Of course, the rest of the mansion is there to discover as well. For those who want a John Lennon memento, there is a letter handwritten and signed by him for only $120,000. Other signed items scattered throughout the rooms include books and country music memorabilia.
There is something special there for Texans: Courtney Gibbs won the 1988 Miss USA pageant, as the contestant from Texas. The 12-pound crown she wore on the day of her victory is on display. Right beside it is the original scale model bronze sculpture of the Vietnam Memorial Statue. The sculptor, Frederick Hart, was a good friend of Leonards; he kindly sculpted the plaster angels on the ceiling in The Gallery here.
Civil Rights icon Rosa Parks lived here for a decade. She was a mother figure and mentor to Leonards; Many of her signed letters and artifacts are on display. Her room is open to view, so anyone interested in black history must visit the mansion.
This is a truly extraordinary place, and staying there overnight can make a very special surprise gift for your favourite person. Rates range from a few hundred to several thousand per night.
I highly recommend a visit to the O, surely the most unusual of all the places to visit in Washington DC.
Photos by C Cunningham
Visit their website: omansion.com