Of the 400 remaining buildings designed and built by Frank Lloyd Wright, some 250 are single-family homes. Several of these are open to the public; Michigan has at least three. The subject of this article is the Smith House in Bloomfield Hills, built between 1949 and 1950.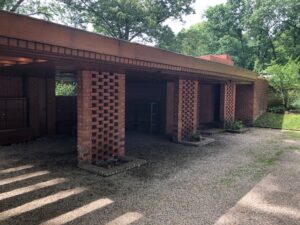 Melvyn Smith and his wife Sara were both teachers in the Detroit Public schools: he taught English and she taught drama in elementary school. They got the idea to build the house in 1944, but even after Wright designed it Melvyn insisted on various changes. Even though Wright was never present during construction (Jack Howe supervised the building), he did visit three times in subsequent years.
On the tour with Sun News was Sharon Roe Williams, who shared her reminiscences of Melvin Smith. "I knew Smith as a teacher in my English Literature class at Cody high school in Detroit. He was a tough little dude – a serious no-nonsense educator. He walked with dignity and self-assurance, and I admired him."
Set on 3.5 acres, one must admit the house lacks curb appeal. Her impression of the exterior of the house is uncompromising: "It looks like a bathroom in a rest area. It's an extremely cold structure on the outside, with a flat roof. There is nothing warm-and-fuzzy about it."
The interior, however, is another matter. "The first thing you notice is that it's scaled down. Smith was fairly short, perhaps 5-foot 7, and it actually seems smaller than 1800 square feet. You would not invite any basketball players to this house!"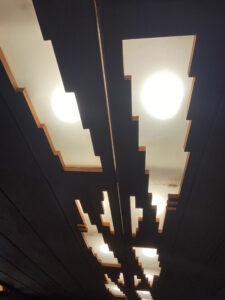 This was a dwelling created by a renowned architect, but it was made into a real home by the owners. "Everywhere you look is art, art art. You could spend days going back to discover new things. Everything is done in an extremely unique fashion, with precise planning and engineering. You really have to think to yourself: this is artistry. It was a Wright structure, but a Smith house."
The dining set (shown in the lead photo) was made by Melvyn's brother-in-law, to specs ordained by Wright, but many of the furnishings, and most of the artwork, derives from students at Cranbrook.  He had teachers from Cranbrook come over to the house, and he let artists set up exhibits for visitors to see.
Wright fans who have gone to Arizona will be familiar with Wright's Taliesen West location in Phoenix, and the famous Arcosanti which helps generate funds by selling wind chimes. One of these wind chimes can be found here just outside a wrap-around window.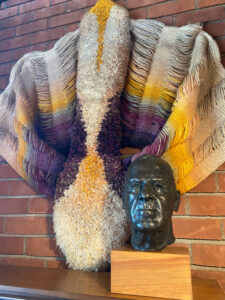 One thing to note is a bronze bust of Melvyn. "It looks just like him!," said Williams. It is set in front of a fantastic textile.
"It sure was a fun visit. Every artwork was purchased with purpose and love. You could tell they loved the house."
I spoke with another one of Mr. Smith's students from 1963-65, Sonia (Musick) Milton . "Smith wanted to be an architect," she related, "but because of World War II there were no architecture professors, so he became a teacher. His dream was always to have a Frank Lloyd Wright home, and when he contact Wright, the architect said that when you pick a property, I will look at it and see what design is good." Even though Wright did not visit when the house was being built, Musick told me Wright lived with Mr. and Mrs. Smith before that to see how they functioned in their existing living space, and used that knowledge to fashion the house we see today. The Smiths were so dedicated to the Wright style that they were forced to use a laundromat because having a washer/dryer would have destroyed the aesthetic of the house!
The interaction between the young Musick and the house went a step further, in a story that has never before been printed. She was in a class doing a study of different home designs , and for her class report decided that her subject would be the Smith House. In an interview with Smith, he told her that he was attracted to Wright-designed homes because he wanted a surprise at every turn, with little twists and turns so that things would be be where you expect them to be. "He brought me all the photos of the building project and told me the story of how it began. When I read my report in class, he was standing at the door but did not come in so as not to disturb the class. He was very happy with the report, and gave me a big hug when I left the classroom."
Melvyn died in 1984 and Sarah died in 2005. Their son Bob, who married Anne, began a foundation to perpetuate the house. Later, Anne married Michael Towbes, a wealthy man from Santa Barbara, who established another foundation to keep the house intact for the future. The house was donated to Cranbrook Educational Community in 2017 by the Towbes Foundation, and remains exactly as it was when the Smiths lived there. Anne still visits the house every year.
Sun News highly recommends a visit to the Smith house, and by all means explore the wider offerings of Cranbrook.
Note on the lead photo: The vertical cutout design was added to the house in the late 1960s when Wright's son-in-law, at the behest of the owners, created the room behind the dining area. It had previously been an unenclosed terrace.
Photo credits: Sharon Williams and Dr. M. Emanuele
Tours of the house, which is located at 5045 Ponvalley Road, Bloomfield Township, Michigan 48304, are conducted by Cranbrook Center for Collections and Research. For tickets and additional information, visit the website: center.cranbrook.edu.
Also in Bloomfield Hills is the Frank Lloyd Wright-designed Affleck House, which is owned by Lawrence Technological University. Tours of the Affleck House are available on the third Saturday of most months. Also in Michigan, Ann Arbor's most architecturally significant home is Wright's Palmer House from the 1950s.